Our favorites from the most recent Maison et Objet, Paris' pre-eminent design trade show: stylish new (or re-imagined) furniture and accessories for the spring garden. Here are our 15 discoveries:
Planters and Pots
Above: The Tradewinds Cult Veg-a-tainer Planter, a raised bed made of galvanized steel and wood. The height makes it easy to harvest (and pull weeds) without having to stoop.
Above: The lightweight Urban Mineral Pot from Cotta d'Arte is available in shades of white, dark gray, and brown.
Above: French design studio Bacsac (maker of our favorite weightless garden pots) is adding new colors to the line this spring, including Avocado, Asphalt, and Cerise. Bacsac also is offering a new pair of adjustable straps to hang window boxes and planters from railings. A set of two Balcony Braces is 34€ from Bacsac.
Above: British exterior design manufacturer Garden Trading exhibited ribbed zinc-plated steel planters. Named after the city in Provence that inspired the design, a pair of Vence Planters is £95.
Above: Belgian designer D&M Depot debuted a new plug-and-play modular vertical garden wall kit (which comes with its own irrigation system). Each Karoo module can hold up to nine plants; for more information, see D&M Depot.
Faux Plants and Flowers
Above: Exhibitors were faux forward, with eerily lifelike cacti from UK design house Abigail Ahern drawing a crowd around the exhibitor's booth. What's driving the faux houseplant trend? Four things, Ahern says: plants add life to a room, soften spaces, can be used as room dividers, and create focal points (we agree, as our 10 Easy Pieces: Eerily Lifelike Faux Plants for the Home attests).
Also spotted at the show: artificial flowers from Dutch homewares brand Decostar and faux green plants from Spanish designer Concoral.
Irrigation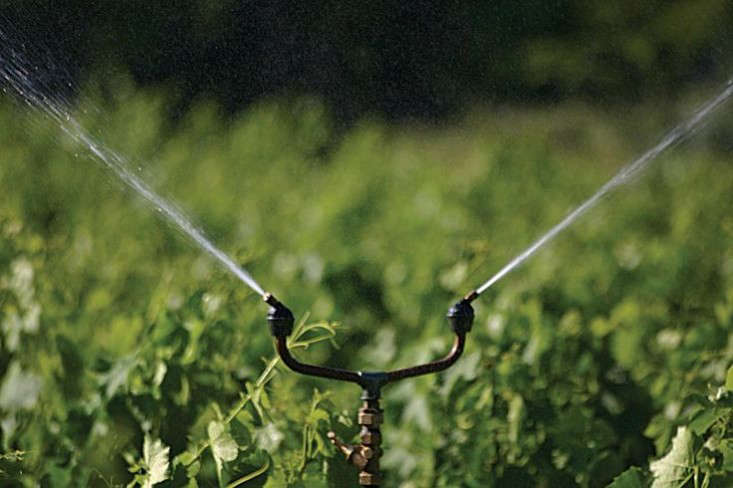 Above: A vintage-style brass sprinkler with a rotating head, via Belgian company Tradewinds.
Above L: Most genius hose storage solution ever? Above R: A portable shower on wheels is powered by your garden hose. Via Tradewinds. 
Outdoor Furniture
Above: Designed by Annick Lestrohan for Serax, the Honore Chaise is €1,089 from Fonq. 
Above: From Belgian glassmaker Henry Dean, a plastic version of the studio's iconic outdoor stool, available in black or white (as well as a range of rainbow colors). The Tsjomoloenga Stool is available for pre-order for $350 AU apiece from Pleine Nature.
Above: Swedish design house Eco Furn is offering a traditional Nordic Lounge Chair made of wood and rope and available in three colors (weathered gray, natural, and brown). For more information and pricing, see Eco Furn.
Above: The AA Airborne Butterfly Chair, reimagined. 
Above: The Rue du Bac Gris Teak Chair is $340 from Les Toiles du Soleil.

Above: A Hanging Ball Chair made of rattan is part of Norwegian design house HK Living's new collection "inspired by the past, but given an eclectic and contemporary twist. For more information and pricing, see HK Living.
For more spring garden trends, see:
(Visited 7 times, 1 visits today)