Today online magazine Freunde von Freunde publishes an exclusive interview (and apartment visit) with Brooklyn architect and designer Huy Bui, who is building a new kind of terrarium to solve a dilemma many city dwellers have: not enough space. No wonder the plants in his Williamsburg studio look so happy:
Photography by Emily Johnston courtesy of Freunde von Freunden.
Above: Bui is building stackable wooden boxes to house plants to save space, an idea he got from highrise buildings with floor after floor of stacked apartments. "Why can't we stack plants? We have to go vertical. That's the baseline idea," he said. For the full interview and story by Shoko Wanger, see Freunde von Freunden.
Above: "Plant life is very mysterious, very unpredictable," Bui told Freunde von Freunden. "In my shop, I have a full-spectrum LED light and all the plants below it are leaning in its direction."
Bui's Plant-In City Air Terrarium is 195€ from Freunde von Freunden.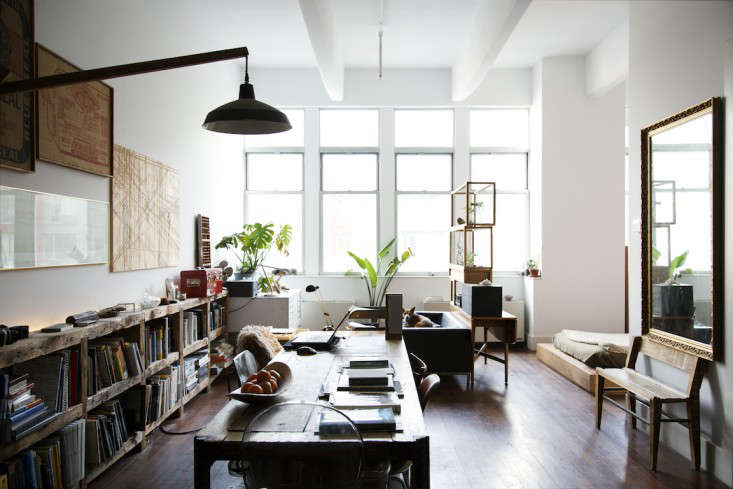 Above: Bui, founder of HB Collaborative design studio, also is the co-founder (along with his brother) of An Choi Vietnamese Eatery on Manhattan's Lower East Side.
Above: A former real estate banker (who majored in finance in college), Bui was expected to eventually take over his father's banking company. But he decided after six years in the business that it wasn't for him. "The people I was working with were spending lots of money to live a certain kind of life, and I thought, I can't do this. I can't get used to this. It didn't feel right," he told Freunde von Freunden.
Above: Bui's road from banking to becoming a creative involved grad school, a serendipitous decision to team up with his brother, and a move to Brooklyn. For the full interview, see Freunde von Freunden.
For more Brooklyn creatives, see:
(Visited 38 times, 1 visits today)