Please, don't call them fake. The other day I asked Julie how long she has had a vase of faux olive branches on her kitchen shelf. "I don't know, a few years?" she said. Unlike bunches of expensive live branches that soon die, faux greenery lasts as long as you want.
We've found 10 faux stems that are so eerily lifelike you may catch yourself trying to change the water in the vase:
Above: Photograph by Matthew Williams.
Julie's faux olive branches look live except for one thing: the leaves never curl up and die. To inspect them more closely, see Design Sleuth: A Low-Maintenance Olive Branch Arrangement.
Leafy Branches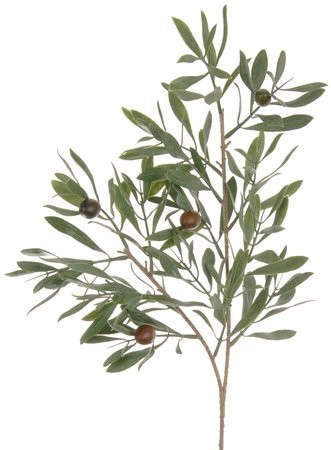 Above: A dozen 23.5-inch-long polyester Olive Branches is $99.90 from Earth Flora. For a larger display, a 49-inch Olive Branch made of plastic, wire stems, and bendable tubing (so you can create a life-life arrangement) is $39.50 from Pottery Barn.
Above: A harbinger of spring, a faux Greenhouse Budding Willow Branch is 52 inches long; $58.99 from Wayfair.
Above: A 12-inch faux Short Stem Eucalyptus branch is £2.75 and a Tall Green Eucalyptus Spray is £2.99 from Withycombe Fair.
Above: Covered with "very realistic moss" made of fabric, a 4-foot long Twig Moss branch is £11 from The Olive Tree Shop.
Above: Sold in boxes of 24 branches, Artificial Privet Sprays are £39.84 from Triangle Nursery.
Above: To tuck in among the privet branches: a branch of faux Chinese Privet Berries (30 inches long); $24 apiece from West Elm.
Flowering Branches
Above: A 51-inch-long Faux Cherry Blossom Branch made of plastic and polyester on wire is $34.50 from Pottery Barn.
Above: A pink Silk Cherry Blossom Spray (made of plastic, wire, and polysilk) is 58 inches long. Avoid direct sunlight to prevent fading; $18 from Terrain.
Above: Measuring 4 feet long, a Double Cherry Blossom Stem is made of polyester, plastic, and wire; $34.95 from Crate & Barrel.
Above: A branch of Artificial Hops is £8 from John Lewis.
Above: A 24-inch Faux Pincushion Stem made of polyester, plastic, and wire is $14 from West Elm.
Ready to arrange some greenery to banish the winter blues? See:
(Visited 93 times, 1 visits today)