For the last four years I've been fixated on a photograph of a bare courtyard with a single, white-painted beer garden table and two potted plants. Even in my color-obsessed phases (last month was all pale salmon pink, recently it's been butter yellow), I find myself coming back to the same photo. I chalk it up to the unfading appeal of a purely white palette and its potential, like a painter's canvas, to highlight the surrounding color. In an abundant garden, why not let keep the furniture simple and let florals shine instead?
Here is a list of our 10 current favorites in the category of white outdoor dining tables (many of which can be paired with benches and chairs of the same set). Have a look:
Above: To start, my favorite image is a project sourced from a small courtyard in Hove, England: an old German beer garden table is whitewashed in multiple coats of paint. For a host of options to paint, see our post The Gardenista 100: Beer Garden Tables (Ikea Included). Photograph via Light Locations.
Above: Modeled after the brand's first outdoor pieces for Paris' Jardin du Luxembourg, Fermob's Luxembourg Rectangle Table is an aluminum tube frame, lacquered in white (or other color of your choice); starting at $1,217 at Y Living.
Above: Designed by Matthew Hilton for Case, the Eos Square Table (named after the Greek deity of light and dawn) is stackable and made of rust-resistant powder-coated aluminum. The square size measures 31.5 inches long and is $500; the Rectangular Table is twice the length for $810. The two can be used together to host larger gatherings. Available at Design Within Reach.
Above: The í"pplaro Drop-Leaf Outdoor Table is made of eucalyptus and finished in white acrylic paint. It seats up to eight people with the leaves extended and has a center umbrella hole; $169 from Ikea.
Above: West Elm's Jardine Folding Bistro Table is the perfect size for two or a close group of three and a mess of cheese and summer fruit. It's made of weather-resistant hardwood treated in white (or green) for $139.99.
Above: The 1966 Collection Porcelain Dining Table, as the name suggests, was finished in 1966 by Richard Schultz after a four-year collaboration with Florence Knoll. The body of the table is constructed from powder-coated aluminum and the tabletop is porcelain enamel on steel; $2,170 at Design Within Reach.
Above: A small, round cafe-style dining is powder-coated in white, measures 28 inches in diameter, and stays put with a spoke-like base. The Penelope Table is $449 at Room & Board.
Above: A substantial piece of outdoor furniture, the white-painted mahogany wood Hampstead Rectangular Extending Dining Table seats from six to ten, for $999 at Pottery Barn.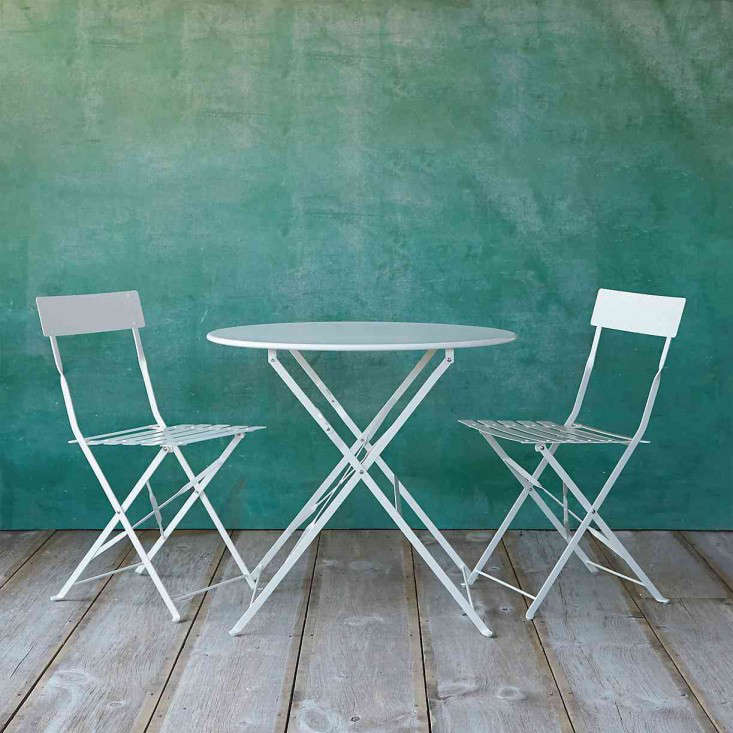 Above: In the same fashion as classic Fermob furniture, Terrain's Painted Metal Bistro Table is lightweight and suited for tight spaces; with a UV-resistant powder-coated steel; $168 for the table.
Above: Modeled after the beer garden table, Ikea's PS 2014 Folding Table is budget-friendly at $129 and is meant for indoor-outdoor use.
Above: Restoration Hardware's long Aegean Dining Table is inspired by Greece and made in Australia of a rustproof aluminum frame. The 60-inch table to seat four is $1,270 and at the other end of the spectrum, the 108-inch table for ten dinner guests is $2,120.
For more all-white garden ideas, see our posts:
(Visited 159 times, 1 visits today)