When magnolia buds begin to swell, their petals splitting snug casings of protective winter velvet, spring begins to feel like a sure thing.  In cities across North America, Asian magnolias are the urban harbingers of spring's relief, blooming when a touch of frost can still singe their flowers' smooth edges. Farmers markets still carry the previous season's produce (unless it's greenhouse-grown). Even local rhubarb is a month or more from harvest. Seasonal eaters long for something fresh, and vibrantly delicious. So regard your magnolia tree—it is an unexpected source of flavor. Magnolia buds and petals are edible; they taste like a breath of cardamom-scented ginger, with a whisper of cloves, and, sometimes, camphor. They can be eaten raw or cooked, and preserved in sugar, vinegar, and hooch.
Here are some of the ways I use magnolia flowers in my kitchen, with tips, tricks, and a hearty springtime recipe.
Photography by Marie Viljoen.
The spicy, complex flavor profile of magnolia buds and flowers makes them extraordinarily versatile and inspiring as an ingredient. They can be used fresh, or dried. Magnolias infuse warming winter toddies, summer syrups, and sweltering curries; magnolia buds can be pickled, or their aromatic petals caught in sugar and salt. (And yes, native North American magnolias, which bloom in summer, can be used the same way. Read our previous story about edible Magnolia grandiflora.)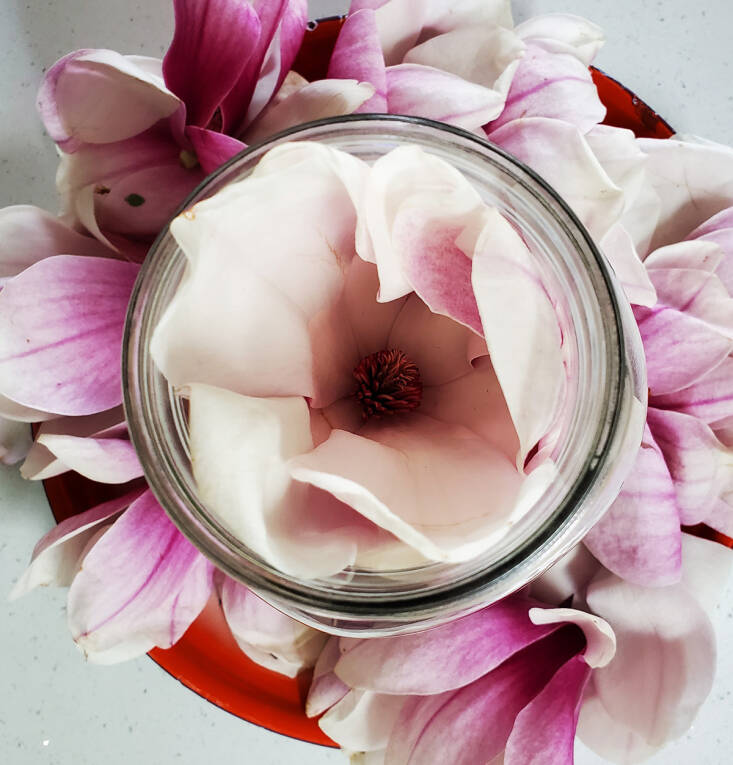 When working with magnolia petals you'll discover that they oxidize, their cut ends turning sepia quickly. If using them fresh as a garnish, cut them just before you need them, and when infusing or pickling, keep them submerged below the liquid to hold their color.
The ultra-simple ways of using fresh magnolia petals are possibly the most effective and ephemeral. And you don't need more than a few petals. Slivered across a still-warm egg, or dropped onto delicate cubes of silken tofu. These are bites of a season, to be savored and sunk into, before that season breezes past.
Cooking with magnolia is very rewarding. The pickled buds have a unique flavor, and I add them to dishes as diverse as braises (with chicken, lamb, or duck), spicy shrimp soups, slow spring stews with green apricots and mugwort, and to an ever-changing repertoire of seasonal meatballs.
To dry magnolia petals, spread them out on parchment in a single layer and leave out until they are completely crisp, about 4 to 5 days in low humidity. Store in a tightly sealed jar or grind them finely to add to salt. They make a fragrant, tonic, hot tea, long after magnolia season is over.
Spring Cabbage and Magnolia Pad Thai – Gluten-Free
Serves 4
This nourishingly delicious (and substantial) meal draws heavily, if heretically, on the hot-sour-salty-sweet principles of pad thai, minus the noodles. Magnolia sugar (or syrup) and petals perfume thinly sliced cabbage, which is tossed in the familiar flavors of fish sauce and lime.  Don't skimp on the oil in the sauce—it is essential for carrying and conveying flavor.
Sauce:
¼ cup lime or lemon juice
¼ cup fish sauce
3 Tablespoons magnolia sugar or magnolia syrup
3 Tablespoons peanut butter
2 Tablespoons soy sauce
Cabbage:
1/4 cup neutral oil, like avocado
1 medium cabbage (about 2lbs), sliced very thinly
2 shallots, very finely chopped
2 cloves garlic, thinly sliced
2 Tablespoons microplaned ginger
1 teaspoon chile flakes (or 1 red Thai chile, finely sliced)
1/3 cup field garlic greens, very finely chopped (substitute chives)
3 large eggs, whisked
Tofu Topping:
8 oz silky tofu, cut into large cubes
¼ cup roasted cashews, chopped roughly
2 Tablespoons field garlic greens, finely chopped
2 magnolia buds, thinly sliced
For the cabbage: Cook the cabbage in boiling water for 4 minutes (it should still be crunchy). Drain and reserve.
For the sauce: In a bowl, whisk together all the sauce ingredients until smooth, and reserve.
To assemble: In a wide skillet or wok heat the oil over high heat. Sauté the shallots, garlic and ginger for about 2 minutes, stirring, until the shallots are translucent. Add the blanched cabbage. Toss well with tongs or two spoons. Cook for about 4 minutes, until the cabbage is sizzling.
To finish: Add the whisked sauce ingredients to the cabbage and stir or toss very well. Add the field garlic and toss, and add the whisked eggs. Toss again. Taste, when they have cooked through. You may want more salty, sweet, or sour. Adjust, if necessary. Top with the tofu cubes, cashews, field garlic greens, and the magnolia petals.
Eat at once.
See also:
(Visited 1,026 times, 1 visits today)