The Planter Brick may be the sexiest hardscape building component we've ever seen. Designed by Real San Fratello Architects, the Planter Brick can be installed in vertical masonry walls as a single piece of sculpture or in a group to create a vertical garden wall of succulents.  This is no ordinary brick.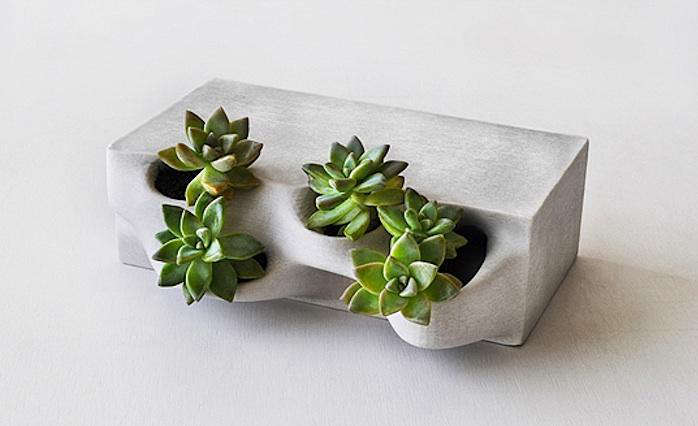 Above: Bay Area architects Ronald Rael and Virginia San Fratello are modern day explorers of sorts, pushing the boundaries of materials and design. The aptly named Emerging Objects is their design and research company that specializes in developing 3D printed objects for the built environment using custom materials and processes. The Planter Brick is a favorite.
Above: The Planter Bricks are made using 3D printing technology (the architects teach a 3D printing studio at University of California, Berkeley). The bricks are modeled in 3D software, which is then sent directly to a 3D printer to be manufactured. This means that bricks can be customized to a client's particular application.
Above: The finished product is a ceramic brick that is bisque fired and glazed (in white) to make it waterproof. Planter Bricks are also available in custom colors, and in a gray cement version. The ceramic brick is $400, while the cement version is $300.

Above: Like this idea, but looking for a DIY solution? Consider this succulent wall using cored clay structural bricks. Each brick has three holes that can serve as planting spots. Oldcastle Red Cored Concrete Bricks are $0.82 each at Lowe's.  Image via Upcycle That.
Above: The Succulent Source offers a huge variety of succulents, including a Fifteen 2.5-inch Succulent Collection for $35.
See our collection of Vertical Garden Features for more ideas.
(Visited 28 times, 1 visits today)