Night is a vulnerable time for gardens and coops. Raccoons and other nocturnal marauders (yes, we mean you, sweet-looking deer) can do a lot of damage while you slumber. Here's an idea shared by a reader who, as it happens, sells chicken coops. Solar Night Eyes, a nighttime predator deterrent, has flashing LED lights that confuse predators: they think the lights are the reflection from another animal's eyes, so they head in the opposite direction.
Of course, this method only works at night. For daytime deterrents, see our earlier feature: 10 Easy Pieces: Humane Ways to Outwit Varmints.
Above: Solar Night Eyes is a small solar-powered unit with flashing LED lights that automatically turn on at dusk and off at full daylight. No batteries. No electricity. Solar Night Eyes protects against owls, coyotes, opossum, raccoons, fox, bobcats, muskrats, bear, cougar, wild boar, mink, weasels and many more nocturnal predators (teens?).
Above: The compact Solar Nite Eyes device measures 3.9 by 1.8 by 1 inches. The manufacturer recommends placing multiple units in your outdoor space for the best effect. The unit is completely sealed, protected against moisture, and is high/low temperature resistant; $27.99 each at Amazon.
Above: It is often recommended that four Solar Nite Eyes units are used and placed in a 360-degree format to keep approaching predators at bay from any direction. They can protect more than chicken coops. Place them by trash bins, flower beds, edible gardens, and even fish ponds. Do they really work? For a first-hand review, see Amy's Harvest Blog. Image via Amy's Harvest.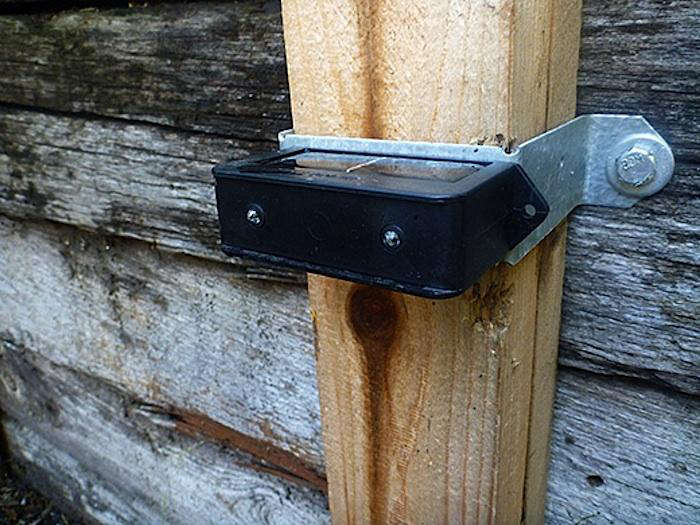 Above: The Solar Night Eyes device can be attached to trees, posts, or fences by screws. Another feature is that the unit is magnetic, so it will stick to any iron metal. No tools required. Image via Garden Betty.
This has me thinking. Is it time for A Sexy Chicken Coop?
(Visited 151 times, 1 visits today)