Who wouldn't want a rhubarb forcer? Not only do these terra cotta jars encourage tender shoots to grow in early spring, the clay domes also look fabulously sculptural in a garden bed.
If you are the sort of gardener who likes to raise asparagus and chicory as well (and really, who among us does not?), forcing jars also will coax those edibles toward success.
You may wonder after you look at all the lovely rhubarb forcers pictured below why the terra cotta cloches are a commonplace accessory in England but practically non-existent in the United States. We too are dismayed by the shortage stateside—perhaps local garden suppliers will take note of our 10 favorites:
Photograph via Crocus.
The UK's recent renaissance in rhubarb forcers can be traced to a chance encounter between the Duke of Edinburgh and potter John Huggins at a recent Chelsea Flower Show, reports the Telegraph. After the Duke "casually asked if he made rhubarb forcers," Ruardean Garden Pottery designer Huggins became so intrigued that he started buying up vintage forcers to study their shapes and "once he started making them, people just couldn't get enough."
Above: From Ruardeen Garden Pottery, hand-thrown terra cotta Forcers are available in two styles including Chimney (L) and Bell (R) shapes and in four sizes from 18 to 24 inches and at prices from £95 to £205 depending on size.
Above: A Traditional Terracotta Rhubarb Forcer measures 52 centimeters high, has a removable lid, and is £60 from Burford. To use it: "Simply fill the terracotta forcer with straw and position over the emerging rhubarb bud, to protect from frost and provide a cozy environment…But remember not to force the same plant in successive years, enabling it to recover its strength."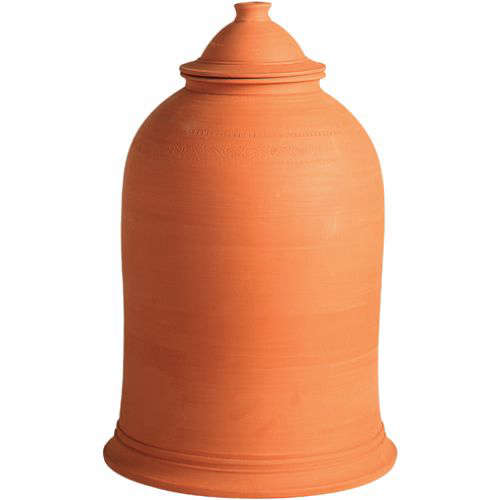 Above: Made to order at North Cotswolds-based family business Whichford Pottery, tall Rhubarb Forcers are available in two sizes (68 and 78 centimeters high) and are £180 and £250 respectively.
Above: A Terracotta Rhubarb Forcer is available in two sizes, 50 and 60 centimeters tall; from £89.99 to £99.99, depending on size, from Crocus.
Above: Made in Crete, terra cotta Rhubarb Forcers with side handles are 50 centimeters tall and £85 from Pots and Pithoi.
Above: Handmade in the UK, a frost-proof Rhubarb Forcer is 60 centimeters tall and is £90 from Hen and Hammock.
Above: From England and probably made around 1930, a vintage Tall Terracotta Rhubarb Forcer with a lid (the lid probably is not original) is $950 from 1stdibs.
Above: A Terracotta Rhubarb Forcer is available in two sizes from the Royal Horticultural Society's shop; prices range from £89.99 to £99.99 depending on size.
Above: A Victorian-style Clay Cloche Rhubarb Forcer handmade on a potter's wheel has a 39 centimeter base and is £56.99 from Gardens4Less.
Above: A Frostproof Terracotta Rhubarb Forcer is up for auction on eBay with a starting bid of £42.95.
(Visited 1,436 times, 1 visits today)