The Chelsea Flower Show is coming to town. This year more than ever we've been able to see that it doesn't just land, like a perfectly formed spaceship, on the banks of the River Thames. Everyone with a hi-vis jacket also has a phone, so the stress, hilarity, and adverse weather conditions have been tweeted  for all to share.
It's the 100th Anniversary of the greatest flower show on earth and as per tradition, there is some royalty about. Prince Harry is involved, via his charity Sentebale, and thankfully for us the designer of his garden is Jinny Blom, who approaches this event with great panache. Here, then, is a Jinny Blom-Gardenista semi-exclusive: Chelsea, the Build-Up.
Photographs by Jinny Blom.
Above: "Nocturnal wind has never caused so much discomfort!" tweeted Jinny yesterday. "Awake all night worrying about our poor plants, storm damage, etc. Ghastly and typical." Mild, dry weather is forecast for judging day.
Prince Harry's charity, Sentebale, means "Forget me Not" and was set up for the children of Lesotho. There will be a hut, laser-cut steps, an embossed wall, and an inlaid terrace with a hearts-and-crowns design. There will also be specially commissioned music and lots and lots of roundness, in the planting as well as in the hard landscaping.
All of the show gardens start with a rectangular plot, dominated by vast London plane trees. "The plane trees do affect scale," tweets Jinny. "The pine is 5.5m tall and the pavilion looks vast at 4.5m. Will shrink to nowt!"
Above: A returning star this year is Christopher Bradley-Hole, who caused a very big stir in the 1990s with his modernist design for the Daily Telegraph garden. The show judges were forced out of their comfort zone of considering only plants and plantsmanship and things were never quite the same again. No effort is too great these days in the hard landscaping element: built for permanence and gone in a few weeks. Expect a "Japanese approach" to the English landscape in Bradley-Hole's garden this year, featuring hazels and densely congregated clipped yew blocks.
Above: "Look how beautiful this workmanship is. Well done to all the masons who worked on it," tweets Jinny. "We can't let these skills die." The design of the round patio was loosely inspired by a Lesotho blanket. Its motifs are a reminder of Prince Harry's mother, Diana, Princess of Wales.
Another favorite exhibitor this year is Swedish Ulf Norfdfjell, who won Best in Show four years ago. Expect subtle color and much Cypress Oak, both espaliered and in tall spires. Clipped yew blocks also populate this space.
 Jo Thompson, whose garden for the Caravan Club last year featured a Winnebago, is a well-liked contender and this year she focuses on the threatened native environment (ash tree die-back is a huge concern in the UK). The garden features some dead trees in one section contrasting with lively and lovely planting in another.
Above: Plants arrive at the garden of Jinny Blom with this reaction: "The 'smell of fear' returned this morning when I saw the trolleys. Just Scott and me planting as usual."
Above: Half of the planting team (Scott). The other half is holding up her phone (Jinny).
At the end of the day Jinny reports: "Silence… 8am-6pm planting in the pouring rain on Jurassic Avenue. Cold, old, tired, happy. Full of ideas, excited about tomorrow. Hungry."
This year there will be further evidence of pleaching, clipping, and topiarizing–in the gardens of Chris Beardshaw, Robert Myers, Roger Platts–as well as an increasing environmental awareness. Nigel Dunnett, of Olympic Park meadow fame, will be having another go at a gold with his rainwater-harvesting roof garden.
Above: "And before you know it it's time to go home," tweeted Jinny earlier this week. "Plants won't look so pointillist in a few days as it relaxes."
The Great Pavilion at Chelsea is always the biggest draw for serious plant nuts, with Jekka McVicar's herb display a reliable highlight as well as the roses of David Austin and the late Peter Beales. Kelways peonies have been showing in the floral marquee since year one.
Above: "Not something you see every day, I grant you," tweets Ginny as a team member struggles under the mud rondavel in her Sentebale Garden.
As well as the vast floral marquee–3.5 acres, the biggest tent in the world before it was replaced with plastic modules–there are smaller designed gardens. Those named "Fresh" are intended to show the newest ideas, and the "Artisan" gardens will reflect the changes and developments in gardening during the first 100 years of the Chelsea Flower Show.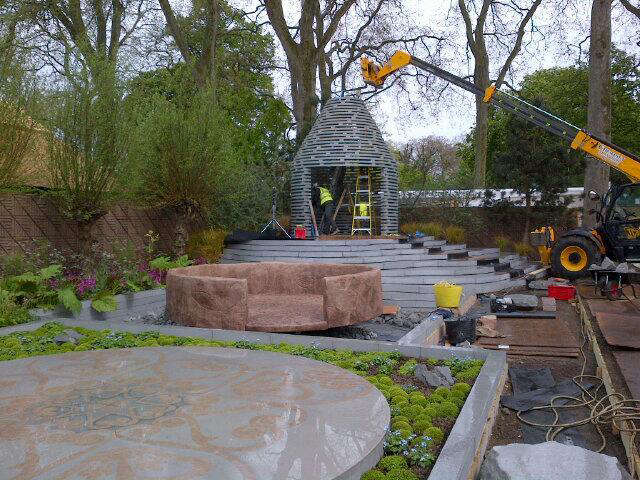 Above: A strong sense of skills, craftsmanship, and team work comes through in the tweets from London, SW3. "The only photo I managed today was the top of the pavilion expertly lowered in by Steve @SwattonLS," said Jinny yesterday. Soon followed by: "I SALUTE THE TEAM. Amazing."
Above: Texture! Salix in the foreground, a mud wall behind. "Mud and willow wands in a very direct interpretation of a Basotho design," tweets Jinny (the Basotho people are Lesotho dwellers). "Looks very 1960s to me." Looks very intriguing to us.
We'll be covering the 100th Chelsea Flower Show all next week, live from London, so come back on Monday for Kendra's next insider's installment.
Remember last year's Chelsea Flower Show? Kendra was there too; for her report, see A Surprise Gold Medal at the Chelsea Flower Show.
(Visited 23 times, 1 visits today)