Yesterday, we featured Old Chaser Farm—a 20-acre working farm and garden owned by Seattle star chef Matt Dillon to supply his area restaurants. (Read the story in Old Chaser Farm: A Seattle Chef's Garden on Vashon Island, Washington.) Today, we dive into another of his ventures: The London Plane, a restaurant, bar, and bakery with a flower shop.
The London Plane Flower Shop is a floral salon in two parts. It offers a generous array of fresh-cut flowers seven days a week at the restaurant's entrance, and also has a floral studio to supply custom arrangements, bouquets, and centerpieces to local homes and events. Though the London Plane is part of Dillon's empire, it's as much the brainchild of co-owner and floral designer Katherine Anderson, who worked as a landscape architect before founding her flower shop Marigold and Mint in the city's Capitol Hill neighborhood years ago.
Marigold and Mint, which sources flowers from Anderson's family farm in the Snoqualmie River Valley, is located just across the way from one of Dillon's restaurants, and the two became friends over shared philosophies and aesthetic sensibilities. "Katherine and I are simpatico in a lot of ways," says Dillon. "I use a lot of wild, foraged foods in my cooking and have always really loved flowers and growing and gardening." For her part, she says, their friendship blossomed over "shared aesthetics, and an approach to nourishing oneself, whether it be with food or flowers." Let's take a closer look at their collaboration.
N.B. We feature the London Plane Interiors on Remodelista today.
Photography by Ellie Lillstrom for Gardenista.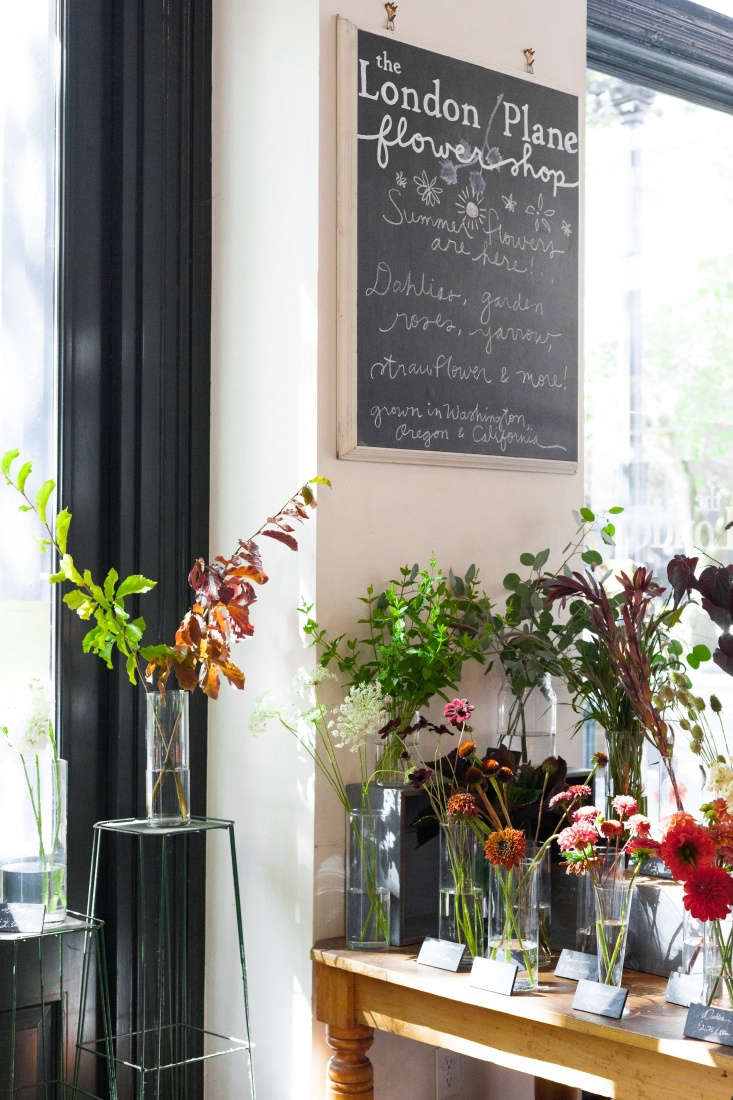 From March until the first frost (usually mid-October), almost all of the flowers come from local Washington farms, including Anderson's. "We absolutely supplement with some from California, especially in the dead of winter," she says. "But we're still very close to those farmers, and those flowers are in our shop within two or three days of being picked."
Over time, regular lunch customers become regular flower buyers, "which is just what we want," says Anderson. "At the end of the day, the restaurant and flower shop feed each other."
Anderson describes the shop's design approach as "wild, really focused on texture and letting the form of the plant direct us," she says, citing florists Saipua and Amy Merrick as compatriots.
All custom orders are made at a long wooden table, visible to customers at the London Plane. As I spoke with Anderson on the eve of Thanksgiving, two florists had 15 buckets of flowers at their feet and the shop table had become a centerpiece factory.
For more floral shops around the world, see:
(Visited 193 times, 1 visits today)