There is archaeological evidence to show that humans have been eating apples since 6,500 BC. It makes sense. They're sweet, crunchy, juicy and, as every woman since Eve well knows, quite tantalizing. Plus, apples are incredibly versatile.
May I tempt you with my Farmhouse Apple Cake? Read on for ingredients and instructions:
Photography by Laura Silverman for Gardenista.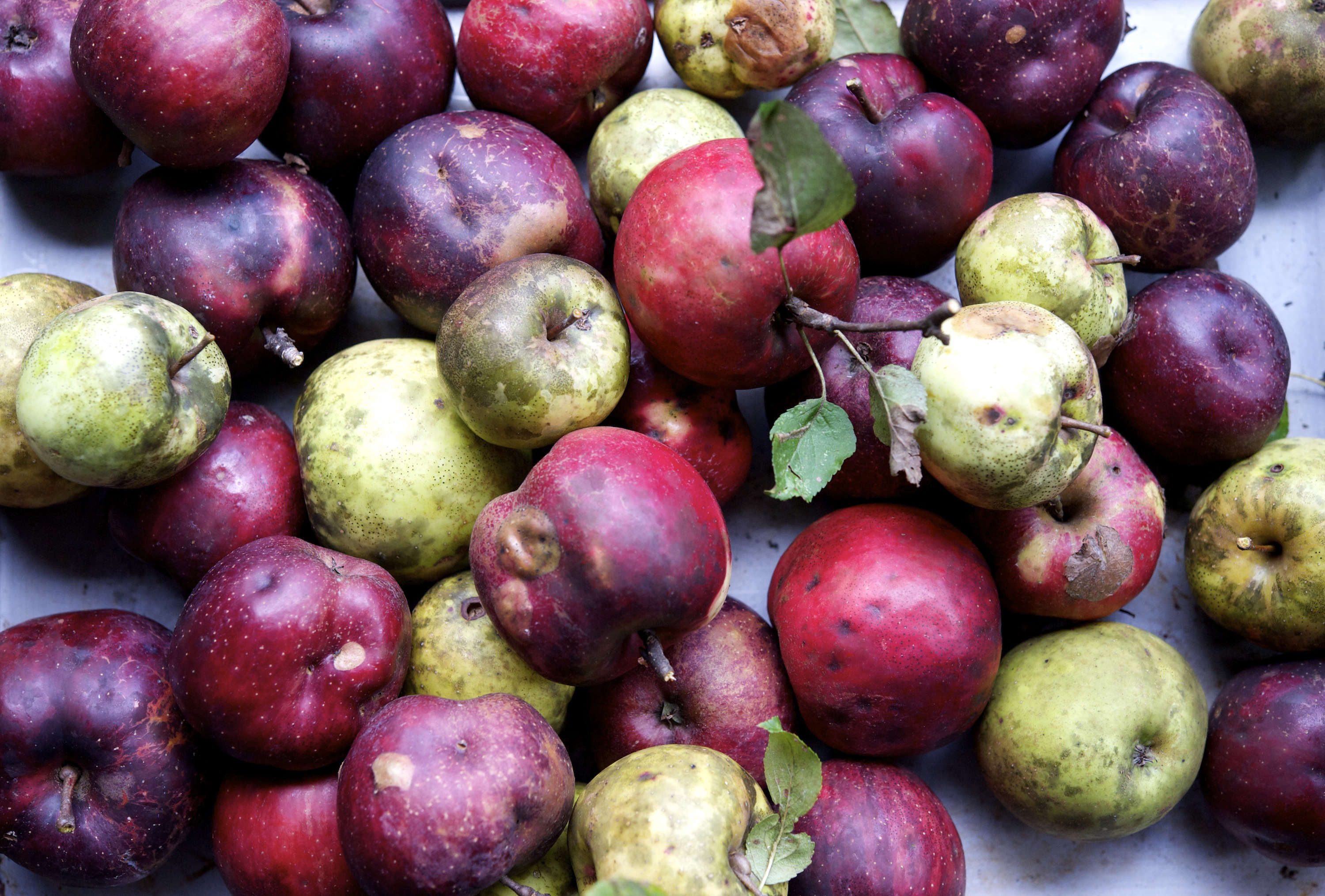 Above: Though most of us grew up on Red Delicious and Granny Smith, the movement to preserve old varieties means farmers' markets now boast dozens of heirlooms. 
Above: I get my heirlooms from the wizened old trees in a friend's tiny orchard. These are not the pristine specimens you find in the supermarket, but what they lack in classic good looks they make up for with wonderfully complex flavors. 
Above: I like to use small heirlooms or lady apples to make an adorably miniature version of caramel apples. Twigs instead of popsicle sticks really enhance their rustic appeal. And a quick dip in chopped toasted peanuts or pecans adds an extra crunch. 
Above: Apples are a welcome addition in savory dishes as well. A spicy chutney made with chiles, vinegar, and dates pairs wonderfully with chicken and pork. Try crisp cubes of fresh apple along with walnuts, blue cheese and tarragon, or cut slim matchsticks to toss into a mustardy slaw of fennel and kohlrabi.
Should you find yourself with a surplus of apples–perhaps after an enthusiastic spell at a U-Pick–get out your mandoline or just use a very sharp knife to make thin slices you can dry in a low oven or dehydrator. Stored in an airtight container, these will keep all winter long.
Above: While it might sound pedestrian, applesauce, a nursery favorite, is only as dull as you make it. Start with a mix of sweet-tart apples, roughly chopped and cooked down in a stockpot along with a few of the following: raisins, cranberries, dates, citrus zest, cinnamon, nutmeg, fennel seeds, pecans, walnuts, pumpkin seeds, brown sugar, cider, calvados, honey. I strike a perfect balance with fresh ginger, cardamom, a glug of maple syrup, and a little cider vinegar.
Above: Apples have a special affinity with the season's popular "pumpkin pie spice." Travel a little further down the spice route and discover the beautiful nuances of mace, the bright lacy covering of the nutmeg seed shell that is highly aromatic and sweet. And investigate allspice, with its dusky notes of clove and cinnamon.
Above: The wonderful, winey essence of apples is beautifully expressed in that most traditional of all preserves: apple butter. It's essentially a highly concentrated form of apple sauce, produced by long, slow cooking to the point where the sugar in the apples caramelizes. I stew mine with dark muscovado sugar, lemon juice, cider, and spices until it turns a rich, deep brown. 
Above: Is it too early to be thinking about Christmas? No? Then, put up jars of this thick, silky spread to give away to some very lucky friends. It's equally good stirred into yogurt or oatmeal, slathered on warm banana bread or a cheddar cheese sandwich.
Above: And now that we've broached the subject of the holidays, consider serving baked apples for those big family breakfasts. It's a quick, healthy, and delicious alternative to whatever you're used to slaving over. Stuffed with nuts and dried fruit, and drizzled with honey or maple syrup, these are wonderful warm or at room temp with a dollop of thick yogurt.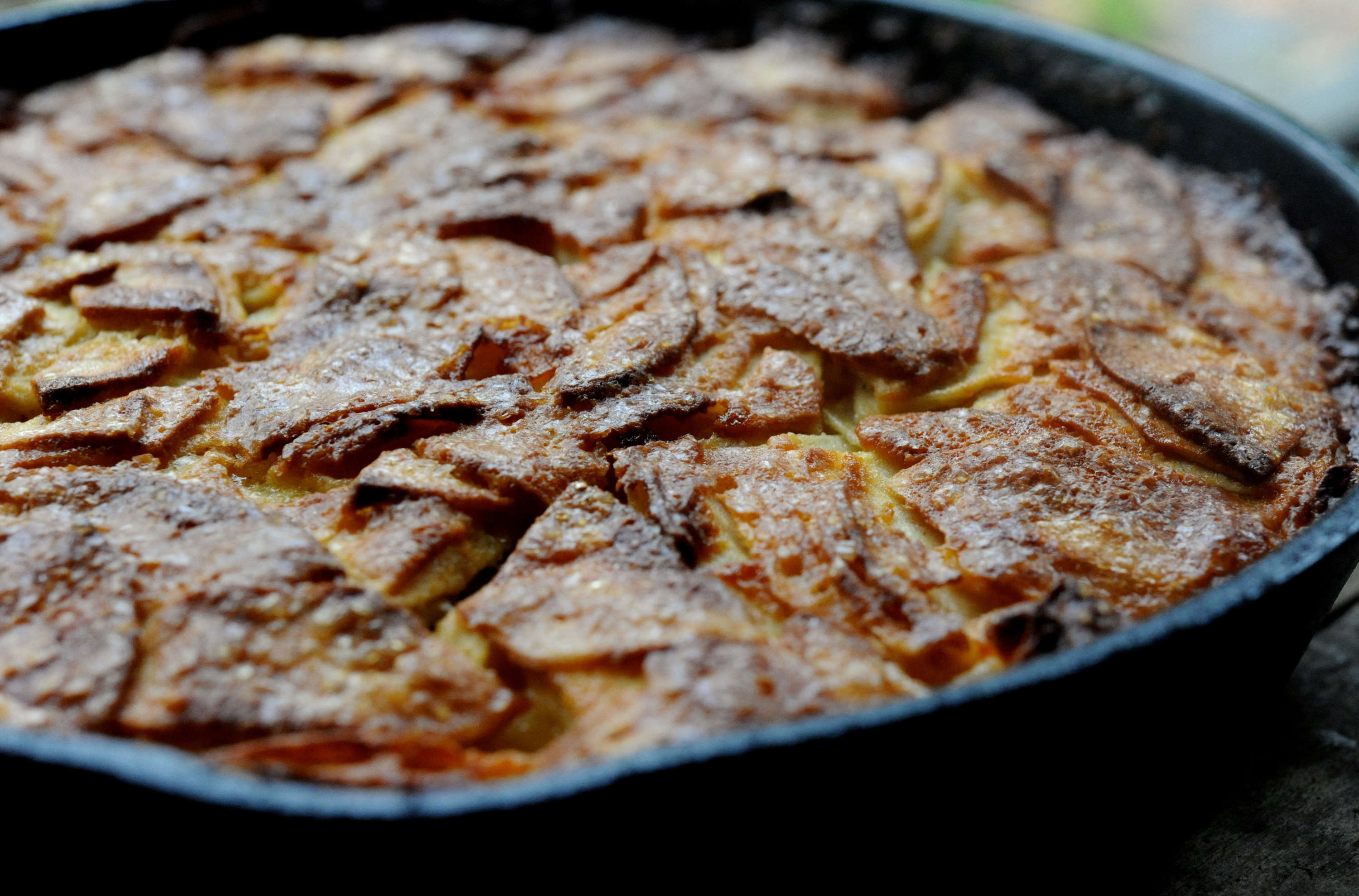 Above: Apples really shine in this traditional Italian farmhouse cake, where thin slices of the fruit are held together with just-melted butter, a couple of eggs, and a scant amount of flour. I top mine with crunchy turbinado sugar and bake it in a cast-iron skillet. It's easy enough for a weeknight treat and impressive enough to join the classics on your Thanksgiving buffet. And it's just the thing for keeping the doctor away.
Farmhouse Apple Cake 
Serves 8
Ingredients:
5 Golden Delicious apples

2 large eggs

8 ounces sugar

2 ounces flour

1 teaspoon ground cardamom

4 ounces buttermilk

3 ½ ounces unsalted butter, melted

1 teaspoon vanilla extract

2 teaspoons baking powder

2 tablespoons turbinado sugar
Preheat the oven to 375 degrees Fahrenheit. Butter a 10-inch cast-iron skillet.
Peel, core, and quarter the apples, then slice into very thin slivers using a sharp knife or a food processor with a slicing blade. After this is done, pop the skillet into the oven to preheat.
With a wire whisk, beat the eggs and sugar in a very large bowl until the sugar dissolves. Stir in the flour and cardamom, then add the buttermilk, butter, and vanilla. Blend thoroughly. Quickly stir in the baking powder, then fold in the apples.
Pour the mixture into the preheated skillet and sprinkle turbinado sugar over the top. Bake on the center rack until the cake is golden brown and cooked through, about 55 minutes. The cake is done when a small paring knife inserted into the center comes out clean. Cool on a rack and serve warm or at room temperature. 
For more recipes, with and without apples, visit Glutton for Life.
Planning a Thanksgiving menu? May we suggest:
(Visited 114 times, 1 visits today)