Who doesn't love a Cinderella story? This week, we visit landscapes transformed: a lawn begone in California, a before-and-after Brooklyn backyard, and 10 gardens where a pergola made all the difference. Join us.
Monday
Above: In Brooklyn's Crown Heights neighborhood, a backyard goes from sad to special; see the step-by-step transformation in this week's Rehab Diaries post. Photograph by Niya Bascom Photography.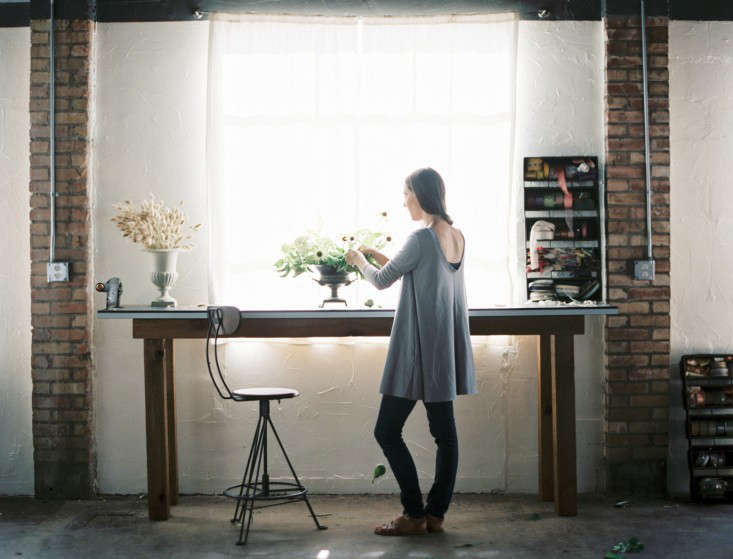 Above: Florist Sarah Winward gives us a tour of her workspace in this week's Studio Visit. Photograph by Britt Chudleigh.
Tuesday
Above: Alexa finds shelter from the storm–and the summer sun–and finds 11 ways to improve your garden with a Pergola in this week's Roundup post. Photograph courtesy of Mark Tessier Landscape Architecture.
Above: Michelle rounds up her favorite outdoor lanterns for summer parties in this week's 10 Easy Pieces.
Wednesday
Above: Megan's sleuthing leads to some shocking revelations about the history of the hammock–and five to buy–in this week's Outdoor Furniture post. (And if you missed her latest column, catch up at Patio Furniture 101: The Adirondack Chair.)
Thursday
Above: This week's Hardscaping 101 post is a primer on wood decks: from designing one (how big should it be? does it need a railing?) to materials (from ipe to cedar?) we'll arm you with everything you need to know. Photograph by Reto Guntli courtesy of BarlisWedlick Architects.
Friday
Above: This week's Before & After post tells the Cinderella story of a southern California front yard–transformed from a weedy, scruffy patch of turf to a drought-tolerant landscape of sun-loving succulents. Photograph by Morgan Satterfield of The Brick House.
You need to login or register to view and manage your bookmarks.