"I always wanted a garden," says ceramist Melissa Goldstein of MG by Hand. (Read more about her work here.)  As a child she loved going on nature walks with her dad. Years later, she rallied the fellow tenants in her old Tribeca loft to create a communal garden on their rooftop. But until 2007 she never had a garden of her own. When a friend told her that the brownstone behind hers in Brooklyn was coming up for sale, the artist and photography consultant jumped at the chance.
There was one problem, though. The previous owner, who was too old to manage the backyard, had been getting it sprayed with pesticides to control the vegetation. "We moved in and inherited a poisoned yard," says Goldstein. But she didn't let that deter her. She had the soil tested at Cornell's Cooperative Exchange and set out to repair the land. "I planted crimson clover, which adds nitrogen to the soil, and brought in carful after carful of compost that New York City was giving away at the time in Staten Island," she recalls of some of her methods. The soil slowly began to heal. And after a few years she began planting. 
Photography by Melissa Goldstein.
She started with structure. She bought a "really beautiful boxwood" at a local nursery and began propagating cuttings by dipping them in root hormone and planting them in the ground. "I ended up with a lot of them," she said. "They grew pretty quickly." The boxwoods, sculpted into loose balls, dot the yard, providing moments of green among a sea of blooms. 
She also removed the chain-link fence that separated her yard from her friend-now-neighbor's and replaced it with a living fence. She ordered seven European hornbeam (Carpinus betulus) plants from Digging Dog Nursery. She knitted them together along the 20-foot-wide property border and trained an archway so that the two families could walk through on visits. The children, especially, loved running back and forth between the two yards.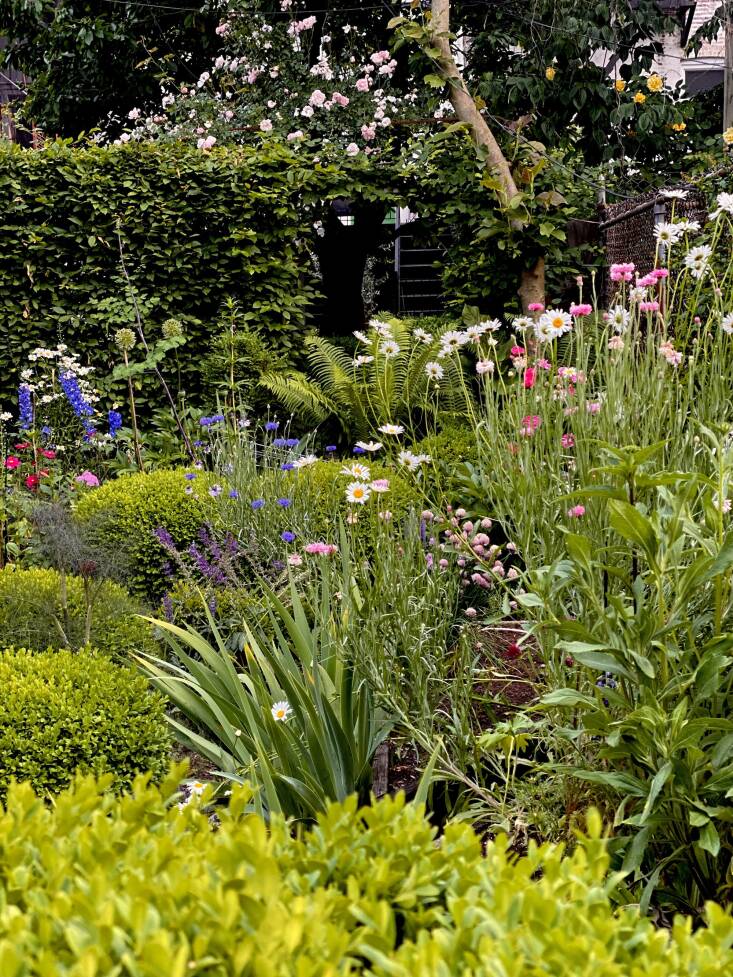 "I prefer a cooler palette—blacks, purples, and pale pinks—but then I like to add touches of color," she says of the flowers she grew. "I want the garden to feel restful, not too excitable." She planted roses, including old varieties like Rosa mundi, whose blooms reminded Vita Sackville-West of "red cherry juice generously stirred into a bowl of cream," and an exquisite orangey-pink cultivar she named 'Neighborhood Rose' after climbing a fence to save a cutting before the entire over-grown garden was razed for construction. It blooms all summer long. Irises, poppies (including one rooted from a plant of her late mother-in-law's), and salvia provide bursts of color, and meadowrue, bachelor buttons, and scabiosa self-seed throughout the beds, adding color and spontaneity. 
Every morning Goldstein puts on her boots and takes a cup of coffee out to a corner in her garden. 'Huntington' and 'Brother Cadafel' roses perfume the air. Cardinals, robins, and woodpeckers swoop in daily. One morning she watched a hummingbird moth sipping nectar from the delphinium. "There are a lot of stories behind the plants here," she says. Listening to Goldstein talk about the garden, I was reminded of a line from one of my favorite childhood books by Frances Hodgson Burnett. "And the secret garden bloomed and bloomed and every morning revealed new miracles." Below, she takes us on a tour.
Before
For more Brooklyn gardens, see:
(Visited 10,412 times, 9 visits today)
Frequently asked questions
Who is Melissa Goldstein?
Melissa Goldstein is a ceramist and the owner of MG Hand. She creates handmade ceramics for both functional use and decorative purposes.
What is unique about MG Hand ceramics?
MG Hand ceramics are known for their unique designs and organic shapes. Each piece is carefully handcrafted and no two items are exactly alike.
Where can I find MG Hand ceramics?
MG Hand ceramics can be found on the official MG Hand website as well as select retail stores and online marketplaces that feature handmade artisan products.
Do MG Hand ceramics require special care?
While MG Hand ceramics are durable, they should be handled with care to avoid any accidental damage. It is recommended to hand wash the ceramics and avoid exposing them to extreme temperatures.
Can MG Hand ceramics be used for food and beverages?
Yes, MG Hand ceramics are food-safe and can be used for serving food and beverages. They are also microwave and dishwasher safe.
Does MG Hand offer custom-made ceramics?
Yes, MG Hand offers custom-made ceramics. Melissa Goldstein can work closely with customers to create unique pieces that fit their specific needs and preferences.
What is the pricing range for MG Hand ceramics?
The pricing for MG Hand ceramics varies depending on the size, complexity of the design, and the materials used. It is best to visit the official MG Hand website or contact them directly for specific pricing information.
Does MG Hand ship internationally?
Yes, MG Hand offers international shipping. However, the availability and shipping costs may vary depending on the destination country. It is recommended to check the shipping information on the MG Hand website or contact them directly for more details.
Can MG Hand ceramics be returned or exchanged?
MG Hand has a return and exchange policy. If you are not satisfied with your purchase, you can contact them within a specified time frame to initiate the return or exchange process. It is recommended to review the specific terms and conditions on the MG Hand website.
Does MG Hand offer wholesale options for retailers?
Yes, MG Hand offers wholesale options for retailers interested in carrying their ceramics. Retailers can contact MG Hand directly to discuss wholesale opportunities and pricing.