A twinkly outdoor dining room in Los Angeles gets points in our book for not being fussy. Major elements include a rustic table and benches, white string lights, and a low-key table scape. We've done the sourcing to help you recreate the look:
Above: Los Angeles-based SIMO Design designed the gazebo that houses this outdoor dining room. Hear about this remodel from the designers themselves in The Designers Are In: Expert Tips from Remodeling Pros on Remodelista. (We also featured the facade of this house in Shades of Gray: Architects' Top 10 Paint Picks on Gardenista.) Photograph by Joe Schmelzer.
Furniture
Above: We were delighted to find a close match to the dining table. The Welded Steel X Base Table is handmade in Arkansas by furniture company James+James; $9200 for a 6-foot table.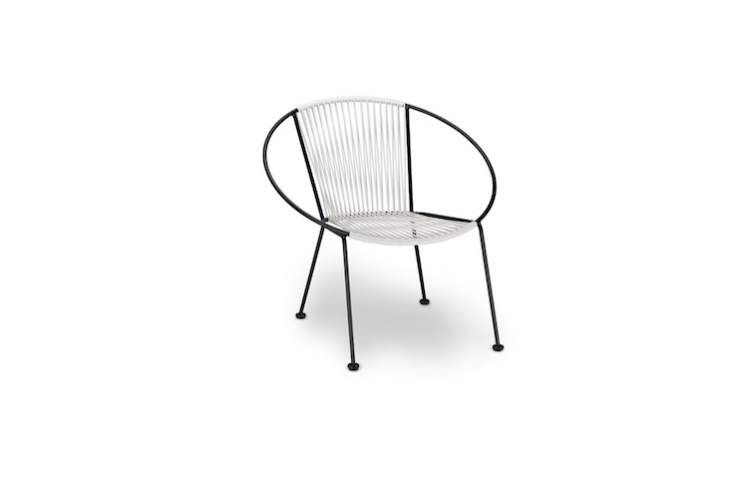 Above: A white and black Hoop Chair is from Los Angeles-based Plain Air. It's made of powder coated steel and vinyl cord and is available for $395 from Potted. (See Required Reading: Gardens Are for Living for more from Plain Air founder Judy Kameon.)
Lighting
Above: For outdoor globe lights like the ones shown here, the Party Globe Light String from Restoration Hardware is $35. For more options, see 10 Easy Pieces: Cafe-Style Outdoor String Lights.
Tabletop
Above: On the table, blue glass candleholders. The Kivi Candleholder is a comparable design classic available in a broad spectrum of colors. Designed by Heikki Orvola for Iittala and shown here in light blue, it's £10 at Scandinavian Design Center.
Above: For a simple glass pitcher, consider the Cha Cha Pitcher. It's $29.95 at Crate & Barrel.
Above: We like the pale aqua color of Wine Punts Recycled Glassware; $34 for a set of four 16-ounce tumblers. 

Above: Tossed onto the bench, a cloth napkin. We think Vintage Red Striped Dish Towels make perfect outdoor napkins; $11.32 includes shipping for a package of three 18-by-28-inch towels on Amazon.
Steal the look of some of our favorite scenes in Steal This Look: A Seaside Beauty in Marin and Steal This Look: The Deconstructed Outdoor Kitchen.
(Visited 304 times, 2 visits today)