Always, it was about the marble. My platonic ideal–the house I would lie awake and fantasize about–involved carrara: countertops, mantels, thresholds, and backsplashes. Pretty much every surface except toilet seats. For years I collected inspirational photos. Then finally, a few months ago I finished a remodel and marble was everywhere and it was perfect. Until one morning, when something went horribly wrong:
Above: Photograph by Michelle Slatalla.
"Nooooooo," I screamed after I walked into the kitchen, where sunlight bathed the beautiful backsplash above the stove. Except it wasn't beautiful anymore. A nasty nicotine-yellow stain was licking its way up the marble, starting at the stovetop and stretching all the way to the exhaust hood.
"Oh my God," said my husband, who had come running. "How did this happen?"
That was the question. I felt like a character in a caper film who had just been foiled (?) as she casually strolled out of a museum wearing a priceless diamond tiara heisted from a display case. Surely, to finish the remodel had involved every bit of wiliness and cunning I was capable of channeling. To get to this point, I had to: wait for my older daughters to grow up and leave home; sell one house; buy a wreck; assure my husband the wreck which he referred to as "Michelle's Folly" was salvageable; rent it out; move to New York; supervise the remodel from 2,500 miles away, and move back with the project behind schedule and nowhere to live.
Then finally, it was finished. You think a remodel will change your life by turning every part of your house into something new and clean and perfect. And that does happen. For about one minute. Then you move back in–with your mud-tracking family and your little dogs named Sticky and Larry and your old chairs with the scratchy feet–and things break, chip, get dinged and scratched and stained.
The first year of living in a perfect house is actually about learning to accept imperfection without falling into a deep state of despair. A scratch in the paint here, a leak in the basement, a hot water problem. These are all easy to fix. The crookedness that makes a nose perfect.
But this marble problem? It was the crookedness that demanded a nose job.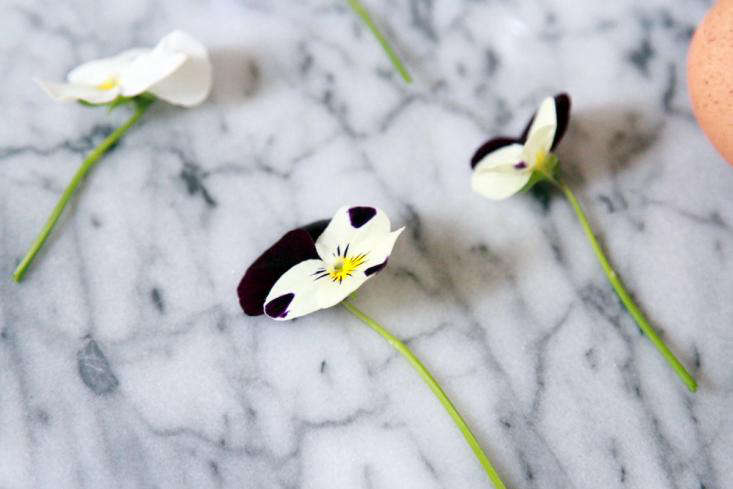 Above: Photograph by Erin Boyle.
Roast chicken was the culprit. The previous night, we'd had company and I'd slathered a bird in butter before consigning it to a 425-degree oven. Although I'd forgotten to turn on the exhaust fan until the fire alarm went off, in the candlelight of a dinner party I hadn't noticed the smoke damage.
"It must have come up from the oven through this grate," I said in a dead, beyond-shock tone.
"Can you get it off?" my husband asked.
I started to scrub. First I tried a mild solution of dishwashing soap and water. Then marble cleaner/polish.
The yellow stain didn't fade a bit.
I escalated, from diluted Simple Green to undiluted Simple Green to a vinegar-water solution to a diluted bleach situation to pure uncut bleach on a toothbrush. (I don't recommend this unless, like me, you come from a family where the bleach gene has been passed down for many generations, from one shaman to another who whispered the secrets of bleach cleaning in your ear while rocking you to sleep. In which case, feel free to take your bleach pot into the living room next, to deal with that stain on the rug. The rest of you–stay away from bleach.)
"Any luck?" my husband called supportively from the sofa, where he was watching football.
Above: Photograph by Liesa Johannsson for Gardenista.
No luck. By now I was starting to panic. So I turned to the Internet for help.
After about two seconds of Goggling (as my father puts it), I learned that there is only one way to get embedded grease stains out of a porous stone like marble: you have to make a poultice.
"A poultice?" my husband asked (it was halftime). "Isn't that what doctors used in the 19th century to draw pus out of a boil?"
Above: Photograph by Liesa Johannsson for Gardenista.
Following instructions gleaned from various discussion threads with subject lines such as "Can This Marble Be Saved?" and "ARRRRGGGHHHH-help," I came up with a recipe for a simple poultice. The basic idea was to mix an inert white powder–like flour, say, or cornstarch–with water to make a paste.
Adding mineral oil or ammonia to the paste would increase the poultice's effectiveness at drawing out oil, and also be something cool to brag about at my next family reunion. But my backsplash is above a stove; I wanted to avoid flammable substances. Instead, I got a stone cleaner from the hardware store and mixed some into the paste.
I slathered the paste on the backsplash and prepared to wait, as the Internet suggested, for 12 to 24 hours for it to dry. Then I scraped it off carefully with a knife and–it worked! Not perfectly (I had to re-apply another coat to stubborn, darker sections of the stain). But for the most part, it was a miracle cure. As the poultice dried, the floury paste sucked all the moisture–in this case, the tiny droplets of oil–from the stone.
Above: Photograph by Liesa Johannsson for Gardenista.
The mystery, as my husband pointed out, was: why did this happen in the first place? All across America, people have lovely marble backsplashes above stoves, unsullied by horrible yellow grease stains. We wondered if ours had been sealed improperly. We phoned the installer, who said (no surprise) that he was shocked by this problem and had never heard of it before. "Of course," he said, "I've never heard of anyone else installing one."
Just in case, we re-applied sealer–three coats–to the backsplash ourselves. We plan to mount a 3-inch-high strip of stainless steel flashing against the backsplash to divert future chicken smoke and grease from the marble. I am sure it will be perfect.
Above: Photograph by Mimi Giboin for Gardenista.
To see more of my kitchen, go to Rehab Diaries: Michelle's Mill Valley Kitchen Redo.) And if you've had a similar experience, tell us about it in the comments section (misery loves company).
This is an update of a post published January 14, 2013 as part of our Roman Holiday week.
(Visited 2,417 times, 1 visits today)