Turin-based landscape architect studio Giardino Segreto installed a fully equipped kitchen inside a steel and glass greenhouse. The result is our dream kitchen. We're inspired by how it elegantly unites indoors and out to create a romantic retreat to prepare garden-to-table meals.
Not in possession of a villa? If your kitchen opens out to a garden, you're on your way. Here's how to recreate the look with a high-low mix of industrial appliances:
Above: Local Italian artisans designed the custom greenhouse. Evoke a similar atmosphere with an all-white palette. See 10 Easy Pieces: Architects' White Exterior Paint Picks. If you must have your own bespoke greenhouse, inquire with Chelsea Flower Show favorite Hartley Botanic and French manufacturer of ironwork greenhouses Serres d'Antan.
Above: A Hanging Globe Pendant from Home Depot, in white glass, provides diffused ambient light. Available in three sizes, a pendant with a 12.5-inch diameter is $62.37.
Above: The Vera Chaise in powder-coated steel is made in Italy, and available in three finishes: white, brown, and gray. The latter, available at Hotel Restaurant Supply, is $765. To purchase the lounge in white, contact the manufacturer, Emu Americas.
Above: The galley kitchen is all practicality, with space-saving appliances, a wall organizer, and industrial finishes. The designers also manage to soften and add romance with a neutral palette and natural light.
Above: With a solid all-brass body, pull-out spray, and under $350–could this be the faucet you've been looking for? Made in Germany, from Hansgrohe, the Interaktiv S-One Handle Kitchen Faucet is $315.25 at All Modern.
Above: The Nutid Oven from Ikea, with a quadruple-glass front and child-safe lock, is $799.
Above: A splurge: Danish brand Vipp, known for its pedal trash bins, carries a line of glamorous cabinetry available in black or white stainless steel and in modular customizable configurations. To start the design process, visit the Copenhagen concept store or go online to window shop case studies.
Above: A Smeg Classic Design drop-in gas cooktop ($699) is a compact 24 inches wide.
Above: Ikea's counter-saving Grundtal Rail System stores utensils and cookware in tidy displays and at arm's reach. The Rail is available in three lengths, at prices ranging from $6.99 to $9.99. We're longtime admirers of the system's flexibility; see Ultimate Budget Storage: 10 Kitchens with Ikea's Grundtal Rail System.
Above: Organize your wall and keep utensils and cookware off the counter with a pack of 10 S-Hooks (99 cents) from Ikea.
Above: Also from Ikea, a hanging Wire Basket, perfect for herb pots, is $2.99.
Above: Achieve a palette of white and lime with a few kitchen utensils and accessories in green. A Kitchen Craft Colour Works Silicone Ladle, $12.72 on Amazon, brightens the backsplash and cabinets.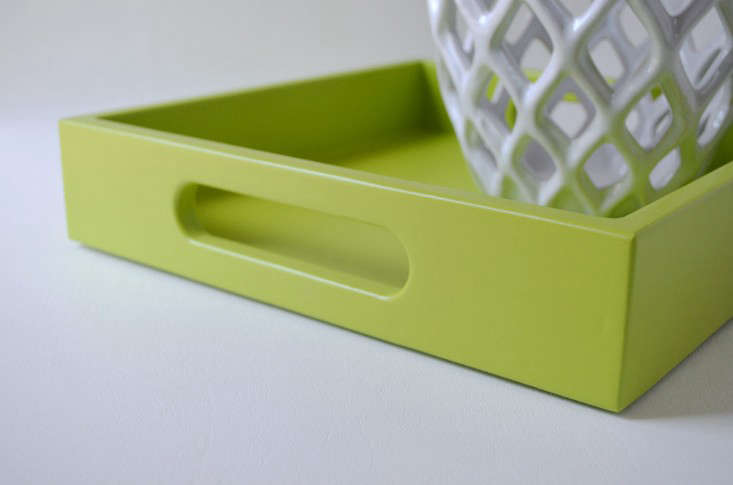 Above: A 14-by-19-inch Serving Tray in lacquered satin is $39 from Etsy seller Gleaming Renditions.
Above: La dolce vita: an all-white deck and chaise lounge complete a serene kitchen idyll.
N.B.: This post originally published on January 20, 2015.
For more of our favorite garden-style kitchens, peruse:
(Visited 303 times, 1 visits today)