Some people prefer diamonds, others pearls. For me, the greatest luxury is a generously sized utility sink. In my life I have known three and loved them all. Each made short work of dirty paint brushes, muddy garden boots, and root-bound plants in need of a transplant. Did I mention how easy a utility sink makes it to wash the smell of skunk off a small dog? (My strategy for odor removal involves vanilla extract and my dog Larry.)
Recently we rounded up our favorite outdoor work sinks; today we're homing in on wall-mounted styles. Here's a list of our 10 favorite utility wall sinks for sheds and mudrooms:
Above: Made of glazed steel by Germany-based Alape, a Bucket Sink with navy trim measures 20-1/8 inches wide by 14-3/8 inches high and 14-1/8 inches deep. It is $249 from Rejuvenation. Photograph via Alape.
Above: From Kohler, a cast iron Bannon Service Sink resists corrosion and tarnishing and is available in two sizes, at prices from $925.10 to $1,040.80 depending on size.
Above: Designed by Italy-based industrial designer Alessandro Zambelli, Seletti's Hydra Wall Fountain made of concrete and copper has a single spigot; for information and pricing, see Seletti.
Above: Made of cast iron and available in three sizes at lengths from 3 to 5 feet, a Kohler Brockway Utility Sink has an acid resistant enamel finish and from two to three faucet holes. It is available at prices ranging from $1,595.35 to $2,843.40 depending on size.
Above: An enameled cast iron Akron Service Sink from American Standard has a glossy porcelain finish and measures 24 by 20 1/2 inches; $737.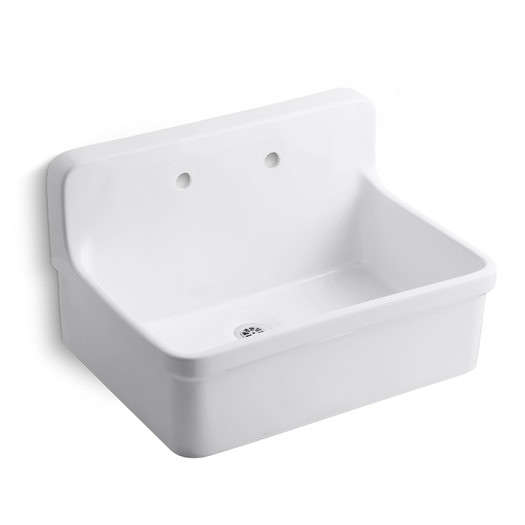 Above: A bracket-mounted Gilford Scrub Up/Plaster Sink by Kohler measures 30 by 22 inches and is designed for a wide-spread faucet;  $783.63 from All Modern.
Above: Made of vitreous china, an All Purpose Wall Mounted Sink  has a high splash back and is $980 from American Standard.

Above: An always-changing selection of one-of-a-kind Vintage & Antique Utility Sinks is available from Readytore. Resurfaced and repainted, a Cast Iron Farm Utility Sink similar in size to the one shown above is $849.
Above: New Jersey-based M. Teixiera makes custom soapstone sinks; for information, showroom locations, and prices, see Soapstones. Photograph via M. Teixiera.
Above: A stainless steel wall-mounted Service Sink from Elkay has a buff satin finish and a 12-inch-deep bowl; $2,489.
For more utility sinks that are as stylish as they are useful, see 10 Easy Pieces: Outdoor Work Sinks.
(Visited 845 times, 1 visits today)