Some gardens stick with you. In the five months since I first came across the backyard of designer Jessica Helgerson's Library House in Portland, Oregon, in the New York Times, I've found myself returning to Helgerson's website to study the photos frequently. I can't say for sure what draws me: the dramatic black-and-gray color scheme of the facade?
The diamond-paned windows that catch the light?
The peaceful miniature Japanese garden with its own jerry-rigged fountain? 
OK, I'd like to recreate the whole look. So last week I emailed project designer Em Shephard and she generously agreed to reveal her sources (including paint colors):
Above: Photograph by Lincoln Barbour.
Built in 1915, the building is a Craftsman-style cottage previously used both as a church and a library.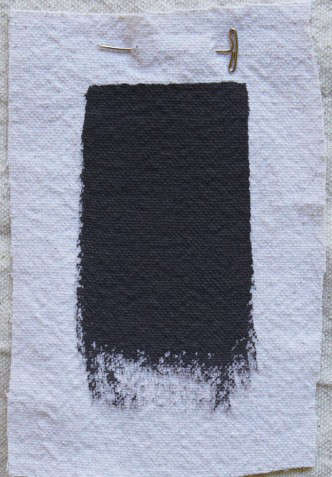 Above: The body of the house is painted with a rich gray with warm undertones. The color is Benjamin Moore Iron Mountain at 75 percent. (Thinking of painting your house gray? See Shades of Gray: Architects' Top 10 Paint Picks.)
Above: A similar choice for the gooseneck sconce on the house is a black Original Warehouse Gooseneck Light with a 12-inch shade; $237 from Barn Light Electric.
Above: Photograph via Benjamin Moore.
The door color is an exterior formulation of Benjamin Moore Black Tar and the trim is painted with Farrow & Ball's Pointing, available in an Exterior Eggshell finish.
For more of our favorite black paint colors, see Black Magic: Architects' 8 Top Paint Picks.
 Above: In a textured black finish, a metal Sollos Lighting 8 Inch Dome Hat Path Light is $55.77 from Louie Lighting.
Above: Much of the facade's charm comes from the diamond-paned transom windows. Diamond panes, traditionally associated with Victorian or Tudor style houses, work well with the high-pitched roof (evocative of a Tudor cottage). Many window manufacturers offer diamond grille styles; Andersen Windows' A-Series of customizable windows offers two grille options: full or simulated divided light. For pricing and options, see Andersen Windows.
Another, more expensive option is custom leaded glass diamond paned windows. Santa Clara, CA-based Hyland Studio manufactures traditional leaded glass windows; for information and pricing, see Hyland Studio. 
Above: To recreate the look of the deck, redwood planking is a good choice. Redwood's warm color, combined with its durability (redwood is dense and resistant to rot, insects, water, and fire), explain its popularity as an exterior surface material. It is available in different grades–from construction grade to clear all-heart–and a variety of patterns. For more information and pricing, see Redwood Empire.
Above: Evoking a traditional Japanese Zen garden at the edge of the deck, compact conifers and grasses are widely spaced to make each plant an individual focal point. To recreate the look with a mix of textures and shapes, consider planting evergreen junipers. At (L) Juniperus sabina 'Arcadia' ($49.95 from Nature Hills) is a low growing creeper, and (R) Juniperus chinensis 'Blue Point' will grow vertically in a pyramidal shape ($54.95 from Nature Hills).
Above: Add plants with spiky or variegated leaves to create interest. Both (L) Variegated Mondo Grass ($5AU from AJ Flynn) and (R) Liriope Evergreen Giant ($4.99 AU from Hargraves Nursery) are sturdy, drought-resistant perennials. For US gardeners, White Flower Farms sells Liriope Muscari Variegata (three for $30.45). And a variety of ornamental grasses is available from Georgia-based Mondo Grass.
Above: The water feature in the garden is made from a piece of found pottery fitted with a fountain kit. For a similar look, start with a Round Ceramic Pot (for example, a glazed pot from Asia as shown above; see Sloat's for information and pricing). To convert the pot, you can use a 1-Tier Fountain With Pump Kit, which comes with a reservoir, pump, and fittings and is suitable for containers of up to 4 gallons ($28.44 from Lowe's).
For more of designer Jessica Helgerson's work, see Steal This Look: A Spanish Inspired Black-and-White Kitchen on Remodelista. To recreate more of our favorite exteriors, patios, and facades, browse our Steal This Look archive.
(Visited 299 times, 1 visits today)