The best place to grow flowers in all of the UK is the Scillies (pronounced "sillies") and farmers there have been doing so for centuries. Today, florists still get their winter supply from these islands in the Atlantic, but anybody can order from the growers online. And in the months from October to April, the scented narcissus is the flower to order, direct from Scilly Flowers.
Photographs by Howard Sooley.
Above: The multi-headed Narcissus tazetta, a genus and species which includes the celebrated 'Paperwhite' cultivar. Scilly growers can be a little sniffy about the single-trumpet, more ubiquitous daff: "We don't use the word 'daffodil,' " says Zoe Julian, Scilly Flower proprietor.
Ben and Zoe Julian are the second generation of their family to operate Scilly Flowers from their 27-acre Churchtown Farm on the island of St Martins. When Andrew Julian moved his family to the island in 1986, after 18 years fighting crime as a police officer in London, he invested the family savings into the Churchtown property and countless narcissus bulbs. The original plan was to supply wholesale flower markets, but the farm suffered through a series of harsh winters that left the business floundering. A decision to rent cottages and stables to vacationers looking for a taste of the subtropics got the family back on their feet. In 1992, the Julians reinvented the flower business as a mail-order flower delivery service they call Scent From The Islands.
Today, a team of 18 permanent, part-time, and seasonal staff help operate the family run flower business, supplying the UK with 90,000 boxes of flowers annually.
Mother's Day in the UK is around the corner on March 30 and there's still time to place an order: A bunch of 100 Scented Narcissi costs £28 from Scilly Flowers. 40 Scented Narcissi are £17 and a Posy Pack of 16 scented narcissi is just £10.50.
Above: The Isles of Scilly provide a unique environment for growing narcissus as the climate is subtropical. In other words, conditions more often associated with regions closer to the equator are replicated here in good old Great Britain. Cornwall, on the tip of southwest England, is only 24 miles to the east, but 24 miles can make all the difference.
Above: Narcissus 'Bishop Rock.'
There are 20 different varieties of narcissi growing on the islands, which keep up a continuous supply from October to April. The first shoots pop up at the end of the summer holidays and by the next holidays in December they are at their height of production. The 'Bishop Rock' (Above) is grown by another grower, Fran Hicks on St. Agnes, the tiniest of the Scillies.
Above: A field of late-winter narcissi.
Narcissus bulbs are stimulated into growth by heat and smoke. The Narcissus tazetta bulb is Mediterranean and the bulbs expect intense heat as well as bush fires. These conditions are recreated at Scilly Flowers in May with the help of plastic sheeting, which warms the bulbs and is used to waft smoke over from fires lit around the parameters.
Above: Narcissus 'Primo.'
Narcissus tazetta is generally grown for forcing indoors, unless you live in the extreme southwest. "They are very high maintenance flowers," says Zoe. She explains that you can try growing them outdoors further north but they will struggle for a couple of years before giving up.
Above: Cut stems with unopened florets.
Florets open progressively. The first few to bloom at the top are followed by the opening of heads lower down, extending their vase life.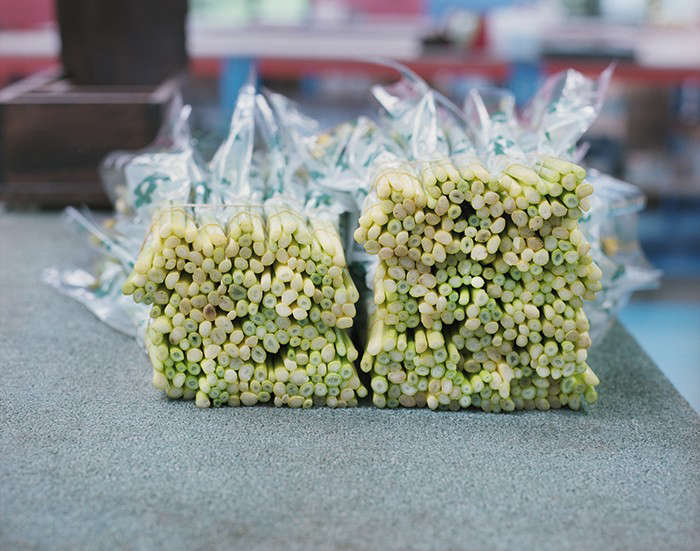 Above: Cut stems from Scilly Flowers last for about a week but can bloom for longer if kept quite cool. Putting them on the windowsill above a radiator is rushing them along too much.
Above: Narcissi are packed on a carpet-covered table and sent out by first class mail. This involves a boat, from St Martin's to the bigger island of St Mary's, then a plane to England's mainland, and then a train to final destinations. It's quicker than it sounds.
Above: You can visit Scilly Flowers' Churchtown Farm on St Martin's, or even rent one of the Holiday Cottages. If you're interested in a stay on a smaller island, grower Fran Hicks also maintains Holiday Lets on St Agnes.
You need to login or register to view and manage your bookmarks.