Precious few gardens stop you in your tracks and take your breath away. Sarah Price's return to the Chelsea Flower Show, which opens today in London, does just this, presenting so many spell-binding vistas, sensitive combinations, and extraordinarily beautiful plants and colors that it lingers in the mind and will surely be one of the show's most influential gardens of recent history. Step inside for a closer look.
Photography by Clare Coulson.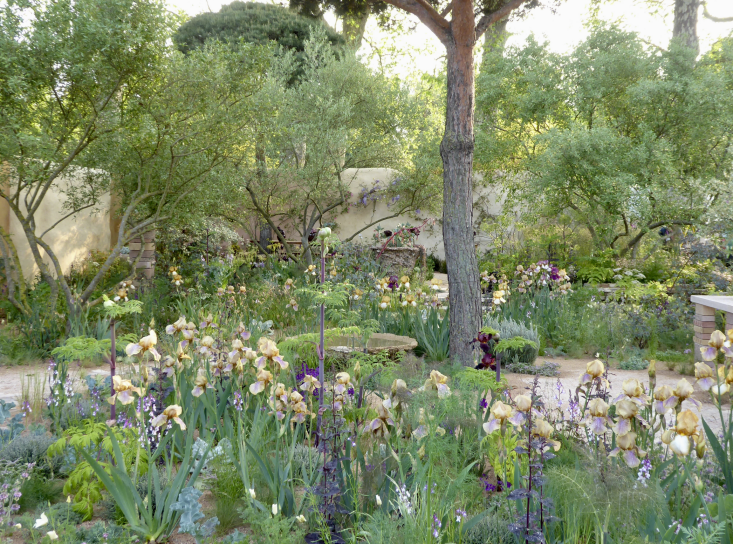 First, the plants: The artist Cedric Morris's bearded irises are the stars of the show, where they are planted into the garden's warm-toned fine gravel with space to be admired. Softening the effect is fennel, euphorbia, the gorgeous spires of Angelica archangelica, poppies, and thyme, and silvery foliage from stachys and Salvia sclarea.
Beyond the iris, the dazzling Aeonium 'Zwartkop' adds punchy dots of deepest burgundy while Rosa mutabilis—trained as a climber here—along with wisteria adorn the sublime rendered and color-washed walls. Around the garden Elaeagnus 'Quicksilver' provides a delicious honey-scented silvery backdrop while two fabulous Pinus sylvestris trees, which are pruned as stone pines, provide a spectacular statement over the more open areas.
Price's first eureka moment in the long path to her design was when she saw Sarah Cook's collection of Benton irises at the show back in 2015. These cultivars—bred over decades in the mid 20th century by the artist and plantsman Cedric Morris at his 16th century home in Benton End, Suffolk—enraptured her with their indescribable colors and gradations.
She immediately decided that one day she would do a garden based around them. The next pivotal moment was a visit to Morris's home at Benton End in Suffolk, now in trust to the Garden Museum. The meadow was dotted with fritillaries including F. pyrenaica and anemones, and set against a backdrop of arching Elaeagnus and dark green pines. It was, she says, completely enchanting.
Those inspirations have been reimagined in what is essentially a dry garden with soft casually placed brick paths and gravel providing the warmest backdrop. As you'd expect, there are lots of Morris's other favorites in the garden too, many of which have been named after him—a scented rambling white rose, a wild sweet pea, and grey poppies.
Aside from the plants, this garden is jam-packed with innovation and inspiring sustainable ideas. When Price was last here five years ago, she says, "no one was really interested that I'd made the garden with rammed earth walls and recycled tiles or that we'd used no cement." All that has changed. As in her 2018 garden, the beauty here is ramped up by the low-carbon, "reuse and recycle" philosophy—from the mellow air-dried bricks to the lime-rendered straw bale walls and recycled canvases that are colored with natural paints. Garden containers were also made from air-dried sand that was pulled out of a reservoir at Price's contractor's Surrey HQ. Even the ropes that are used around the garden have been laboriously crafted over weeks using waste hops and brambles. Furniture has been made from fallen trees. This was all the result of close collaboration with Local Works Studio. It's a garden truly made by hand.
See also:
(Visited 32,812 times, 18 visits today)
Frequently asked questions
What is the Chelsea Flower Show?
The Chelsea Flower Show is a prestigious annual event held in London, England. It is a world-renowned flower show that showcases innovative garden designs, breathtaking floral displays, and horticultural excellence.
When and where does the Chelsea Flower Show take place?
The Chelsea Flower Show is typically held in May at the Royal Hospital Chelsea, London. It spans over five days, attracting visitors from around the globe.
Who is Sarah Price?
Sarah Price is a highly acclaimed landscape designer known for her innovative and naturalistic planting designs. She has won several awards for her work and has been selected to design the main show garden at the 2023 Chelsea Flower Show.
What is Sarah Price's main show garden about?
Sarah Price's main show garden at the 2023 Chelsea Flower Show is inspired by the changing landscapes of the British Isles. It aims to evoke a sense of journey through different natural habitats, combining native plants, water features, and sculptural elements.
What can visitors expect to see at Sarah Price's garden?
Visitors to Sarah Price's garden can expect to see a stunning display of native plants, carefully selected to represent various British landscapes. There will be a mix of meadow-like areas, woodland plantings, and water features, creating a harmonious and immersive experience.
Can visitors take home plants from the Chelsea Flower Show?
No, visitors are not allowed to remove any plants from the Chelsea Flower Show. However, there are usually plant stalls and nurseries available where visitors can purchase plants to take home.
Are tickets required to attend the Chelsea Flower Show?
Yes, tickets are required to attend the Chelsea Flower Show. They can be purchased online in advance or may be available for purchase on the day, subject to availability.
Can children visit the Chelsea Flower Show?
Yes, children are welcome to visit the Chelsea Flower Show. However, it is recommended to check the event's website for any age restrictions or guidelines specific to children attending.
Are there food and beverage options available at the Chelsea Flower Show?
Yes, there are various food and beverage options available at the Chelsea Flower Show. There are restaurants, cafes, and food stalls offering a range of cuisines and refreshments.
Is photography allowed at the Chelsea Flower Show?
Yes, photography is allowed at the Chelsea Flower Show. Visitors are encouraged to capture and share their experiences on social media, but commercial photography or filming requires prior permission.