At age 107, Ruth Bancroft of Walnut Creek, California "spends her days reading, listening to classical music and opera, and catching up on British dramas," writes Johanna Silver. Among Mrs. Bancroft's other lifelong hobbies: weeding, collecting seashells, and creating a spectacular garden on land that once had been a walnut and pear orchard purchased in the 1800s by her husband's grandfather, historian Hubert Howe Bancroft.
In the 1960s, Ruth and husband Philip gradually sold off acreage to developers until they were left with 11 acres of gardens, and after the demise of the last walnut tree Ruth decided in the early 1970s to devote three of those acres to a succulent garden.
Open to the public and protected by the Garden Conservancy, Bancroft's spectacular succulents garden is the subject of The Bold Dry Garden, written by Silver and photographed by Marion Brenner. The story is a heartwarming one, and Brenner's photos are magnificent:
Photography by Marion Brenner courtesy of Timber Press.
Above: Cactus "frame a mysterious walkway," Silver writes.
Born in 1908 in Boston, Ruth Petersson moved to northern California as a baby so her father could accept a job as a Latin professor at the University of California in Berkeley. After marrying Bancroft in 1939, she moved from Berkeley to the family's farm and began gardening in earnest.
Above: Labeled Agave rasconensis, this large specimen will grow as high and wide as 10 feet.  "In Ruth's garden, many large species of Agave serve as bold focal points," writes Silver.
Mrs. Bancroft purchased her first succulent, Aeonium 'Glen Davidson', in the 1950s on a lark."I went to a lady's home in north Berkeley because she had a lot of Oriental things she was selling," Mrs. Bancroft later told the San Francisco Chronicle. "I didn't see anything I was interested in, but then she said, 'I've got some plants in the garden.' I took one home."
Above: Echinopsis formosa is a fuzzy hybrid with orange and pink flowers.
Mrs. Bancroft's dry garden now includes more than 2,000 different succulents, cacti, shrubs, and trees.
Above: Mrs. Bancroft placed purply gray and brown travertine rocks in "undulating, naturalistic" patterns to create a backdrop for silvery succulents.
Mrs. Bancroft's drought-resistant garden became a poster child for water conservation during California's drought in the 1990s and prompted the creation of the Garden Conservancy.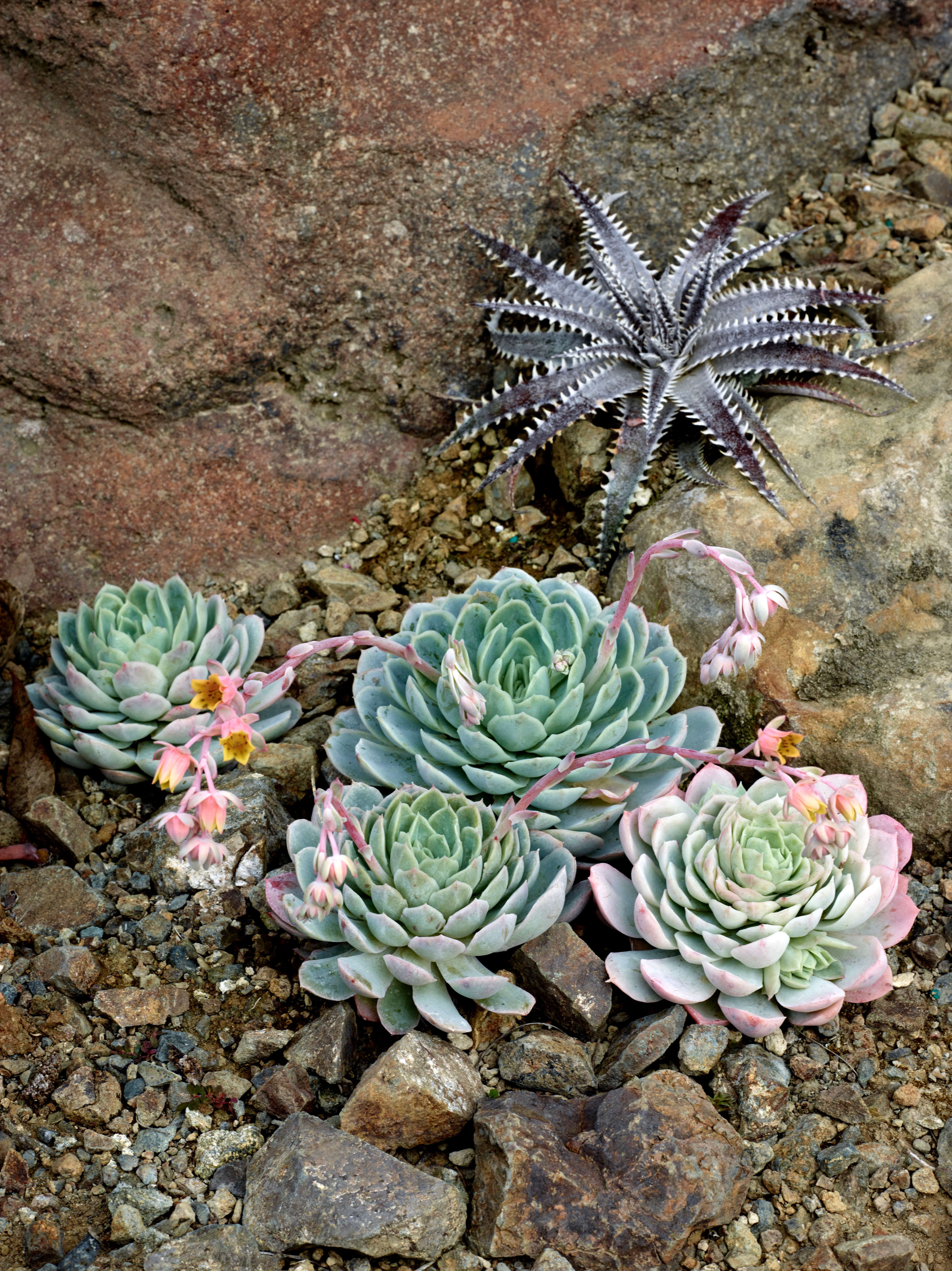 Above: Echeveria 'Hummel #2' and a dyckia.
"There is something so beautiful and touching about Ruth aging alongside her garden," Silver writes.
Above: Echeveria hybrid (E. agavoides x E. colorata) is cold-tolerant.
"With curiosity as her compass, she created a garden that would eventually become a model we look to for sustainability and as a reflection of regional appropriateness," Silver writes.
Above: The Bold Dry Garden is $22.44 at Amazon.
For more spectacular succulents, see: