Marching through the wilderness, The flower show at Chelsea features so many gardens of wildflowers and country trees that formal gardens seem a little out of place. In terms of looks, installations with the least promising ingredients such as crazy colors, rusty arches, and rock strata made out of modified wood (the Medite Smartply Building the Future garden, watch this space for a post later in the week) have come out on top.
Join us for a quick tour of Press Day at the Chelsea Flower Show.
Photography by Jim Powell for Gardenista.
With perfectly pitched hoggin (sandy gravel) and an exquisite plant palette, not to mention curved walls that seem to float, Andy Sturgeon's Mind Garden has an authority on Chelsea's Main Avenue. It is a garden for the senses and is centered around mental health. If we are talking about texture, we have the glaucous stems and leaves of opium poppy and Rosa glauca, sticky umbels of Molopospermum peloponnesiacum, and airy, flowering Stipa tenuissima. Amid much greenery, colors really do pop, from lemon yellow achillea, magenta Byzantine gladiolus, and a creamy version of Californian poppy, Eschscholzia californica 'Alba', which glows even more than the original orange. A member of the Royal Horticultural Council suggested to me that one plant was put in as a teaser for serious botanists: yellow-flowered Saruma henrii, a useful but rare wild ginger, great for dry shade.
In the UK, beavers are being reintroduced to landscapes, especially those which are undergoing a process of rewilding. This show garden is edged with long grass and hazel wattling, with a bridge of planks over a dammed stream and unruly piles of twigs and branches. The style takeaway of the hideout building (for nature-watching) is a corrugated roof and rough-hewn wooden walls. In his garden column for the London Times a few days ago, the TV presenter Joe Swift asked whether this was more of a recreated landscape than a show garden. What do you think?
"Hands off Mangrove by Grow2Know" is an elegant show piece, while being fit for purpose as a community garden, which will be its after-show incarnation. A corten-steel structure, representing the roots of a mangrove tree, sits easily with desiccated licorice plants and pollarded willow: "When you move around the metal form, they contrast without competing," comments Tayshan Hayden-Smith, who founded the non-profit Grow2Know. With a little help from the modest genius Cleve West, who knows how to plant a gold-medal winning garden, and Humaira Ikram of Studio Ikram, the planting gets away with creating allure around cooking pots of chili and lettuce, and currants planted among purple lupins (Lupinus 'Masterpiece') and red Californian poppy (Eschscholzia californica 'Red Chief). "It's the essence of community," says Tayshan.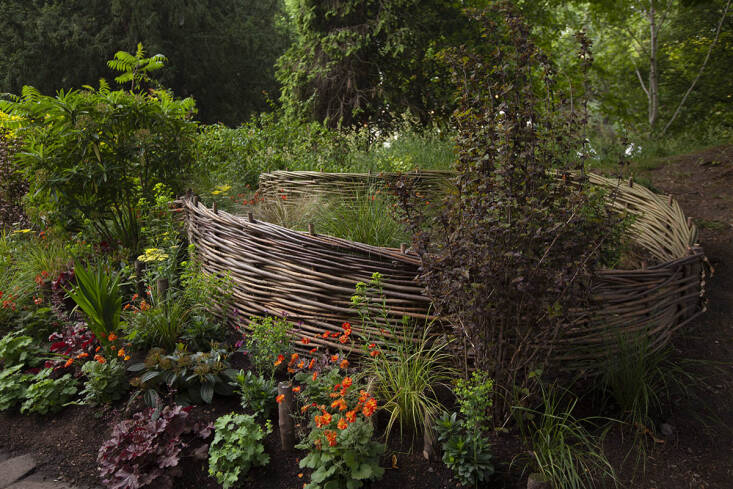 Pocket parks arrived as a concept to the show last year, with Harris Bugg's stylised public space that used industrial pipes with a bit of dripping gold, for some Chelsea glamor. This pocket park, called the "St Mungo's Putting Down Roots Garden," incorporates planters which can be lifted and moved to different community spaces, as required. Pink and orange is a leitmotif around the horizontal and vertical hard landscaping. It works! Communities of native wildflowers, sometimes known as weeds, with evocative names like hedge woundwort, Jack in the hedge, and stitchwort, were grown by clients (people who use the services of) of Putting Down Roots, the garden therapy section of homelessness charity St Mungo's.
A fascinating story and a really photogenic lump of ice have been maneuvered into a perfect small show garden, in the wooded artisan area away from the crowds. This is the story: 28 trillion tons of ice have disappeared from the Earth's surface since 1994. Within the permafrost, scientists have discovered and germinated seeds buried over 30,000 years ago. "The melting ice acts as a reminder of climate change, whilst also celebrating the botanical bounty found within." The garden is beautifully planted with woodlanders, surrounded by birch trees. Currently entombed in ice, but sure to be revealed as the days go by, is Silene tartarica, a plant that was discovered via the process described above, 10 years ago.
For posts on last year's show, see:
(Visited 445 times, 2 visits today)