The first camellia to make it to the United States back in the late 1790s was red. It traveled from England to New Jersey, imported by an avid gardener named Col. John Stevens, who also happened to be the founder of Hoboken. The colonel liked it so much that the next year he got a white one—and within a few years, the camellia had become one of New York high society's first "it" flowers.
Prized for the formality of its stiff double flowers, for decades camellias covered caskets at fancy funerals, adorned arbors at wealthy weddings, and even made a notable appearance in 1880 at Cornelius J. Vanderbilt's 50th birthday dinner in Manhattan, where scads of blossoms were arranged among maidenhair ferns on a 16-foot-long table. The birthday menu was printed in French, filet de bouef aux truffes was served, and perhaps at some moment during the evening's pomp, the camellia's popularity peaked.
By the turn of the 2oth century, the flowering shrubs that had traveled across oceans—from their native mountainsides in Asia to the greenhouses of English horticulturists to the warm, temperate gardens of the American South—lost their cachet. In Manhattan's grand private glasshouses, Camellia japonica was muscled aside by the exotic orchid.
Poor camellia. It is not at heart a fussy, formal flower. In the 20th century, hybridizers introduced hundreds of new varieties, many with easy-to-love semi-double, single, or peony-shape flowers. Some of these have been growing in my garden in Mill Valley, California, for many decades. I got lucky when I bought the house; every winter the 15-foot-tall camellia bushes explode with color just when I need color most. Here's a look at how to bring the camellia indoors.
Photography by Mimi Giboin.
Camellias are easy to arrange; their sturdy, woody stems hold them upright.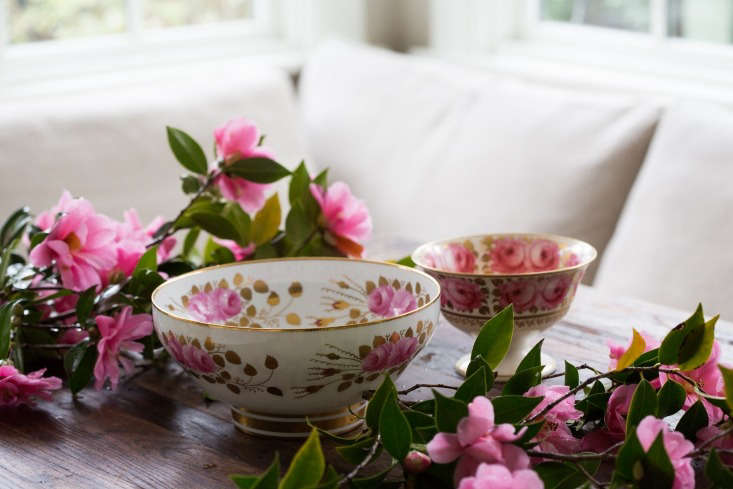 These two pretty painted bowls, one with a Tiffany stamp on the underside, were just the right shade of pink to complement the flowers.
To hold the camellia branches in place, I placed a flower frog in the bottom of the larger bowl.
I liked the results so much that I decided not to add any more flowers to the arrangement.
In the footed bowl, I massed the camellias, using the woody branches to create a framework to hold the flowers in place.
Learn everything we know about camellias (and by now you can tell we're obsessed) at Camellias 101: A Field Guide to Planting, Care, and Design. For more irresistible flowering shrubs, see our curated design guide to Shrubs 101, and don't miss:
Finally, get more ideas on how to successfully plant, grow, and care for camellia with our Camellia: A Field Guide.
Interested in other types of trees? Get more ideas on how to plant, grow, and care for various trees (specimen, deciduous, evergreen) with our Trees: A Field Guide.
Finally, get more ideas on how to plant, grow, and care for various shrubs and hedges with our Shrubs: A Field Guide.
(Visited 145 times, 1 visits today)