Too flouncy, too loud, too fussy; the flowers die badly and the leaves look sickly. Camellias: are they worth the bother? Away from pots of ericaceous compost and twice monthly feedings, camellias need to feel at home in order to pull their weight, for instance in Cornwall, England:
Photography by Heather Edwards, for Gardenista, except where noted.
Right Place, Right Plant
"Look at this," says my friend as she points to a mound of shiny yellow and crumpled brown. "The camellia's got scorched." Her high-maintenance shrub is defeated when it should be at its best. Though it looks sunburnt, it could be suffering from any number of things: exposure to wind, a nutrient deficiency, not enough of the right (rain) water, too much early morning sun after a night of frost.
Tip: Growing a camellia in a pot is one way of regulating its iron and magnesium uptake. Regular applications of acid fertilizer are helpful to contained camellias as well as those growing in inhospitable alkaline soil. The best thing is to grow them where they don't need so much help.
A Green Backdrop
Which brings us to the next complaint. They stand out too much, with their shiny leaves and unapologetic technicolor blooms, like imitation roses far too early in the season.
Tip: Growing camellias in a less formal situation than a flower bed, with plenty of grass, amid other evergreens and with large, rangy shrubs (including camellias) will normalize them.
 Plant in 3's or 5's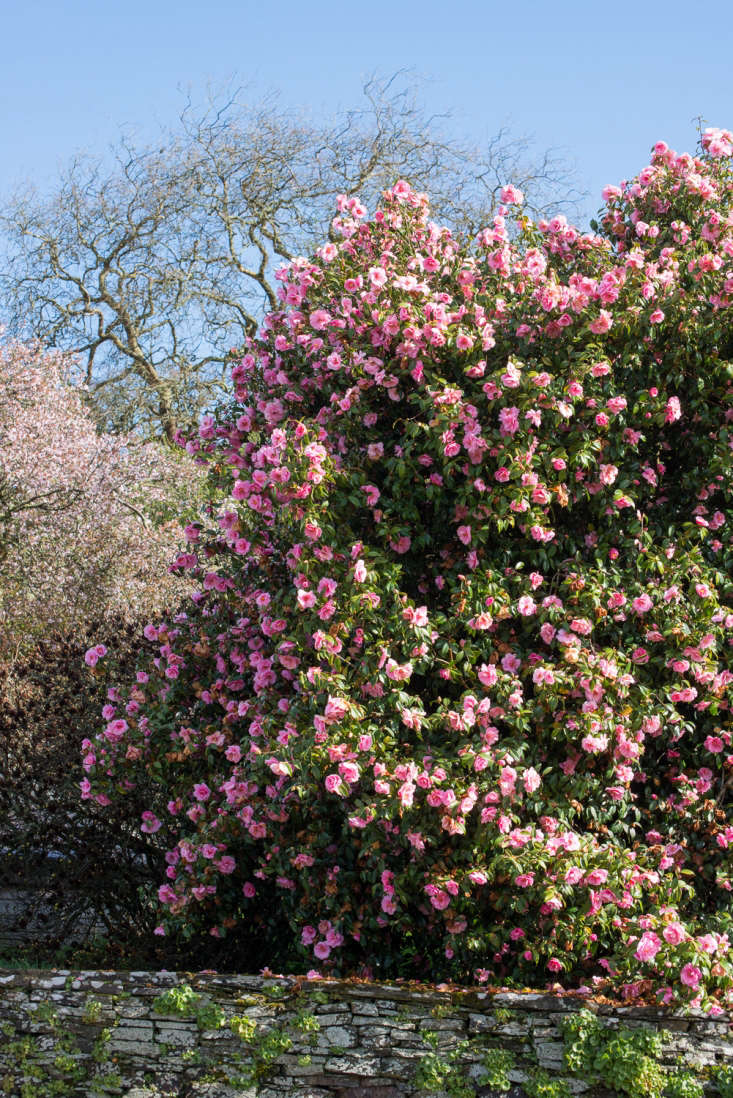 In the right place, camellias are a different animal and not beastly at all. They share the same soil requirements as rhododendrons and most magnolias; large Cornish gardens are made of little else, besides hydrangeas for later, and outlying pines for protection against wind.
Tip: Plant camellias in groups of three to five, to create clouds of flowers (as you would with rose bushes).
Be Choosy
The cliché of a camellia is that it's a garish flower with bright yellow stamens and big shiny leaves. Put aside the chic white trademark of Coco Chanel and you have a flower of primary colors. Fortunately, John Charles Williams of Caerhays Castle took aesthetics into account when developing the williamsii strain, and leaves are smaller, stamens are prettier and petals drop off nicely, instead of turning mushy and brown while still on the plant.
Excellent Evergreens
Another camellia problem is what to do with them when their flowers have finished their prolonged and inelegant death. If grown in a pot, camellias can be carted off to a sheltered, shady spot which they'd always prefer. People who understand and love them, like Jeremy Wilson of Strete Gate Camellias in Devon, will tell you that they make an excellent evergreen backdrop to perennials later on. Where camellias grow tall and wide, in an abundance of naturally occurring acid soil, they are as useful as yew is elsewhere.
If their colors are still too much in early spring (and people who are used to a long and abundant rhododendron season wouldn't say this), there are varieties for late summer and fall. Camellia sasanqua flowers all through the autumn until Christmas and is so much a part of the scene in Devon that it is grown as hedging.
The Perfect Camellia
Traditionally, most people grow Camellia japonica, while those who wish to win prizes at shows (for instance the Cornwall Garden Society Spring Show, where most of these pictures were taken) grow C. reticulata. With a reputation for being tricky, and unstable in terms of color, they are best avoided by newcomers. For compact, intricate, spirograph blooms, with neat leaves and an elegant overall shape, may we suggest: C. x williamsii 'E.G. Waterhouse', the perfect camellia.
Pot or Not
The specimen growing in the stable yard at Boconnoc House (shown) is from 15 to 20 years old, says Jeremy Wilson. Its leaves are paler than the plant growing by the drive at Caerhays Castle but that's because it's in a pot. It certainly doesn't look sickly and that is why, when I saw it, I had an epiphany, in terms of camellias.
Cut Flowers
With a new fascination for camellias, nurtured in the stable yard at Boconnoc during the Spring Show, I went inside the house that evening and stopped in amazement in the drawing room. Admittedly, its proportions had been created by Sir John Soane and the room had been arranged by decorator Sarah Fortescue (who grew up there), but the sight that robbed me of speech was a collection of branches in alcoves on each side of the room, arranged by Charles Fox. Inside were pink and red camellias, reaching high and wide, with one bud that had fallen off, sitting next to a vase. It was perfection.
See more of our favorite camellias and other flowering shrubs:
Finally, get more ideas on how to successfully plant, grow, and care for camellia with our Camellia: A Field Guide.
Interested in other types of trees? Get more ideas on how to plant, grow, and care for various trees (specimen, deciduous, evergreen) with our Trees: A Field Guide.
Finally, get more ideas on how to plant, grow, and care for various shrubs and hedges with our Shrubs: A Field Guide.
(Visited 762 times, 4 visits today)