With whimsical illustrations and an almanac's worth of miscellany, Farm Anatomy: The Curious Parts and Pieces of Country Life is the result of designer Julia Rothman's quest to understand an unfamiliar world. The illustrated guide offers diagrams, agricultural definitions, how-to's, and recipes on farm life.
Images via Julia Rothman.
Above: Her blog, Book By Its Cover, describes RISD-trained designer Rothman's motivation: "My husband Matt grew up on a farm in the tiny town of Tabor, Iowa where they raised chickens and goats and Angora rabbits. I've visited a large handful of times and each time I go I feel like I'm in another world, totally out of my element. I grew up in New York City and only left for college before coming back to reside in Brooklyn. Deciding to work on this book came out of the desire to better understand this unfamiliar world." Farm Anatomy: The Curious Parts & Pieces of Country Life is $10.98 (in paperback) at Amazon.
Above: In Farm Anatomy, Rothman gives a "tour of the quirky details of country life" ranging from the apple orchard (above), to the hay barn and everything in between.
Above: Farm Anatomy includes illustrations of such farm curiosities as poultry hairdos.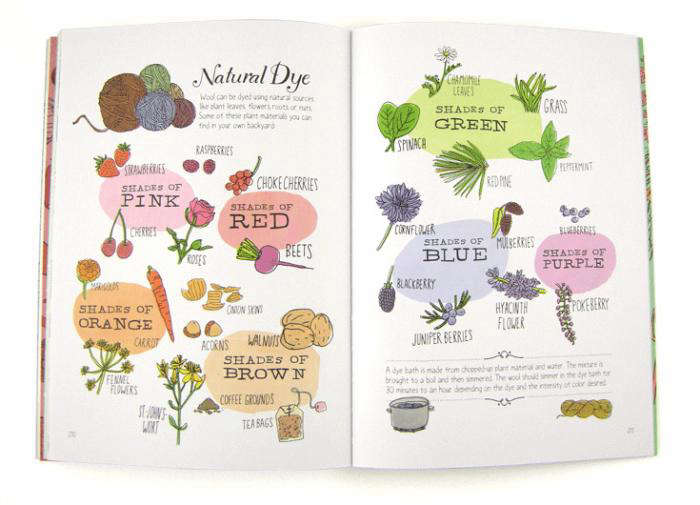 Above: Rothman offers instructions for creating natural dyes.
Above: Impress friends with your newly acquired goat vocabulary.
Above: Farm Anatomy includes practical information for the novice farmer. For more barnyard style, see "A Sexy Chicken Coop?"
(N.B.: Looking for more? Peruse our Gardening Book Features.)