Every few years design gurus Jonathan Adler and Simon Doonan either move house or latch onto a new one. They call it upward mobility syndrome, but if their latest move is any indication, the potter-turned-style guru and the window dresser-turned-author just like change, and a design challenge they haven't met before.
After more than a decade in their Shelter Island, New York weekend house, with its ferns and potted plants and bosky seclusion, the pair decided to move from west coast to east and build a place from scratch. They wanted a more carefree garden that would allow them to paddleboard and swim on the weekends, not weed and feed and reseed. In other words, they did not want a lawn–they wanted a beach. According to their friend Vickie Cardaro of Buttercup Design Group, who devised the new landscape, "Jonathan and Simon hoped to 'restore' the beachfront land to what it may have looked like a hundred years ago. But, as Dolly Parton says, 'It takes a lot of money to look this cheap'–well, it takes some doing 'to look this natural.'"
Based on the island, Cardaro was familiar with local conditions and the significant challenges of waterfront gardening. Having collaborated with Adler and Doonan on their previous landscape, however, she also knew what fun they were to work with. "They definitely participate in the process, but they let you do your job–and they defer to the gardener horticulturally." Her expertise was put to the test during Hurricane Sandy, which pounded coastal Long Island with high winds and storm surge. Many of the choices she made not only withstood major damage, they also helped prevent further loss of land–and house. That was a change no one wanted to see. Unsurprisingly, the couple call their friend a "landscape visionary."
Photos courtesy Vickie Cardaro.
Above: Elijah Blue fescue borders the house, and a Mount Fuji ornamental cherry marks the waterfront end of the lap pool. "It was chosen for its salt and wind tolerance, and it performed admirably this year after the hurricane," Cardaro says.
Above: The property when Adler and Doonan bought it. Poor-quality soil, an undernourished lawn, a tired brick house: inauspicious beginning all around.
Above: The new house amid the dunes. "I drew out a plan with three substantial sand dunes on the waterfront side of the house, and two or three smaller ones in front, to give it a little topography," Cardaro says. "The base of the dunes is fill–crushed clam shell and local crushed gravel–then topped off with substantial amounts of sand and planted with Cape American beach grass and blue dune grass, dwarf black pine, cedar, and Hollywood juniper."
Above: Edging the driveway of crushed shell are a pair of autumn olives and the tufting, drought-tolerant prairie dropseed grass. Pine needle mulch, trucked in from North Carolina, lends this part of the garden an Asian character. Adler and Doonan have traveled together in the Far East and love the simplicity of Japanese gardens.
Above: In the gravel entry courtyard, a red maple shades a breakfast area and bluestone steps to the front door. The chairs are vintage.
Above: Around the pool, bluestone pavers complement concrete planters filled with cactus and succulents. Aeonium is in the large container at left. On the right, the low cylinder (a favorite shape of Adler's) contains Alluaudia cactus from Madagascar and blue Senecio Kilimanjaro.
Above: "I found the massive stone in a heap at my site engineer's work yard–it's a Shelter Island rock, says Cardaro. Adler, ever the potter, supervised a mason in making the disk-shaped stepping stones from concrete. "We used cardboard Sonotubes for the form," Cardaro says. "We'd cut them into eight-inch slices, then set them on plywood sprayed with WD40–the mason would pour the cement, and voila!"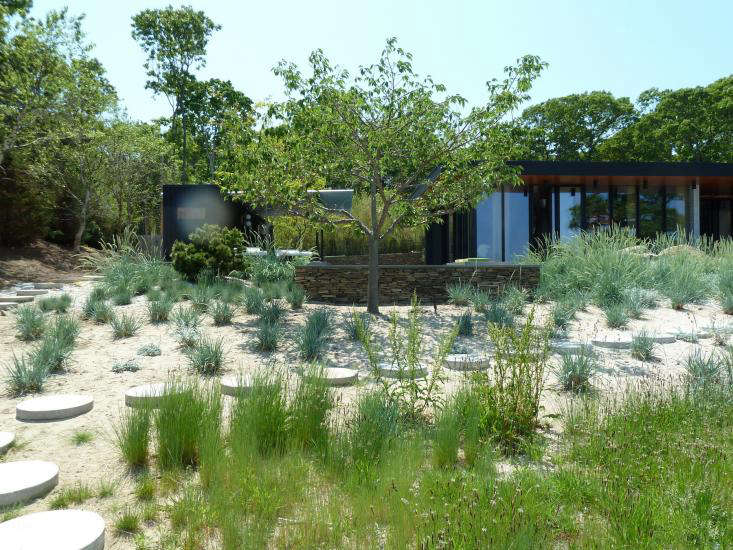 Above: The circular stones create a pathway to the water between landscaped dunes.
Above: Bamboo and Provence lavender soften the stone walls of a courtyard off the bedrooms that doubles as a ping pong arena. Provence is a favorite species of Cardaro's, though she often replaces it after about four seasons when it starts to get leggy.
Above: A band of Elijah Blue fescue near the house blends into blue dune grass in the distance. Mahogany quahog clam shells from Massachusetts cover the sand.
Above: At water's edge, a Cast Iron Fire Bowl ($465 from Design Within Reach) sits atop a concrete pad. Cardaro had the pad re-enforced with rebar, which helped anchor it when Hurricane Sandy blew through. The waterfront spot is where Adler and Doonan often make s'mores with friends at night, tricking out supermarket graham crackers and marshmallows with their favorite chocolate: 70 percent dark from Green & Black's.
For more beachfront living, see Architect Visit: Beach Cabins from Sommarnojen and Architect Visit: Stelle Architects in Bridgehampton, New York.
N.B.: This is an update of a post originally published on June 17, 2013.
(Visited 173 times, 1 visits today)