I know we've officially turned a corner when my morning walk begins with me buttoning up a lightweight jacket. At any moment, leaves will begin to turn and there will be a crunch underfoot. My neighbors will fill their stoops with pumpkins and the neighborhood will be overrun with rotund pots of mums and asters. But there's another fall flower I've spotted around the neighborhood that warrants a closer look. Perennial fall-blooming anemones pick up where summer flowers leave off, filling the garden with an extra month of spring-like blooms even as the temperature dips.
Sometimes called Japanese anemones or windflowers, fall-blooming anemone is an all-encompassing name for three different species: Anemone hupehensis, Anemone hybrida, and Anemone tomentosa. All of the species reward patience. They might take a year or two to establish, but the payoff is stately foliage and much-needed color in the waning fall garden. The large plants can grow to be anywhere from 2 to 5 feet tall, and after they've established, they'll fill in spaces quickly.  Don't worry about invasiveness; these plants are too pretty to be annoying. Extended bloom times can mean flowers for as long as two months.
Photography by Erin Boyle.
Above: Along the Brooklyn Heights Promenade, light pink anemones climb up and over a wrought iron fence.
Above: From their dark green leaves and graceful fuzzy stems to their round buds and vibrant blossoms, every part of fall-blooming anemones deserves attention.
Above: Anemones thrive in spaces with full or partial sun. In warmer climates, plant anemones in a space where they'll have a respite from the brightest afternoon light.
Above: Don't let the delicate blossoms fool you. Once established, fall-blooming anemones are surprisingly resilient and can withstand cutting all season long. Make room for fall-blooming anemones in your garden, and you'll have flowers in fresh bouquets into November.
Above: Anemone foliage, which emerges in the early spring and often lasts well past the first frost, is attractive sans flowers, too.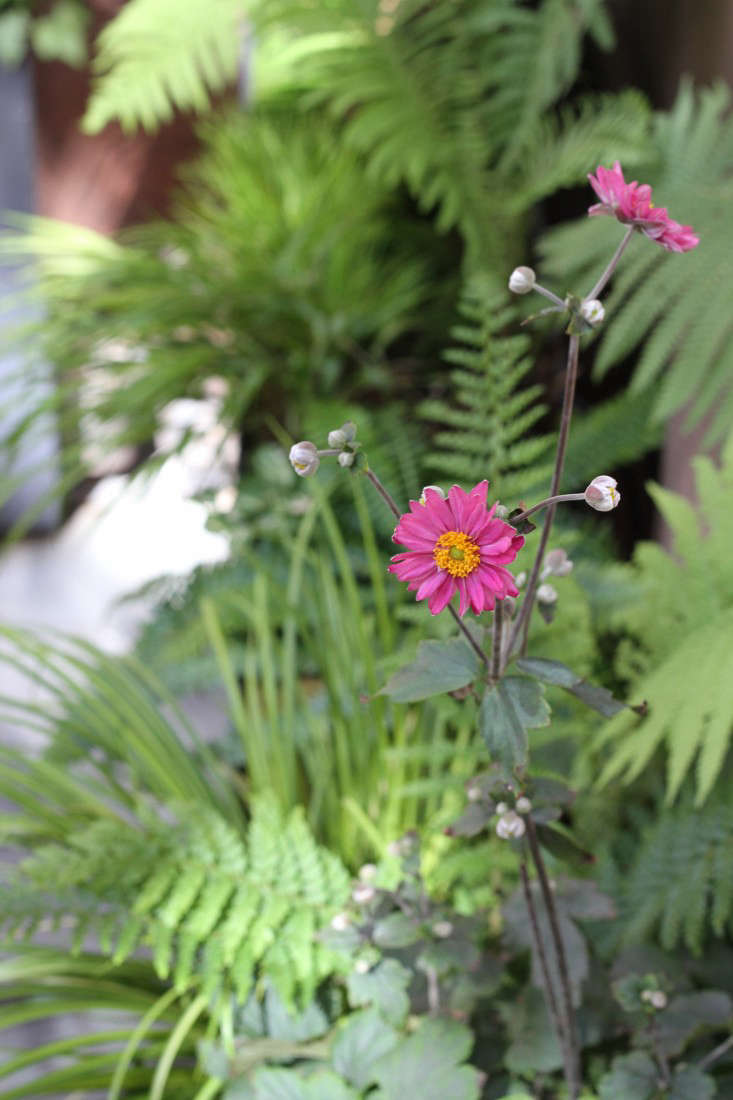 Above: My Brooklyn neighbors planted their fall container garden with ferns and deep pink anemones. At just 16 inches tall, Anemone hupehensis  (available seasonally from White Flower Farm) is slightly smaller than other fall-blooming anemone varieties and a nice choice for containers and borders.
Above: White varieties such as Anemone 'Honorine Jobert' (available seasonally from White Flower Farm) add texture and height to the fall garden.
Above: If you're taken with these beauties, add fall-blooming anemones to your spring shopping list. They'll thrive best if planted in the springtime and given ample time for roots to establish without disturbance.
See our other Plant of the Week posts for a closer look at 70 more our favorite indoor and outdoor plants.
Finally, get more ideas on how to successfully plant, grow, and care for japanese anemone with our Japanese Anemone: A Field Guide.
Finally, get more ideas on how to plant, grow, and care for various perennial plants with our Perennials: A Field Guide.