With Valentine's Day looming, let's get past the dozen roses and the heart-shaped chocolates, and go straight to…lavender bundles.
Flower delivery for Valentine's Day may be where your head was at, not scented herbal gifts, we get it. But your typical flower bouquet can be confusing. It does not always say "I love you."
Sometimes fresh flowers say, "Thanks for inviting me to your dinner party, now take these out of their plastic wrap and put them in a vase, and sorry (but not really—I could have brought wine) if this is an unexpected distraction with all the guests arriving while you are trying to keep an eye on the roast chicken."
Lavender bundles, on the other hand, will send a romantic message to your valentine: "Close your eyes, breathe the perfume deeply, and enjoy time traveling to purple flower fields in Provence. The sun feels nice, doesn't it?"
Plus, lavender bundles are laughably easy to make (read on for step-by-step instructions). Pretty much all you need is fresh lavender in bloom. If you live in a warm climate, your local plant nursery probably has flowering plants in stock. If you live in a colder climate, you may wonder, "Lavender, where to buy flowers?" Easy, you can order a bunch of 10 stems of California-Grown Fresh Lavender for $12.75 from Fabulous Florals. (Order five or more bunches and the price drops to $11.48 per bunch.)
Photography by Aya Brackett.
Lavender Bundles: Materials
Fresh lavender flowers (4 to 10 stems per bundle, depending on how leafy stems are)
Twine
Scissors
Dried lavender flowers or buds (optional)
Step 1: Cut stems to a length you like—a rule of thumb is 12 to 14 inches, which gives you plenty of length to work with when you tie the bundles.
Step 2: Cut a 24-inch length of twine for each bundle. That will give you enough twine to artfully wrap around the bundle a few times before knotting.
Step 3: Wrap twine tightly a few times around the stems and secure it with a knot. Leave the ends of the twine to hang, or trim them, it's up to you.
Step 4: This is an optional step. If you make a bunch of bundles, you can suspend them upside down to make an informal flower pennant.
Step 5: Breathe deeply. Does the perfume make you feel calmer? Consider lavender bundles to be aromatherapy as well as a valentine.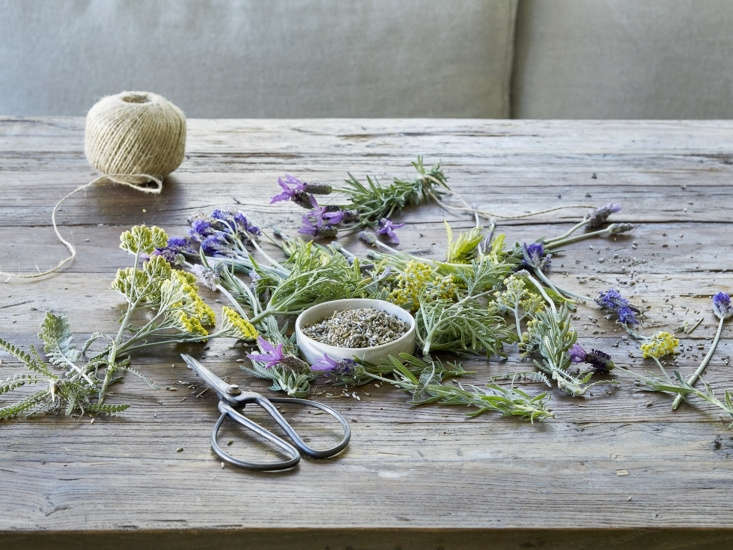 Beyond Valentine's Day, lavender deserves a place in your life year-round. Read more growing tips in Lavender: A Field Guide to Planting, Care & Design in our curated guides to Herbs 101. See more of our favorite lavender gardens:
(Visited 78 times, 1 visits today)