Twenty four years ago, Spanish artist and animator Javier Mariscal discovered an abandoned leather factory on Barcelona's rundown east side. The cavernous complex had crumbling buildings, a smokestack, and an inauspicious location down the block from the local Hell's Angels clubhouse. Mariscal, whose drawing of a friendly sheepdog became the official mascot of the Barcelona Olympics, has what you might describe as a whimsical sense of humor (perhaps you've seen his New Yorker covers or his Oscar-nominated film, Chico & Rita). He decided on the spot to move his studio into the ruins.
The site was "absolutely destroyed," remembers his brother Santi Mariscal, who arrived in the early 1990s to manage the complex. He found a rather bleak scene: The grounds were parched and paved with a powdery gravel more suited to the surface of the moon. No more.
Nowadays, it's the lushest, greenest, and most imaginative garden in Barcelona, thanks to garden designer José Farriol. The sprawling compound known as Palo Alto–named, with a wink to Silicon Valley, for the tall spire of the factory's smokestack–is a creative enclave with nearly two dozen art studios and offices for architects, animators, sculptors, photographers and, of course, Estudio Mariscal. There's a staff cantina on site (open to the public for lunch), shady open-air meeting rooms, a fish pond, a kitchen garden. And the old factory walls are cloaked in a green wall of flowering vines four stories high.
Photographs by Pancho Tolchinsky except where noted.
Above: During office hours when Palo Alto's metal gate is open, visitors are welcome. To visit, take the metro to the Selva de Mar station about six blocks away (see map below).
Above: The garden is the work of designer José Farriol (above), a friend who had collaborated with Javier Mariscal on comic books in the 1970s. When Farriol arrived at Palo Alto in 1993, the Mariscal brothers gave him one directive: "We need something green, something alive," remembers Santi Mariscal.
Above: "This was my first experience as a gardener," says Farriol. "I started small, by spending a lot of time studying how the light moves through the leaves."
Above: Old friends José Farriol and Javier Mariscal (R), who recently collaborated with another old friend–filmmaker Fernando Trueba–on last year's Oscar-nominated animated film Chico & Rita.
The first thing Farriol brought to the site was an orange tree.
Says Javier Mariscal, "Every time I saw him, he was standing like this with his arms crossed, looking at the sky. I said, 'When are you going to plant the garden?'"
Next came vines. Then a row of palm trees.
"Javier doesn't like things growing in a neat row," Farriol says. "But it was a driveway. You couldn't put a tree in the middle."
Above: The complex, built in the late 1800s, is laid out sort of like a letter "E." A main driveway is the spine. Side streets lead to vaulted-ceiling studios and offices tucked into various buildings. At the end of one long allée is La Cantina restaurant, open to the public for lunch on weekdays. For hours and more information, see Palo Alto.
Above: Under a pergola covered in grape vines is an outdoor meeting room. Photograph by Josh Quittner.
Above: In a shaded spot in the center of the garden is a pond filled with lily pads and goldfish. In the mornings, croaking frogs sun themselves on the banks. Photograph by Josh Quittner.
Above: The Palo Alto gardens have served as a backdrop for films, including Woody Allen's Vicky Cristina Barcelona ("The scene was about half a minute long," says Santi Mariscal).
Above: A network of iron cables screwed into the walls to form a trellis supports many varieties of vines, including bougainvillea, jasmine, quinquefolia, grapes, and creeping ficus.
Above: The old smokestack looms in the background.
Above: Santi Mariscal (R) and Farriol in an orchard and kitchen garden–or huerto–that Farriol planted in a narrow strip behind one of the complex's buildings. "It's for the birds," says Farriol. 
Above: Rows of fruits and vegetables, including eggplants, grow in the garden.
Above: Farriol recycles old materials such as metal rods and bamboo stalks and fashions them into tuteurs and trellises in the garden.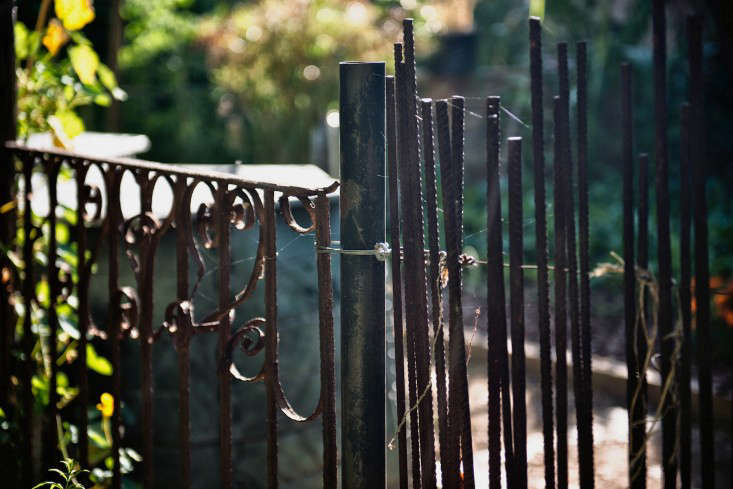 Above: A fence and gate made of recycled materials keeps out the local predators–neighborhood dogs, mostly.
Above: The sun sets behind the palo alto at Palo Alto. Photograph via Palo Alto.
Above: It takes about seven minutes to walk from Barcelona's Selva de Mar metro station to the entrance of Palo Alto at 30-38 Carrer dels Pellaires.
Planning a trip? As part of our new Travels with an Editor series, all week long we'll be posting stories about our favorite Gardens, Shops, Lodging, and Restaurants in Barcelona.
(Visited 281 times, 1 visits today)