As people explore ways to avoid relying on big industry for every aspect of their lives, DIY natural plant dyes have become hugely popular. The subtle yet vibrant hues are a revelation, as demonstrated by the garden designer Lottie Delamain at the Chelsea Flower Show last year, who showed up to the debut of her Textile Garden for Fashion Revolution dressed in a pale green jumpsuit (dyed with nettle), accompanied by associates in muted pink (thanks to a mix of madder and cherry bark), and warm yellow (courtesy of daffodil and dandelion). While the science of dyeing takes some mastery, the added effort of sewing or knitting can be a deal-breaker for some of us. So it's exciting to discover an expert practitioner with a background in graphics and illustration, demonstrating a wider application of natural colors: from watercolor pigment to screen-printing inks and paper dyes (as well as textiles).
Jacqui Symons' studio is on the edge of Manchester, England. She explores nature's possibilities through foraging and growing, and she explores further in her workshop, recording the alchemy that follows. Jacqui is generous in sharing her knowledge; she began Slow Lane Studio to find a less consuming, less polluting, and slower approach to her art practice. She teaches long and short courses, and is building a plant pigment library for anyone to reference on the Slow Lane Studio site or on her Instagram.
Join us for a taster.
Photography courtesy of Slow Lane Studio.
Jacqui believes that plant-based color rivals or exceeds synthetic color, not just for its ecological value but for its visual qualities, partnering seamlessly with botanical subjects. She began by researching and developing natural pigments to make oil-based ink for printing. Being scientific as well as artistic, she has moved on to making watercolours, pastels, inks, pastes for screen printing as well as beautiful dry powdered pigments, all from plant sources.
The ink colors gleaned here are from walnut, buckthorn berry, oak gall, and cones of Sequoia wellingtonia. With the fungi painting, iron water has been added for the accents; it reacts with the base hue, turning oak gall into a rich black, for instance.
"When I did the site visit at Compton Verney last year, I was really pleased to find some of the classic dye plants and trees already growing there." says Jacqui. "The famous Wellingtonia Avenue caught my eye so I decided to try making a dye bath and ink from some of the dropped cones I found underneath the Wellingtonia (redwood) trees. It produced this lovely chestnut colour with slight pink tones."
Jacqui's Damascene conversion happened when she was on a residency at Kingsbrae Botanical Gardens in Canada. "A local artist asked me if my oil-based printmaking inks were environmentally-friendly, and I realised I didn't actually know," she recalls.
"I spent a year on a very steep learning curve researching and developing the use of plant pigments for printmaking ink, and then found I wanted to take it further and my practice eventually became entirely about natural colour."
"There is a whole mountain of science around indigo vats," says Jacqui. "The blue only appears as the pigment oxidizes; in other words, as you remove the fibres from the vat."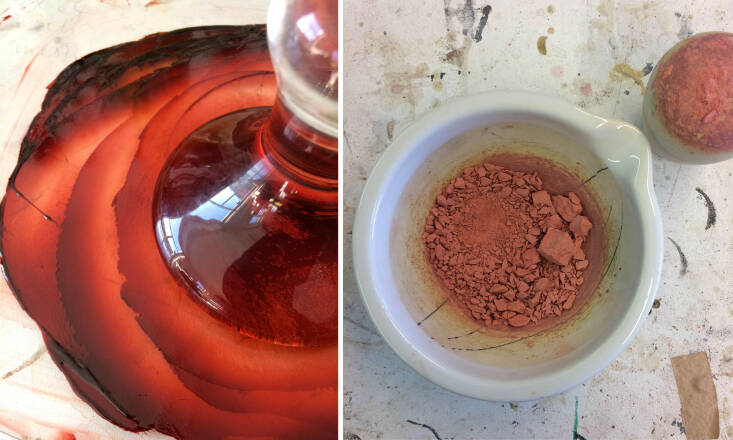 There is plenty of detail to be had on the Slow Lane Studio site regarding the various processes, for instance: How to Make a Lake Pigment (see above): "A lake pigment is a pigment or color that is created from a dye. A dye is a color that is typically soluble in water, whilst a pigment is a color that is insoluble in water.
"A lake pigment is made by precipitating a soluble dye with an inert base to create an insoluble pigment. This makes it possible to create a dry powdered pigment from a liquid natural dye."
Jacqui Symons will be holding an Introduction to Plant Dyes weekend course at Compton Verney, Warwickshire (England) on April 1-2. It will focus on fabric and yarns, with some paper: "I would say that doing an introduction to plant dyes course is the best place to start, even if you're not a knitter or sewer."
See also:
(Visited 517 times, 1 visits today)