Menorca is an island of stone; viewed from the Mediterranean it rises up on a shelf of rock, interrupted here and there by not-always-accessible sandy coves. Botanically, it is rich in wildflowers. At Lithica, the sheltering walls of tidal quarries provide an ideal microclimate, mitigating prolonged summer heat and windy winters. Once, market gardens co-existed within the quarry; now native flora grows among fruit trees and vines.
These Mediterranean quarry gardens have an innately strong sense of place; it would be crazy to try to translate this into an urban show garden setting. Yet it has been done very successfully. See: A Rich Seam: Quarry Gardening at the Chelsea Flower Show.
Before designer James Basson won Best in Show for his Mediterranean quarry garden at Chelsea 2017, a dramatic yet unassuming post-industrial garden was thriving on the Balearic island of Menorca. Join us for a crepescular walk around Lithica, a labyrinth of garden rooms near the town of Ciudadella.
Photography by Jim Powell, for Gardenista.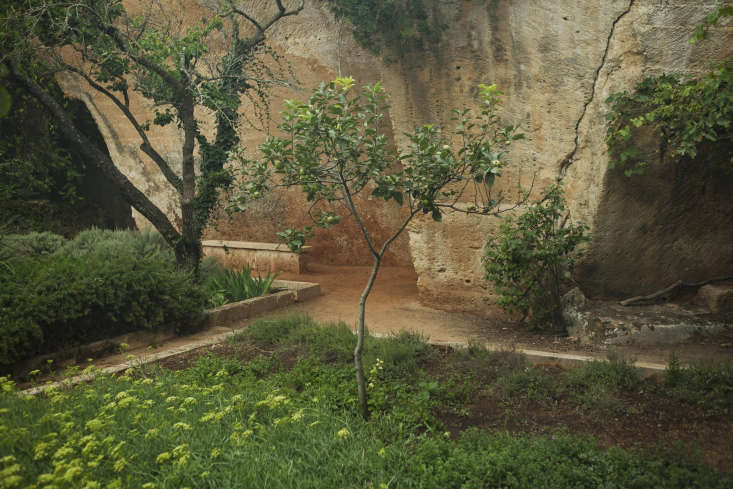 The "rooms" left over from centuries of stone extraction have paved the way for a series of quarry gardens. Some are completely arid, in full sun, while others are nestled within more cave-like spaces, with a good mix of light and shadow.
It is not uncommon to find a small quarry as part of a hamlet, or in a corner of a large property on Menorca; the stone on which the island thrives is marès, a type of porous, sedimentary limestone. Like the old farmhouse shown here, all of the buildings were once made from marès. Now it is considered to be a more expensive choice of building material. Thorny green cushions of the Balearic mata, a Spanish word for shrub or underbrush that refers in Menorca to spiny, evergreen cushions, grows on every level at Lithica, as it does everywhere.
A series of paths and circuits wind through the pedreres de s'hostal, or pedestrian quarries. Older spaces are cavernous with walls dug out by hand, leaving unexpected angles and inexplicable shapes. More recent stone extraction (up until the 1990s) was carried out with machinery, leaving deeper, more symmetrical rooms such as the one above, marked with regular, vertical cuts.
Each quarry garden room has a theme, either botanical (the Wild Olive Quarry, the Almond Quarry, the Lemon Quarry, etc) or geological: the Staircase Quarry, the Fallen Stone Quarry, the Quarryman's Quarry.
Near the Pomegranate Quarry is a herbal labyrinth, planted not only with culinary herbs but Nicotiana, Malva, and trees such as fig and olive. This is the way to grow herbs: in an enclosed space, billowing over paths that need to be walked through so that the scents are released, frequently.
Entered through a triangle of rock, the vine-covered cloister at the edge of the Medieval Garden announces a different kind of space. Water trickles from the carved fountain, overhung with wild and old-fashioned roses, in the heart of the geometrically divided space. Intended to recall a monastic garden, the roses symbolize life, and the soul, while the mind is represented by medicinal herbs, fanning out to the area concerned with the body, the vegetable garden. Walking through, with feet firmly on the ground, the main impression is of scent, sound and the sight of 45-degree angle walls, leaning toward the center.
Above: A classic combination of stony walls and ground, with drought-hardy herbage.
Shrubs native to the Balearics and shown to their best advantage at Lithica include: hawthorn (Crataegus monogyna), myrtle (Myrtus communis), spurge olive (Cneorum tricoccon), and distinctive Euphorbia dendroides. Native flowers with better known relations elsewhere are the Balearic pincushion flower (Scabiosa cretica), sea lavender (Limonium fontquerii), Silene mollissima, and dwarf Spanish foxglove (Digitalis minor).
Menorca's architectural character depends not only on marès but its stones walls, made from volcanic rock. Building them is an art which is treated as such at a kind of gallery of stone walls at Lithica. There is endless variety and fascination in their finishing: along the top, around an entrance, the steps made on the side of a wall, the small passageways created through them for animals.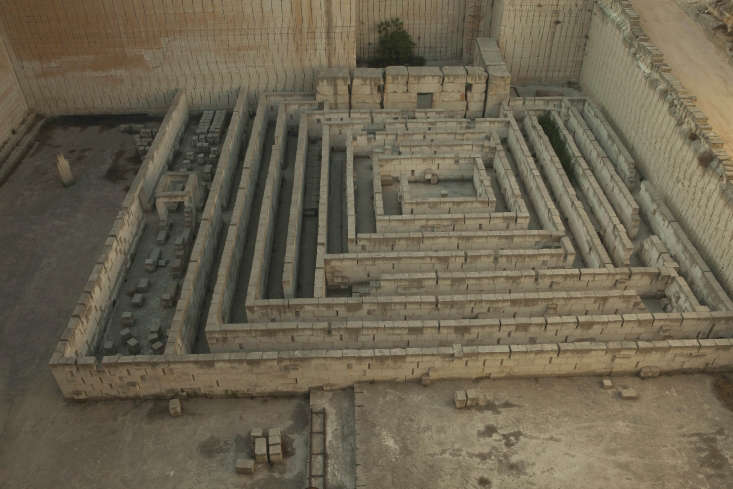 Last but not least, in fact it is one of Lithica's main draws for people with children, is the non-botanical labyrinth which can be viewed from a great height directly above. It is intended to refer directly back to the Minotaur's lair on Crete. With its unforgiving stone-on-stone passages, it resembles excavations of an ancient Minoan palace, where a half-bull half-man might have lived.
For more Balearic style see:
• Garden Muse: A Remodeled Retreat Stays True to its Roots on Menorca.
• An Architect's Indoor-Outdoor Dreamscape in Mallorca, Spain.
• Tranquillity in Mallorca: Simple Living at a Rustic Finca.
(Visited 357 times, 1 visits today)