Outdoor lighting should be dramatic without being overly theatrical. To create elegant illumination in a landscape, consider all the tools at your disposal—from stairway riser lights to underwater spotlights, to hanging cage lanterns (which can remind you of a candlelit-chandelier, hanging above a dining table).
For inspiration, we've rounded up seven of our favorite landscapes with stylish—and unexpected—outdoor lighting solutions, many suggested by members of our curated Gardenista Architect/Designer Directory.
Fence-Mounted Sconces
See more from Harrison Green at Garden Designer Visit: A Manhattan Terrace with Panoramic Central Park Views.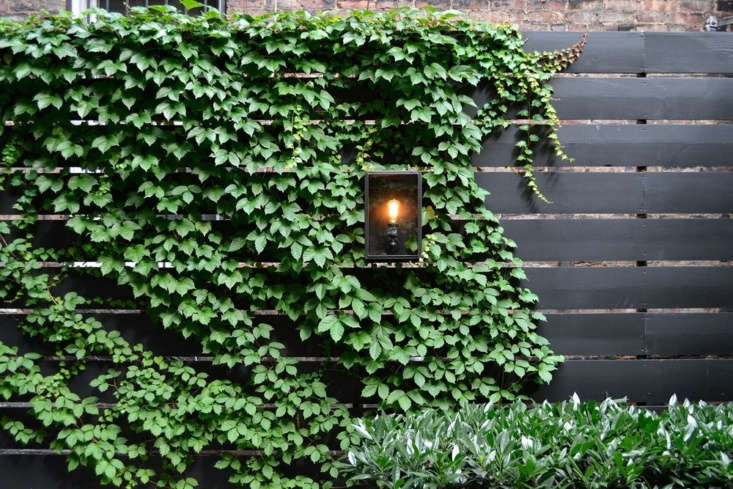 For a similar fence-mounted lantern suitable for use in a sheltered outdoor setting, see the Union Filament Clear Glass Wide Sconce with an aluminum frame and clear glass panes; $379 at Restoration Hardware.
Downlights
"Wall-mounted outdoor fixtures are the chameleons of landscape lighting," writes Janet. "They can be used virtually anywhere in your garden that offers a flat vertical surface." See more in Hardscaping 101: Outdoor Wall Lights.
Starry Night Lights
The Cor-ten steel panel has many tiny, starry perforations: "It is largely opaque at low level to obscure views into the bathroom, yet perforated and split vertically to offer glimpses of the garden from within. At high level, clear glazing allows views of the sky and trees," the architects say. See more of this project in our Architect/Designer Directory.
Classic Barn Lights
Ivy softens the sharp angles of the facade and barn light sconce with its elegant arms, punctuating the darkness with targeted down lighting. Here a side door is instilled with drama and purpose.
See more of this project at The Ivy League: An Artist's Welding Workshop Covered in Vines in Upstate NY.
Underwater Lights
Consider these lights to be "stealth and hidden beneath the surface," writes Alexa, who recently rounded up her favorites in 10 Easy Pieces: Underwater Landscape Lights.
Hanging Lanterns
For a similar look, consider a Modern Filament Pendant available in two sizes (rated for sheltered outdoor use); starting at $625 at Restoration Hardware. Another option is the Darlana Outdoor Hanging Lantern with tapered sides designed by E. F. Chapman for Visual Comfort, suitable for use in a damp location and available in two sizes; starting at $1,119 at Lumens.
See more Cage Lanterns rated for outdoor use at Copper Lantern Lighting Gallery.
Riser Lights
Riser lights "provide easy stairway navigation and can be coordinated with their background material so they don't distract during the day," Janet says. See more in Hardscaping 101: Stairway Lighting.
See more design tips (and our favorite outdoor lights) in our Garden Design 101 guide on lighting, and don't miss:
(Visited 331 times, 2 visits today)