Wall-mounted outdoor fixtures are the chameleons of landscape lighting. They can be used virtually anywhere in your garden that offers a flat vertical surface.
N.B.: This is the fourth in our series of landscape lighting primers; scroll to the end for links to our posts on uplighting, pathway, and stairway lighting. Sources for landscape lighting are also below.
Above: Outdoor wall lights are specifically designed and approved for wet location use. Photograph via Royal Botania.
What are the benefits of wall-mounted outdoor lights?
Able to mount on virtually any vertical surface, outdoor wall lights are one of the most versatile types of landscape lighting, perfect for use on decks, patios, stairways, and pathways (with walls). Specifically, wall-mounted lights:
Shine light sideways or downwards, illuminating your way without blinding your eyes.
Won't trip people who are walking in the garden.
Add depth to garden and house walls.
Mark path and garden boundaries.
Provide ambient lighting for garden entertaining, safety, and security.
Offer gentle lighting to brighten featured areas of your garden.
Highlight your home's architecture.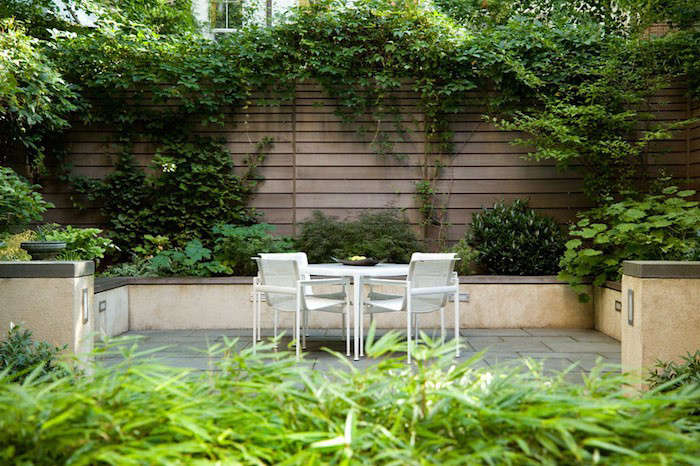 Above: Demure during the day, recessed wall lights turn a Greenwich Village patio by Robin Key Landscape Architecture (a member of our Architects and Designer Directory) into a nighttime entertaining space. Photograph by Francine Fleischer.
What are the different types of outdoor wall lights?
Wall Mount Sconces
Wall-mounted outdoor sconces mount on top of a flat vertical surface. They are available with different lighting configurations, including downlight, down/uplight combinations, spotlight, 180-degree, and 360-degree light spread.
Above: A sconce from Tekna's Nautic Collection spreads light downward.  For information and prices, see Tekna.
Above: A dual (up and down) lighting sconce from Delta Light highlights both a wall and a walkway.
Above: A wall spot light from Belgian lighting company Nyche.
Recessed Wall Lights
Installed flush against a wall, recessed lights cast a glow sideways and downward.
Above:  Flush recessed wall lights frame the stairs in a project by Gunn Landscape Architecture, a member of our Architects and Designer Directory.
Any tips for wall lighting placement and selection?
For pathway and stairway lighting, select fixtures that direct light downward or sideways at foot level.
Dual down/uplight sconces are a good choice to simultaneously illuminate a walkway and to highlight the side of a home.
Use wall lights as task lighting for outdoor activities, such as grilling or if you are entertaining outdoors.
Place lighting at or near tripping hazards such as stair risers or low walls.
As with all landscape lighting, be careful not to overlight. Use low-wattage bulbs for subtlety (it is easy to overdo it).
Use wall lights on deck, stair, or fence posts to create ambient lighting as well as to signal the location of a railing.
Above: Well-placed outdoor wall lights add interest and functionality. Photograph via Royal Botania.
How much voltage do outdoor wall lights have?
Unless they are solar-powered, outdoor lights need an electric power source. You can plug them into an outdoor power socket, hard wire them to a full 120V electric source, or install a low-voltage transformer. From the perspective of safety, cost, and easy installation, low voltage is the best option. Low-voltage transformers change the electric current from 120V to 12V, ideal for outdoor gardens where conditions can be wet. (Electricity and water are a bad combination.) If you use regular electrical power, you must bury wiring at least 18 inches deep or encase it in a conduit.
Low-voltage systems can plug into an outdoor socket. Then bury the wire beneath the surface of the soil or gravel to take them to their destination.
Installing lights into outdoor walls requires an extra dimension of work beyond the standard garden pole light. Take extra care to keep water from getting past the fixture and into wall material or underneath the siding (if on your home). Consult with an electrician, contractor, or outdoor lighting professional for guidance.
Where can I buy outdoor wall lighting?
Above: We love nautical lighting in the garden. For some of our favorite fixtures, see 10 Easy Pieces: Outdoor Nautical Bulkhead Lights. For more landscape light sources, see our earlier features:
Read our other outdoor lighting primers:
(Visited 820 times, 1 visits today)