There's a certain sort of Southern California beach neighborhood where block after block of vintage '70s-style bungalows have wide-open properties with mature fruit trees and the scent of the sea. When it's time to remodel, the trick is to not replace a house with a McMansion that swallows the landscape.
And after a remodel, when the garden looks like a construction zone? "A new garden should still look like a kooky eclectic southern California coastal garden," says landscape designer Matthew Brown. Called in to perform triage on a Malibu property after designer Lauren Soloff gave the interior of a 1,625-square-foot bungalow a tasteful update, Brown created a new design that looks like it's been there for years. Here's how:
Photography by Nancy Neil.
Above: "One tends to think of Los Angeles as flat, but it's anything but with its undulating hills," says Brown. "In many gardens, a good portion is hillside."
When Brown first saw the half-acre garden, the brick walkway and patio that lead to the front entryway were already in place. So were some of the stone walls. He added additional retaining walls, matching the mortared river stone, and planted succulents (including deep purple Aeonium 'Schwarzkopf Black Rose'). In the foreground, yellow Coreopsis auriculata 'Nana' is an exuberant edging plant.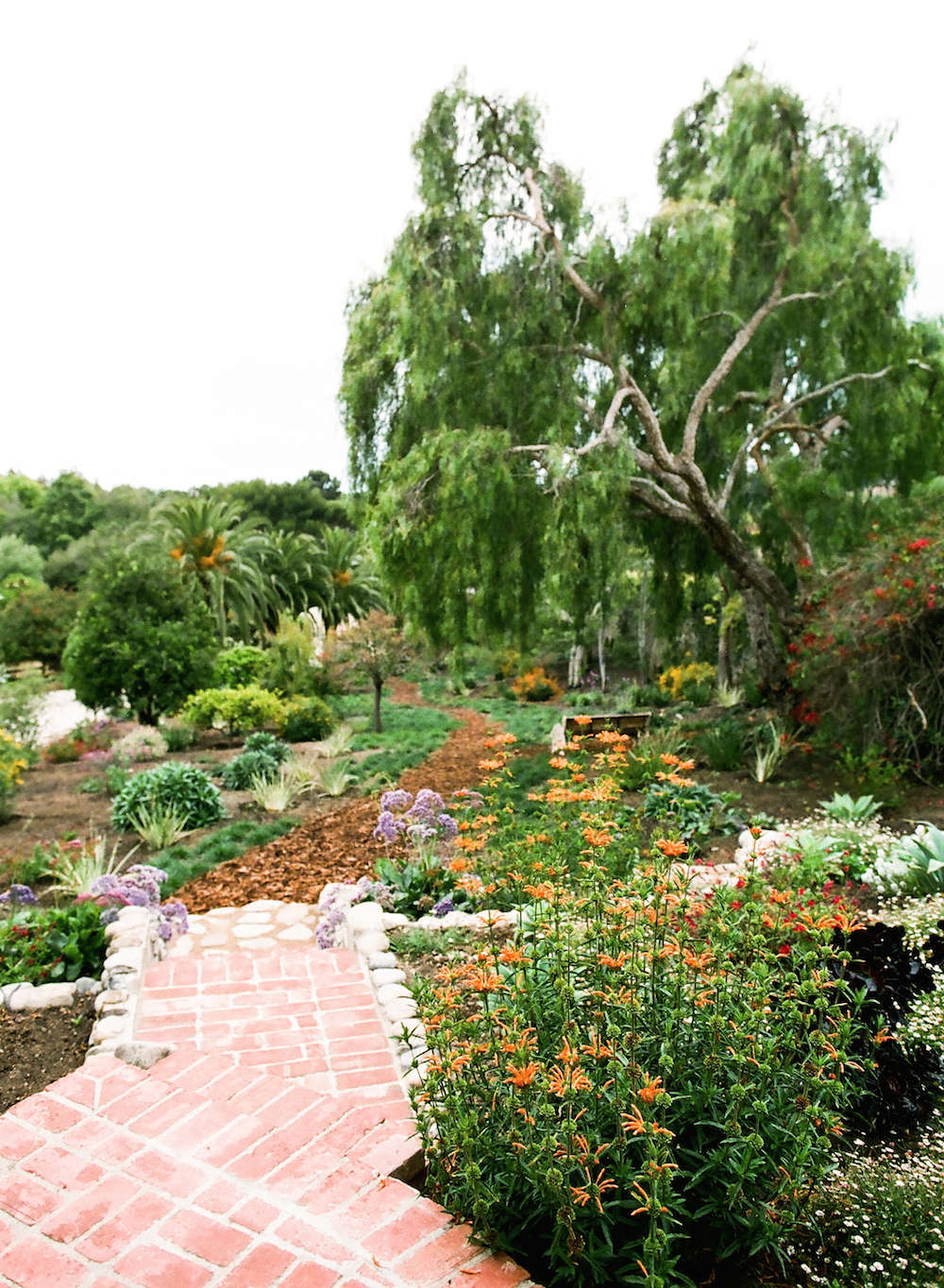 Above: The house overlooks an expansive front garden. Brown's drought-tolerant Mediterranean landscape stretches the width of the property; he designed a cutting garden that blooms year-round for the owner, who splits her time between Malibu and a home on the East Coast.
"The garden had been a construction for a while by the time I saw it, and grading needed to be done," Brown says. The only thing left from the old garden are the original trees."
Above:  The bench beneath an old California pepper tree ("one of the highlights of the property," says Brown) is below the master bedroom patio.
The client "wanted a place to sit in the garden and to look out on a meadow," says Brown. He planted hundreds of clumps of Carex divulsa (Berkeley sedge), adding coastal wildflowers for seasonal interest and color and shredded cedar mulch.
A blaze of yellow color in the the background is Tagetes lemmonii (Mexican Marigold), a bushy evergreen shrub. "It's close to the pathway and when you walk by, it stirs up a terrific scent," says Brown.
Above: A pathway runs beneath old grapefruit and guava trees. "A previous owner had a love of fruit trees," says Brown, who also found apples, pears, pomegranates, macadamias, oranges, lemons, and orange tangerines on the property. "Some were in sad shape but the trees are thriving now, knock on wood."
After construction, there was a lot of broken concrete on the property. Brown repurposed it to create paths. Irregularly shaped pieces of concrete are set in decomposed granite.
Alongside the path grow purple clumps of sea lavender.
Above: A patio outside a guest bedroom in back of house "is a private part of garden," says Brown. At the edge of the patio is a "neat old hibiscus bush."
See the interiors of the house today on Remodelista.
Above: Behind the house on a little rise above the house is an edible garden created by designer Lauri Kranz (who partners frequently with Brown).
When Brown first saw the property, the back of the property had a concrete block retaining wall. He designed a poured concrete staircase with a washed sand finish to open up the retaining wall, and covered the wall with painted stucco. "Here you can see that the garden is still quite new, with succulents that haven't grown to their full spectrum" he said. "When they start throwing out little puffs, they'll be removed from the parent and planted to fill in the hillside."
Above: The two raised untreated redwood planters measure about 3 by 10 feet. In them, Kranz planted varieties of kale, cherry tomatoes, cucumbers, string beans, parsley, and other herbs.
For more of our favorite LA gardens, see:
(Visited 317 times, 1 visits today)