Charmed by a funky building in LA's Topanga Canyon that "had always been inhabited by artists," in 2010 artist Carly Jo Morgan bought a 1920s house with a sprawling hillside garden.
At the time, the garden had an emerald lawn, flowers, and fruit trees more suited to an English cottage than to a dry southern California landscape, but the previous homeowner said that gray water was enough to keep it so green. However, Morgan and her then-husband Matthew "realized that wasn't true when we got the first water bill," she said. "We immediately began reimagining something that was drought tolerant. After all, we live in a desert."
The Morgans, who designed the garden themselves, were fortunate to have landscape architect Martin Rodriguez as a new neighbor. "He was super helpful with tips on creating a dry creek bed out of rocks, and grading the hillside," said Morgan. He also built the forms for a series of pink concrete retaining walls that would become the star feature of the artist's garden: "I wanted a pink color palette to amplify the desert vibes," she said, "and to make the garden come alive at sunset."
Photography by Gillian Steiner for Gardenista.
Morgan and her former husband designed the desert-pink walls and matching furniture together, and hired a contractor to pour the cement. "I learned so much watching the cement be poured," said Morgan, who cites the experience as having been influential in her own work (she makes Terrazzo Furniture).
When they started designing their garden, the Morgans set priorities: The landscape would be drought tolerant, kid friendly, and welcoming for guests.
See more ideas for designing with Muhlenbergia in Muhly Grass 101: A Field Guide to Planting, Care & Design.
After the Morgans purchased the property, they kept the existing palm and oak trees and planted a weeping pine, a few acacias, and an olive tree that was a gift from a close friend.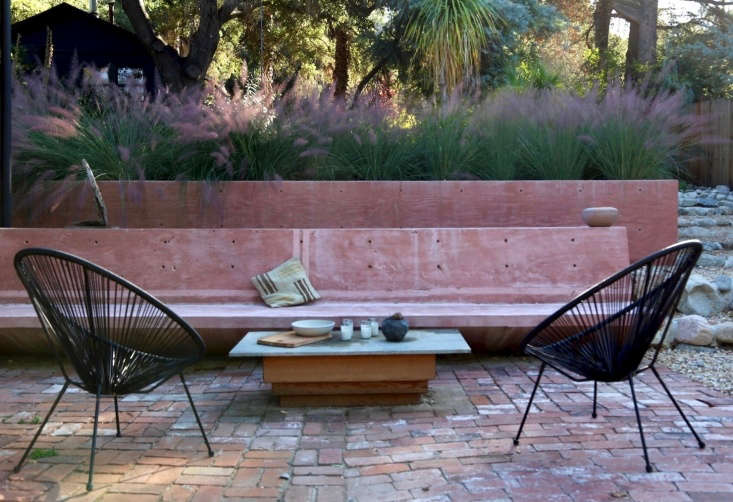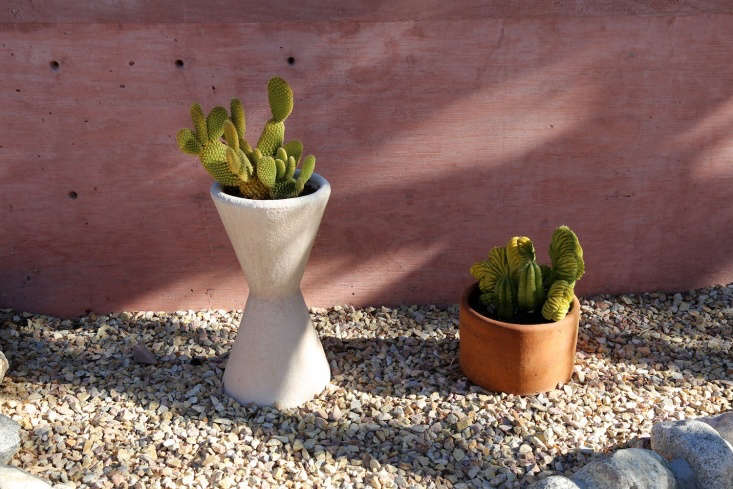 Morgan added several cactus and succulent varieties throughout the landscape—mostly opuntia and euphorbia from California Cactus Ranch in the San Fernando Valley.
Would you like to add color and movement to a garden with perennial grasses? For inspiration, see our Garden Design 101 guides, including Grasses 101: A Field Guide to Planting, Care & Design.
And for more favorite Los Angeles gardens, see: