Today on Remodelista, we featured actress Shiva Rose's Santa Monica home visited by fashion designer and blogger of Rip + Tan, Jenni Kayne. Rose designs her home with a Japanese minimalist philosophy that carries over to her simple and useful edible garden.
Rose has worked with gardener Lauri Kranz Gladstein of Edible Gardens LA (see her co-design of Jenni Kayne's garden) to plant cucumbers, shelling beans, okra, tomatoes, varieties of basil, herbs, peppers, and lettuce. Rose, who is a proponent of holistic health and organic living, grows her own produce for herself and her two daughters or sources it from trusted local farmers. After Rose had her first daughter, she was diagnosed with an auto immune condition that inspired her to become a naturalist and activist. Her blog, The Local Rose, reflects her goal to create an "authentic lifestyle without sacrificing taste and glamour." In addition to growing produce, Rose and her daughters raise chickens and harvest their eggs as a source of daily protein.
Photographs courtesy of Rip + Tan (except where noted).
Above: Shiva with basil starter plants. Photograph via The Local Rose.
Above: A farmhouse-inspired entry into the vegetable garden.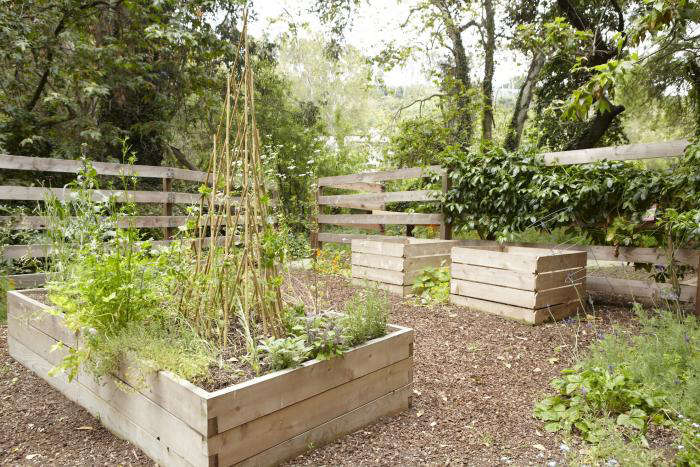 Above: Rose designed a corral of raised beds with unfinished oak wood.
Above: Rose used small pieces of scrap wood to identify plants and herbs.
Above: Artichokes for dinner – Rose and her daughters grow their own produce together.
Above: Two of the chickens that roam wild in the garden and around the property.
Above: One of the rabbits Rose and her daughters have raised.
Above: A roaming pathway through the garden and down to the property's creek.
(Visited 176 times, 1 visits today)