I was reminded recently of Ikea's grip on the houseplant market by a tweet that read "went to ikea for plates and left with a big new friend" above a picture of two Alocasias (aka elephant ears), the must-have foliage houseplant of the moment. Even if you have just a few succulents on your windowsills or ferns in your bathroom, chances are some of them came home with you from a trip to Ikea along with a colorful rug and a bellyful of Swedish meatballs.
Unless, of course, you went to Ikea on the wrong day—and found the houseplants department depleted, with nothing for sale beyond a few lopsided ZZ plants and forlorn succulents nursing bruised leaves. Does a trip to Ikea really have to be so hit or miss? Insiders say no—if you understand a few basic principles about how Ikea works, you can be the shopper who goes home with a jungle's worth of glossy green friends (purchased at a fraction of the price you'd pay anywhere else).
How does Ikea find plants to sell by their millions in its 400 stores around the globe across 49 countries, and how does the Swedish retailer choose what to stock? I tapped up a couple of Ikea insiders to find out the secrets.
Photography via Ikea.
When did Ikea get into the houseplants racket?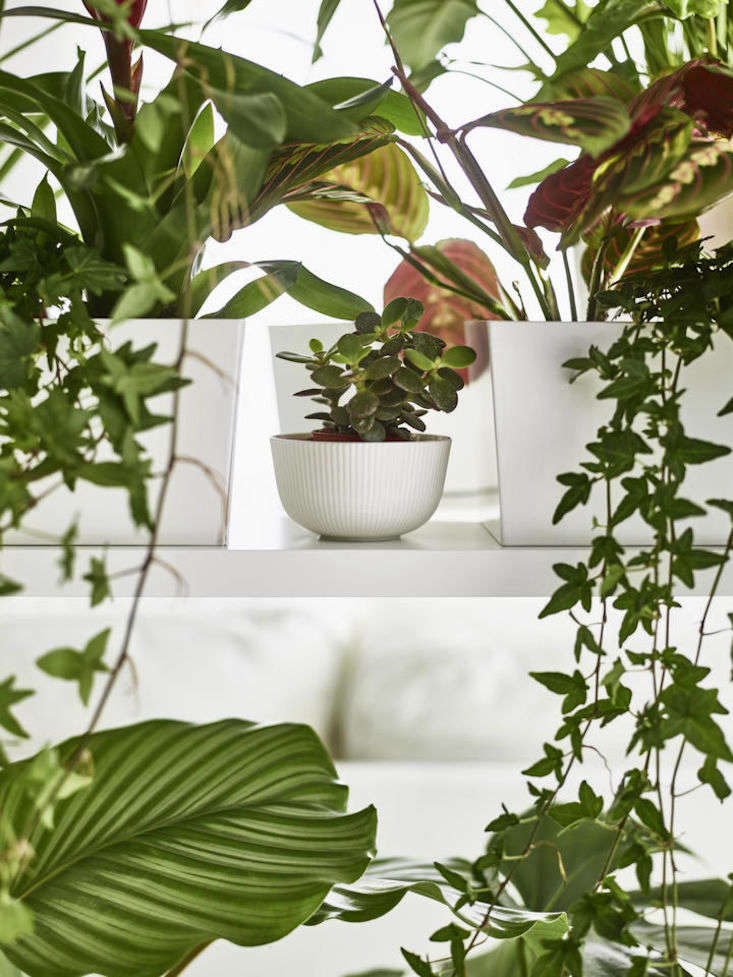 It may be hard to remember, now that houseplants are "cool" again, but Ikea's canny attitude to selling indoor plants dates far further back than the current penchant for macrame hangers of Pothos vines and giant lollipop fiddle leaf fig trees. In fact if you take a look at this
gallery
of all Ikea's catalog covers since 1951, you'll notice that houseplants feature somewhere in around a third of them, first appearing on the
1958 cataloge cover
. (Want to know the most popular plant? The Boston fern (
Nephrolepis exaltata
), with four appearances on the covers in
1973
,
1976
,
1977,
and
1990
.)
The 1990s and early 2000s were a period when many garden centers and nurseries were dialing down their houseplant offerings amid falling sales. As British garden designer Andy Sturgeon noted in his 2001 houseplant book, Potted, "Indoor plants are currently languishing in the midst of a major image crisis which they don't deserve. Unfortunately even the phrase 'house plant' conjures up horrid images of dusty yellow leaves, and sad little spider plants barely clinging onto life." How times have changed in the intervening 16 years.
Interior design's drive towards minimalism during the 1990s and 2000s meant the "clutter" of plant pots just didn't fit the (mainly magnolia-toned) scene: leaves were more likely to feature as stencils on the walls rather than living things on the shelf.  And yet Ikea kept the faith even as interior design: just look at the covers for 1990 (Boston fern and umbrella sedge) and 1991 (some kind of climber, maybe grape ivy, and several smaller pots full of some kind of foliage plant) if you are in any doubt Ikea was one of the few places to go to buy an unusual specimen for your windowsill in that era. Ikea has a great track record of selling the popular houseplants, while also creating new plant trends.
Remember the sweetheart vine, Hoya kerrii, which Ikea sold in little red pots as a single heart-shaped leaf? It just looked so cool, could fit on even the narrowest windowsill, and cost far less than a dozen red roses. It didn't really matter that it was most likely never going to grow into a proper plant—leaf cuttings of hoyas rarely grow, and if they do, it's very slowly. (Instead, take stem cuttings and you'll end up with a much happier plant. There's a great guide to propagating hoyas on the Planthunter website.)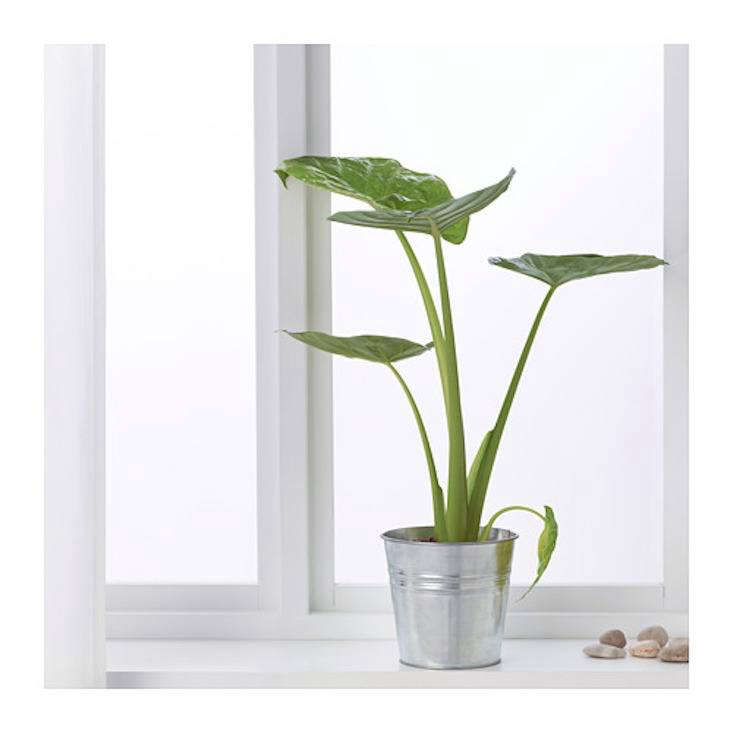 Part of the reason for Ikea's ongoing devotion to houseplants amid changing fashions links back to its origins in Sweden. As renowned houseplant author Dr. David Hessayon put it in his book,
The Gold Plated Houseplant Expert
,
"the house plant light never went out in Scandinavia, Holland or Germany." This is borne out in the figures. British
spend
on average $48 (£36) per person per year on indoor plants and cut flowers, 
Americans
spend $34 (£26), whereas in the rest of Europe this figure is $80-133 (£60-£100).
How did Ikea turn prickly cacti into cuddly friends?
Ikea also helped to spearhead the rise in popularity of cacti by overcoming the practical—and prickly—problem of how to get them home. The store asked its Dutch cactus supplier Edelcactus to come up with a new way of packaging cacti for sale, and they turned to packaging company Voges, who designed
clear plastic carriers
that kept the spines at bay while still allowing customers to try the plant in different cachepots. Clever.
Where does Ikea source its plants?
Ikea keeps prices low by trying to source plants as locally as possible, because plants are expensive to transport and spoil easily, which adds to costs. So in North America, the vast majority of plant stock comes from Florida, while in Europe, most come from the Netherlands: both regional hotspots for plant production, thus able to supply plants in the kind of huge bulk Ikea requires.
If you've noticed that the shelves haven't been quite so full in Ikea's North American branches of late, there's a reason: Hurricane Irma. Richard Tolliver, business developer for Ikea Purchasing Services (US) told me: "Hurricane Irma was a high risk of greatly disrupting our supply. While there was a lot of damage to the growing structures, most of our range of products are already shipping and others will be back online very soon."
How does Ikea pick out the next big thing in houseplants?
Tolliver, Anna Liakh, (Sales Responsible for Plants at Ikea Global), and colleagues spend a lot of time traveling around looking for new introductions and talking to plant labs and nurseries that grow unusual plants. "During the range selection process we visit various design fairs and plants exhibitions, mostly in the Netherlands, and we also get inspiration from home furnishing magazines, blogs, furniture fairs, et cetera," Liakh said.
Ikea's suppliers also spend a lot of time and energy researching new plants, Tolliver says. "If they perform well under mass production conditions, they will release it into the marketplace. Some of the smaller growers of unusual plants do not grow quantities enough to supply Ikea. But again, if they find something that performs well in production, they send it to the tissue culture labs and within a couple of years other growers are able to supply quantities large enough for Ikea." It's this tissue culture that has brought prices down on previously expensive plants such as orchids, bringing them within the price range of the average Ikea customer. "Keep your eyes on the sales start dates for 2018 and even more 2019. We have some exciting new products planned for these seasons," Tolliver adds.
Liakh offers a little more of a hint as to Ikea's direction plans for next year's houseplants: "At the moment cactuses and succulents are very trendy, as well as the other 'easy to take care' of plants. I believe the trend will continue and the plants that require less time to look after will be popular well into 2018. Also, plants that are supporting the well-being trend, e.g. air cleaning. We can see that the hanging plants are trendy again, vertical gardening and big hardy green plants (such as Ficus elastica)."
When's the best time to go to Ikea for plants?
Four times a year, Ikea puts new plant introductions as well as seasonal plants (poinsettias at Christmas, daffodils in spring, and so on) on the shelves: February, April, August, and October. So if you are looking for something new and different, and the freshest plants, these are the months to pay a visit. "It's also a time to introduce new, unusual plants to evaluate if the customers like them," Tolliver says. "If they perform well, we then consider moving it into the regular range."
How do you tell if an Ikea houseplant is healthy?
You may have heard of the "bulla bulla" strategy of selling Ikea products—in essence this is the "pile 'em high sell 'em cheap" approach to retailing, where numerous items are placed into a large bin and piled up high, giving the impression that a product is cheap. When it comes to plants, it's not bins but large metal trollies for the smaller pots, and tightly packed blocks of larger plants arranged on low platforms made of pallets. This is great for sales, but unless plants are bought soon after delivery, it can encourage problems.
How do you pick out the best Ikea plant?
Bear in mind that Ikea positions plants just before the tills to maximize sales and reduce the amount of time you spend carrying awkward containers around the store. This can lead to poorly chosen impulse purchases if you're pressed for time. It pays to check plants over before you buy, however. Lift the pot up—if it feels light as a feather, it's probably dried out and the plant may be stressed. Don't pick plants from the edge of displays as these are likely to have suffered the most physical damage, and also be the most exposed to dry air. Reach to the back of shelves or the middle of floor displays to pick out plants in the best possible condition.
Make sure the surface of the compost looks fresh, and avoid plants with a lot of roots emerging from the bottom of the pot as these will be rootbound. When buying flowering plants, choose specimens that are in bud rather than in full bloom, as they will flower longer once you get them home; this is particularly important for bromeliads such as Guzmanias and Vriesias, which die after they finish flowering. If you're buying in the colder months, ensure plants are well wrapped before you leave the shop, as cold draughts can kill tender specimens before you've even got them home.
Why can't I buy Pilea peperomioides, the Chinese money plant, in Ikea?
Good question! Tolliver says I'm the third person to ask him about this plant. He wrote: "I believe that it is in a new sales start date in China for 2018. I had one supplier propose this to me for 2019 (which we are planning already). It's kind of plain looking and there was no consensus between all four of our North American suppliers so we left it off of our suggestion list to IoS. We have so many other ideas that we had to select the ones that we all agreed on. Now I will reconsider!"
If you're thinking that you've bought a P. peperomioides from Ikea, what you probably have is a very similar looking plant called Peperomia polybotrya 'Raindrop' which is often mistaken for the Chinese money plant, but it has slightly thicker, glossier leaves.
But Liakh told me that some of their ideas for new plants come from customers and they are "constantly collecting feedback from the markets," so if you want to see more Pileas in Ikea, let them know.
See more of Ikea's best offerings for gardeners:
Finally, get more ideas on how to plant, grow, and care for various houseplants with our Houseplants: A Field Guide.