Frenchwomen, it's universally known, have a knack for effortless beauty, from the way they dress themselves to the way they outfit their interiors. (Case in point: the beautiful-without-trying-too-hard interiors in How to Decorate Like a Frenchwoman.)
So how do Frenchwomen infuse their unfussy, chic vibe into their flower arrangements? We turned to the expert: French florist Laetitia Mayor of @flóresie, along with ceramist Sarah Van Raden of Portland, Oregon–based Notary Ceramics, who recently joined together to host a flower arranging retreat in an idyllic 19th-century stone barn in France's Champagne countryside. (They also taught workshops on setting a French table; stay tuned for those expert tips on Remodelista.)
Luckily, Mayor and Van Raden generously shared their tips, for those of us who couldn't be there in person to learn from the pros while lounging in a cool stone country house and eating languid dinners at a long table. Follow these eight tips to create no-fail, stylish flower arrangements anywhere, French-girl style.
Photography by Chikae Howland, courtesy of Laetitia Mayor and Notary Ceramics.
1. Seek out imperfection.
"I prefer garden-grown flowers," Mayor says. "Unevenness and imperfection make them oh so charming. If you have a garden, grow flowers. If you don't, then buy flowers and complement them with elements you can forage (branches, wildflowers)."
2. Remember these three words: focal, textural, foliage.
"To make a pretty arrangement, you will need round 'focal' flowers (roses, dahlias, poppies), textural elements (branches with berries, pointy flowers, Gramineae … anything cute you can find), and a little bit (and a little bit only) of foliage," Mayor advises.
3. Practice camaïeu.
"Choose a monochromatic color palette," says Mayor. "In French we call it camaïeu. This means you can work with all pinks, or all purples, or all yellows in different hues."
Van Raden agrees: "Something monochromatic gives the feeling of relaxed and intentional uniformity, while keeping your table looking cohesive and calm."
4. Pre-hydrate.
"Make sure your flowers have plenty to drink before arranging with them," Mayor says. Her advice: "Cut the stems at an angle, and let them drink fresh, clean water for about half a day before arranging them."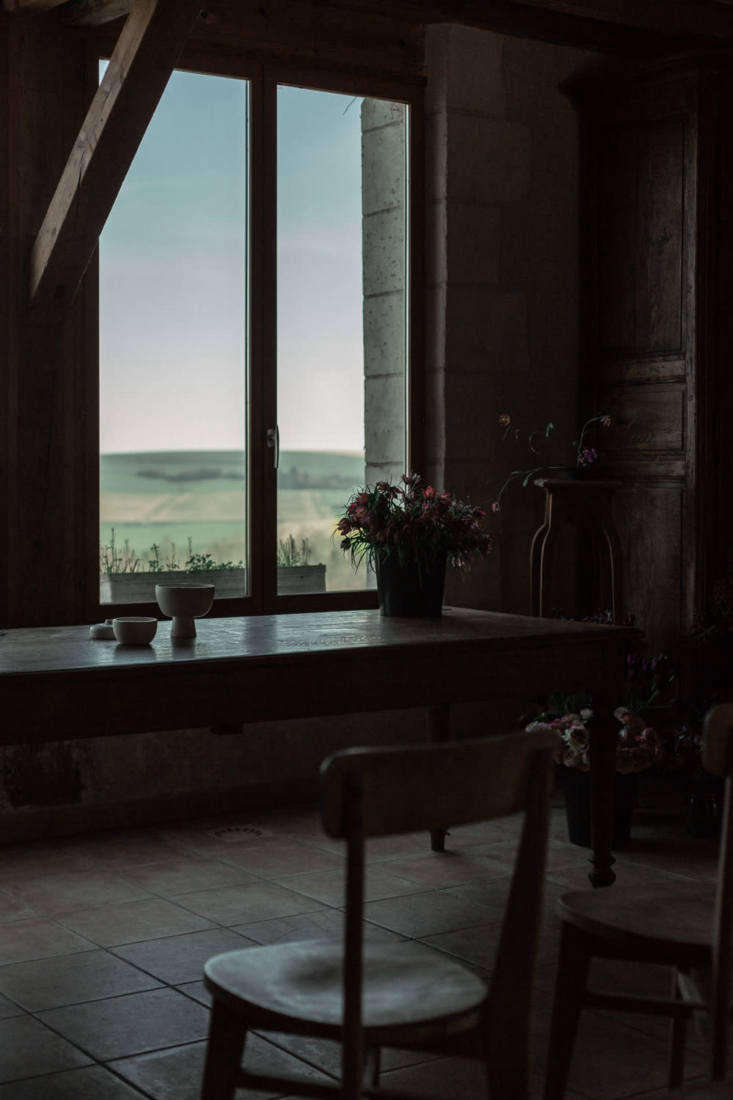 Above: Vessels, plus simple ribbons and stones, at the ready.
5. Source your vessel with care.
"Pick a vessel that encourages your bouquets to be wild and unruly," says Van Raden, whose ceramic flower frogs and ikebana vases served as inspiration for the arrangements at the workshops. "I prefer a low vessel in an ikebana style. The vessel alone creates a statement so that your blooms remain minimal and foraged, while still appearing sculptural and unique."
6. Size matters.
Also consider: size. "Choose your vessel in function of the amount of flowers you have to arrange with," Mayor says. "Then equip it with a frog, an ikebana kenzan, or a sphere of chicken wire. These will allow you to place your flowers and keep them in place."
7. Go stem by stem.
"Fill your vessel with fresh, clean water and start your arrangement," Mayor says. "Start with a couple of stems with beautiful movement, and arrange the other flowers following the initial movement."
8. Go slow.
Let the natural shapes of the flowers and stems guide you as you go. "Make sure you group colors together for a better effect, and recut the stems as you go to get the length needed to place the flowers where you want them," Mayor says. "It is time to let your creativity speak."
More flower arranging tips from the French:
(Visited 406 times, 1 visits today)