Spotted on Decor8: inspiring imagery from Irene Finne's Loppelilla, a chronicle of her life in the pristine Norwegian town of Evanger. Along with two friends, Finne runs Patina, a café, store, and bed-and-breakfast. We especially like her simple, organic ideas for Christmas decorations: knitted ornaments, stars made of kraft paper, and cardboard Christmas trees. To see more, go to Loppelilla.
Above: The snowy Norwegian landscape surrounding Finne's home.
Above: A branch displays ornaments; a chair is casually draped with a sheepskin.
Above L: A crocheted fir tree ornament. Center: Christmas trees made from strips of parchment paper, bamboo skewers, and a brown paper star. Above R: Knitted ball ornament.
Above: An antler lamp with a crocheted shade.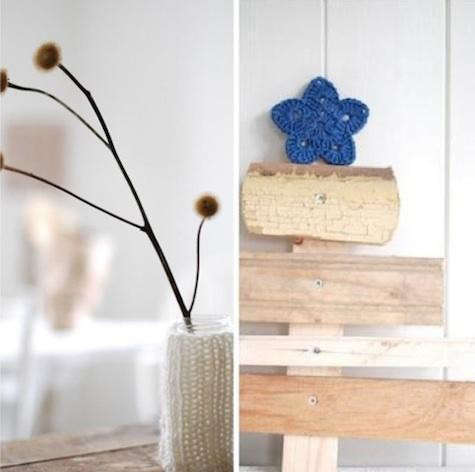 Above L: A glass jar with a knit cozy. Above R: A Christmas tree made from wooden planks topped with a crocheted star.
Above: Pillar candles and pine branches; an instant holiday centerpiece.
Above: Kraft paper stars.
Above: Christmas trees made from painted cardboard cutouts.
N.B.: This is an update of a post originally published December 22, 2011.
(Visited 116 times, 1 visits today)