When we first began Remodelista, it was in the early days of online shops and we came across a fantastic nursery and garden store in Austin called Gardens owned by award winning landscape designers James David and Gary Peese. Gardens was completely unique; then overnight, it disappeared. But I always wondered what happened. Over the years however its legacy has slowly reappeared as the shop's alum have gone on to form their new businesses taking some of the David/Peese sensibility with them. (Think of it as the Chez Panisse of the gardening world.) I recently discovered the best iteration to date: MIX Garden in Healdsburg.
Owned by Mick Kopetsky, MIX Garden is a combination of nursery, produce, and landscape and garden design. Kopetsky began his career as a retail buyer for a major department store but in the mid-nineties happened upon Gardens in Austin in what proved to be a career-changing visit. As he tells us, "You just knew that this was something entirely different and that there was nothing else out there like it. Everything had a purpose, and had been thought through not in a formulated way, but with an original new thought every single time."
Kopetsky saw his future, promptly left Minneapolis and moved to Austin, where he started work as a plant buyer for Gardens, noting, "James and Gary taught me everything. It was like an old [-fashioned] apprenticeship. I learned to draw, design, everything. I went to sleep with plant books." After the business closed, Kopetsky headed west to Sonoma to create a kitchen garden for Cordon Bleu chef Bieke Burwell. The two began a collaboration with food and gardening, and Kopetsky started farming Burwell's land, supplying his produce to local restaurants. Five years ago, he bought a landscape materials business in Healdsburg which he renovated to create MIX Garden, a place bringing together his produce, nursery, gardening and design under one roof. For more, visit  MIX Garden.
 Photography by Mimi Giboin.
Above: Kopetsky's attention to detail is seen throughout his store. Redwood panels are used as covering for the lower half of the walls, and the custom desk features redwood coated in multiple layers of a paste wax. A terrazzo grinder was used on the painted concrete floor, which was then finished with a concrete sealer.
Above: Kopetsky worked with a steel worker to create racks of custom rails for hanging his heirloom Italian seeds. He tells us, "The Italians are super focused on flavor, and these seeds are great for our climate as it's similar." (See Sow Now for Winter Salad for another story on Italian seeds.)
Above: Kopetsky opened up the original building, bringing in light and covering the plywood ceiling with strips of painted pine. In the distance are flowers from the newly opened Russian River Flower School that has set up shop inside MIX Gardens.
Above: Basalite pavers in steel frames from the former business are used to create display tables for landscape materials.
Above: Sand and gravel are displayed on trays that are easy to view and preferable to combing through a dusty yard.
Above: A wall of images featuring seasonal produce.
Above: A chalkboard features produce and landscape materials. After Kopetsky bought the landscape business in 2008, the market crashed. He explains, "It made me really think about what I wanted to do. Nobody wants what we wanted five years ago, which is how I got into the whole education of farming and gardening. Sustainability is about connecting to the community."
Above: Redwood pivot doors lead to the potting shed. Kopetsky notes, "I first saw these at the Booneville Hotel, and I wanted doors that could open in both directions so I used redwood sandwiched between steel plates."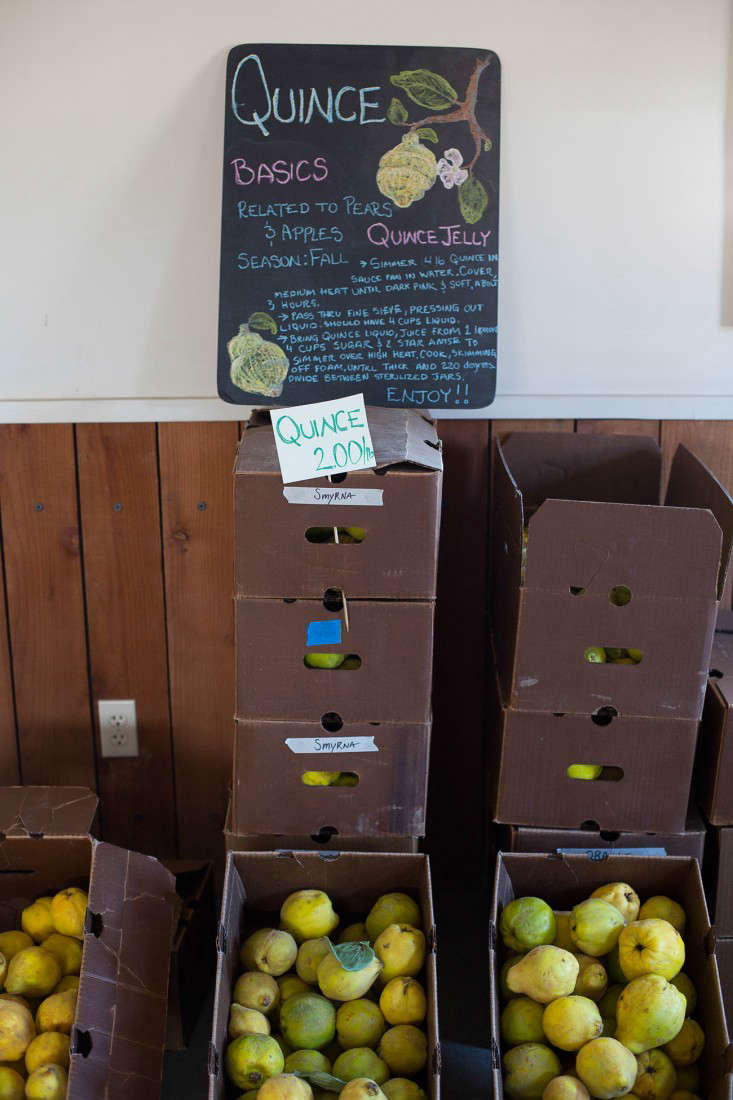 Above: Boxes of quince for sale.
See our post on Mosiac Gardens (former David/ Peese alums). For more on the Russian River Flower School, see our companion post on Remodelista. 
(Visited 142 times, 1 visits today)