When you wear Harris Tweed, you are wearing a piece of the Hebrides. Its beaches, sky, rocks, pools, and heather are all ingredients of tweed. As are the sheep, of course. The island weavers put it all together.
The colors of Harris Tweed come from outdoors and a wonderful thing about this woven cloth is that it allows you to live an outdoor life as well. Besides insulating, the natural lanolin in the untreated wool keeps off the wet and somehow repels dirt, taking on a "weathered" look. The older your tweed, the more it resembles the land it came from.
N.B. San Francisco-based Unionmade offers a line of goods made with authentic Harris tweed; the offerings range from tote bags to pocket squares to neckties.
Photographs by Murdo MacLeod.
Above: A bundle of raw unfinished tweed, on the isle of Harris. After it comes off the weaver's loom, it is folded and prepared to be sent to a textiles mill, for the finishing process. Scottish photographer Murdo MacLeod, who is from a family of weavers, says that in his childhood these bundles were a common sight along the side of the road, ready to be picked up and taken away.
"A universal truth is that Harris Tweed has soul," declares Harris Tweed Hebrides, the collective credited with re-igniting the fortunes of the traditional tweed industry through clever market repositioning. It has become a "young" fabric again. Shown above: A cross Blackface ram, on the isle of Harris, Scotland.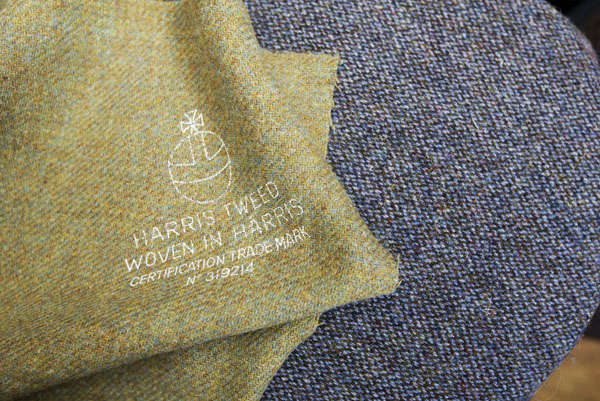 Above: The orb stamp, one of the world's oldest protected trademarks. Closely associated with Vivienne Westwood over the years (she borrowed the orb for her own branding), Harris Tweed has been in need of a new sponsor. Now it is enjoying mass appeal, both in couture and on the high street.
Above: A Scots landscape turned into bolts of fabric. The wool is dyed before being woven, and is made in limited quantities each year. "Welcome to the champagne of fabrics," says Andrew Allen on the blog of Harris Tweed Hebrides.
Above: Dun Carloway, a well-preserved fort on the isle of Lewis, dating from the first century BC. The walls are about three meters thick, built without mortar.
Above: The isle of Lewis, or Leodhas in Gaelic. Harris and Lewis are the same island. They–it?–are in the Outer Hebrides.
Above: Yarn bobbins, with colors which never jar, housed inside "flying shuttles."
Above: Most Harris Tweed is woven in Lewis, and all Harris Tweed must be woven in the Outer Hebrides at the weaver's home.
Above: Sea-battered Lewis.
Above: Donald John Mackay, a tweed industry survivor on the isle of Harris. Mackay is one of 140 full-time workers now employed in the making of tweed. For more on the life of a traditional weaver, see The Guardian.
N.B.: This is an update of a post originally published December 6, 2012 as part of our Haute Holiday week.
(Visited 83 times, 1 visits today)