At their best, gate hinges are both smooth operators and performance players. We demand a lot from them. Though all of a gate's construction fundamentals need to be sound—from wood choice and grade selection to design, framing, groundwork, and post installation—if you take the time to choose your hinges wisely, the rest of your hardware will play nicely together.
We talked with a hardware specialist and a pair of fence builders to learn everything you need to know to choose exterior gate hinges. We found that, when it comes to hinge hardware, rarely is it an open and shut case.
What is a gate hinge?
Above: Photograph courtesy of Naomi Sanders Landscape Design. For more of this garden, see LA Confidential: A Private Courtyard Garden Goes Luxe on a Budget.
Quite simply, a hinge is the hardware that connects a post to a gate or a door. Jana Lombardi, founder of Portland, Oregon-based 360 Yardware, a retailer and manufacturer of high-quality exterior hardware, says the primary considerations in deciding which hinge to should choose should be the size of the gate, followed by material, budget, style, and finish considerations.
What are the types of gate hinges?
For exterior gates, two types are typically used—butt hinges and strap hinges—with a few hybrids thrown in.
The Strap Hinge
Strap hinges—also called band or tee hinges—can be used for heavy applications and/or if the architecture of your house calls out for a particular style, such as Old World, Tudor, or Arts and Crafts.
Above: A 36-inch Hook & Band Hinge strap hinge designed for a heavy garage or barn door has a pewter patin;  £119.50 from From the Anvil.
Wales-based ironmonger From the Anvil advises that a rule of thumb is straps should reach two-thirds of the way across a door, but spanning at least half way should carry the weight of most doors without a problem. "It's ideal to grab two-thirds of the total width of the gate if you really want a gate to survive outdoors for decades," says Joshua Tomlinson, owner of Dialogue Design Build.
Other hardware manufacturers say from one-quarter to one-third the width of the gate should do the trick. Regardless, check the load limits of the strap and go from there.
For gates wider than 48 inches, Lombardi recommends straps or hybrids. Yet some strap hinges are lighter weight and used for smaller sized applications. Strap hinges typically have two parts: the strap, which is affixed to the gate, and the pintle, which connects the strap connects. When ordering a strap hinge, make sure you buy both strap and pintle.



Above: A 16-inch brushed stainless steel Heavy Duty Strap Hinge ($365 per pair at 360 Yardware) has a lift-off mechanism to allow a door to be quickly removed. (To override this option, Lombardi says to simply install the upper strap's pintle facing downward.)  For more information on hinge selection, along with detailed photos, check out 360 Yardware's Introduction to Outdoor Gate Hinges.
The Butt Hinge
Butt hinges are the style typically found on interior doors, where the only visible element when closed is the cylindrical barrel. "They're perfectly, wonderfully the way to go," says fence builder Joe Sampietro of Seaview Fences and Gates in Berkeley.
Butt hinges work with a variety of styles and can handle a good amount of weight. If you want the rustic style of a strap hinge but prefer the mechanism of a butt hinge, you can pair butt hinges with dummy straps and no one will be the wiser. In fact, butt hinges are often available pre-primed, which means you can paint them black and they'll blend right in.
Above: Black butt hinges are barely noticeable in this minimal black gate surrounding a Sydney home. Photograph courtesy of Anthony Wyer + Associates. See more in Trend Alert: Black Fences.
Butt hinges typically measure 4 by 4 inches, but, again, your specs are key. For heavier or larger doors, you may need a larger hinge. Butt hinges tend to be the most affordable hinge available and are sold in pairs or sets of three. Lombardi typically suggests if a door is 4 feet tall or less, use a pair of butt hinges. Of course in the world of gate construction and hardware, there's always an exception. If it's not obvious, it's best to consult a professional.
Sampietro stresses that it's important to mortise your butt hinges for stability. "There's a lot of moving around with wood," he says, "and when the hinge becomes part of the plane of the material, it's more structurally sound." Though the butt hinge seems straightforward, Sampietro says it takes experience to install one correctly.
Above: Two butt hinges are welded to a metal post in this modern gate in Sonoma County, designed by Terremoto. Photograph by Caitlin Atkinson.
Hybrid Gate Hinges
Hybrids of butt and strap hinges abound, such as the H hinge, a strong but slim option. It doesn't require a long expanse of wood as strap hinges do, but it can provide a bit of style to outdoor architecture. Tee hinges, with a mortised leaf on one side and a strap on the other, are yet another hybrid option.
Above:  A Dark Bronze Heavy Duty "H" Hinge from 360 Yardware is strong but subtle. Offered in two finishes with a selection of fasteners; shown in bronze, $195.
What size gate hinge do I need?
When choosing a gate hinge, size matters. Knowing the weight and dimensions—width, height, and thickness—of a gate door (or doors) is key to making everything work well together. While Sampietro says there are basically two sizes—small and large—360 Yardware breaks it down further: Small gates are typically those under 42 inches wide and 1.5 inches thick; medium gates are 42 inches wide, or a little more, and 2.25 inches thick; larger gates exceed these specs. Use common sense: a 55-pound, 5-foot door would be considered average whereas a 130-pound, 6-foot door is obviously heavy. Fortunately, vendors will usually state how much weight a hinge can hold.
What are the best materials for gate hinges?
Above: This gate has stainless gate hardware, including eight Stainless Steel Butt Hinges ($98.14 from 360 Yardware). Lombardi says gates this size typically have three hinges on each door, but because this gate was thicker and heavier the builder opted for four. The handles and latch are from 360 Yardware's Alta collection.
Lombardi says it's important to choose material with location in mind. In coastal locations or areas with industrial pollutants, pick either stainless or bronze. For other locations, other metals are suitable. Regardless, Lombardi prefers stainless, brass or bronze for longevity. Material choice for hinges will be made in tandem with material choice for a gate latch; see our recent post, Hardware 101: Gate Latches for a rundown.
Above: Sometimes a simple, Heavy Duty Zinc-Plated Tee Hinge will do the trick; a 6-inch model from Everbilt is $5.22 at Home Depot.
Steel is the most affordable option. Other metals and finishes can include brass, satin nickel, pewter, polished chrome, statin chrome, flat black-painted, French antique, and various finishes of bronze.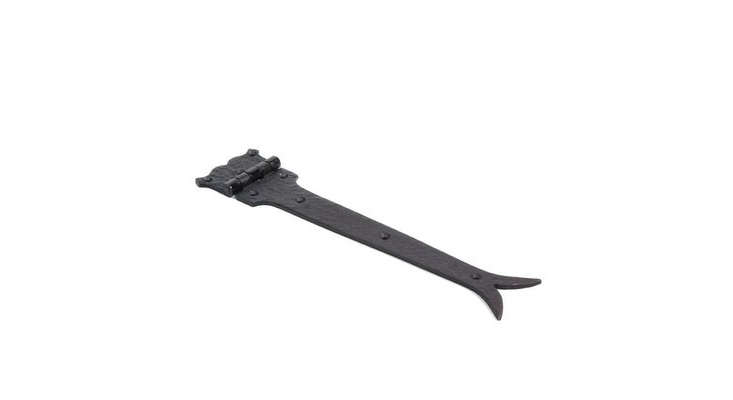 Above: Van Dyke's Restorers sell an iron Whale Tale Strap Hinge, perfect for nautical-themed projects. They're available powder coated or oil-blackened, at prices starting at $27.89 per pair.
What makes a quality hinge?
Hinges can vary enormously in price. Why? Look closely at the thickness of the base material, for starters.  Hinges with ball bearings are also typically of higher quality and work well with medium and large gates. The bearings make for an easier swing and can prevent a gate from sagging, says Lombardi.
Do you want a commercial grade hinge? They typically are ball-bearing hinges that have passed tests of 1 million-plus open/close cycles. Then there's always the custom versus. off-the-shelf decision. The good news, however, is that a sturdy, attractive butt hinge can usually get the job done, last a long time, and set you back only about $75 for a set of three.
What kind of hinges do pool gates need?
Pool gates should be spring-loaded and self-closing. Lombardi says for small- to medium-sized gates, one one of the three hinges needs to be spring-loaded unless local regulations have a different requirement. For larger or heavier gates, all may need to be spring-loaded. Fortunately, you'll be able to adjust these self-closing mechanisms to provide just the right amount of tension. Lombardi says the wider and heavier the gate, the more challenging it will be to self-close.
How are gate hinges installed?
Above: Sampietro always mortises butt hinges for added stability. Photograph courtesy of Seaview Fences and Gates.
"Everything matters when building a gate," says Sampietro. Be sure you've nailed your gate fundamentals: wood and grade choice, design, groundwork, post placement, and relationship to ground. Then turn to your hinges, which are tricky to install. Here are some tips:
If you're using a butt hinge, mortise it for finished appearance and additional stability.
For strap hinges, consider using a carriage through-bolt for additional rigidity.
Double check that a gate's swing direction is compatible the your hinge.
Make sure there's excellent alignment of straps and pintles so a gate's weight is evenly distributed among the hinges.
Sun exposure will affect a gate, says Sampietro. If it's in full sun most of the day, oil the hardware regularly.
If the screws need to be reset more than every year or two, there's a design flaw with the gate. Take a look.
In the end, quality hardware can't make up for poor framing and construction, so  consult a professional. "Almost every situation can be answered with 'that depends,' " says Lombardi. "Because all the variables affect each other, having a professional who has seen it all and fixed it all is a great asset."
For more on garden gates and fencing, see:
Finally, learn how to successfully design a fence for any landscape or garden project with our Hardscaping 101: Fences & Gates guide.
(Visited 893 times, 1 visits today)