Say "pergola" and I think: relaxation station. But the not easy listening radio kind of station. A pergola is a relatively simple structure that achieves so much in the garden. To me, a pergola is a "room" with an open-air framework to gaze up at and relax under, and it perfectly defines an outdoor living space.
When I started out as a landscape designer, I mixed up all the different garden structure names. Gazebo, trellis, arbor, pergola—weren't they all basically the same? Au contraire, mon frère. They are all different (not surprisingly) and I will share with you some of the differences.
What is a pergola?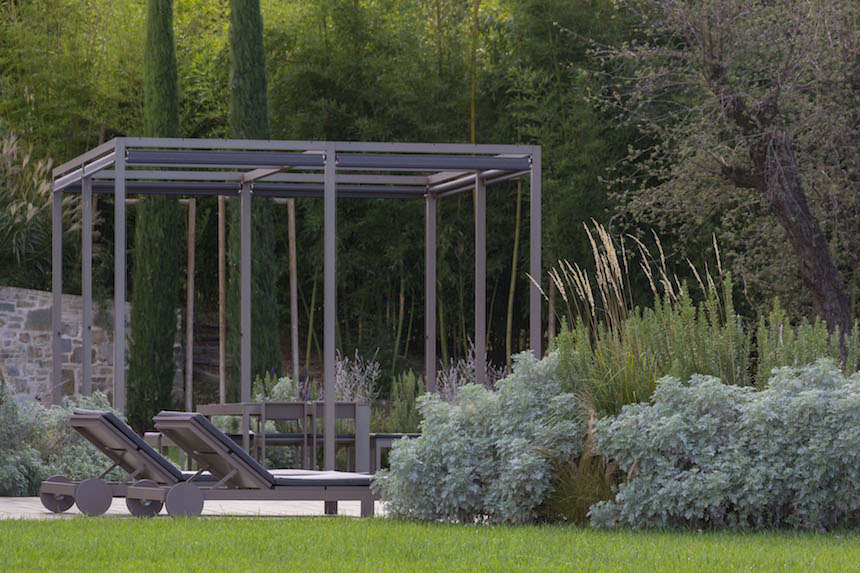 A pergola is basically a structural feature or accent with a substantial framework (sometimes covered in a vine) that gives an outdoor space some height and shade. A pergola, consisting of anchored posts that support cross beams, can be used as a walkway or more commonly as a seating area. Different from a gazebo, a pergola's roof is open, not peaked, and has no walls.
A pergola can also be confused with an arbor, which is usually a wooden bench seat with a lattice-style roof. A pergola is much larger and more open and normally does not include built-in seating.
Why does a garden need a pergola?
The open canopy of a pergola's overhead structure is a strong and effective transitional link between a house's solid roof and the pergola's open structure. In geeky woodworking terms: a pergola dovetails nicely with a house.
Other reasons to have a pergola include:
You want to create a living room feel for your outdoor dining table and chair set. Piggybacking on that idea, your outdoor kitchen or barbecue area could use a sense of homeyness.
You want some shade from the afternoon sun.
You want privacy around a hot tub or a place to warm up after swimming in the pool.
You have ample space for a structure.
Personally, I love the dappled light created by a pergola, the shadows and interesting patterns that are cast as sunlight or moonlight finds its way through the structure.
What are the different styles of pergolas?
Basically there are two kinds of pergola: a freestanding type and a cantilevered style that acts as an extension of a home.
What are the best materials for pergolas?
Below are the materials most used for pergolas. Keep in mind that a combination can be used. Consider a mix-and-match arrangement, but whatever materials you choose, remember to base your choice(s) on solid design principals and not on burgeoning, and possibly passing trends.
Wood. The the classic choice. Choose rough-sawn lumber or planed, smooth lumber that you can paint or stain. Wood is good for posts, beams, or both.
Best woods? Oak is durable and weathers nicely. If you can, try to source your wood from sustainable, managed forests. Other choices: cedar, redwood, and teak. These types have a natural rot-resistance and avoidance to warping and shrinking. Consider sealing the wood to give it extra protection from harsh elements. Reclaimed wood can be an expensive option but it can have added appeal and an aged patina.
Wood as the beams or rafters can be smartly combined with other materials forming the pillars or posts. Think stucco pillars to match a stucco house.
Metal. The opposite of a rustic, natural look. Think clean and modern. Metal is very strong, and to avoid any rusting please seal it. The other option is to use Cor-Ten Steel.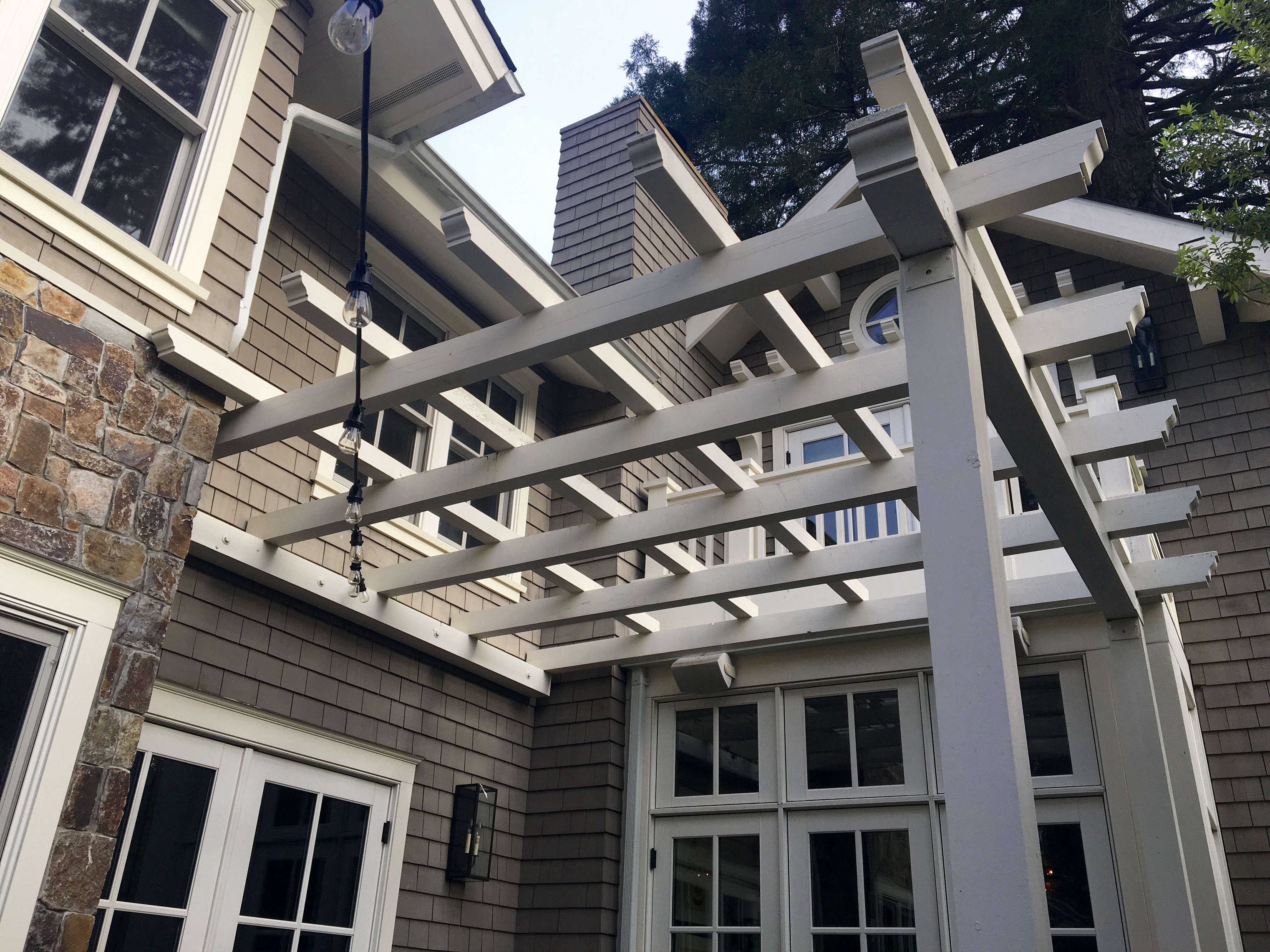 Fiberglass. A thick type of this material provides a resistant material and avoids the problems that wood and metal encounter. It is low-maintenance and lightweight.
Aluminum. Strong and simple to maintain. Maintenance costs are low but initial costs are high.
Brick or stone. A great choice when you want to match your pergola to your house's façade.
Plastic coated steel. The modern equivalent to wrought iron. This material is useful on weight-limited roofs, and the material stays cool (which clinging plants appreciate).
Whatever materials you choose, make sure they can withstand Mother Nature. Use fewer nails and more bolts and screws for safety and long-term strength.
Are there design rules and guidelines for pergolas?
While there are no hard and fast rules around pergolas, there is a main guideline that I follow as a garden designer: any added element should integrate into your garden space, and the materials should relate to the architecture and be congruent with the style of the house and garden.
For example, if your house has a more formal, classical flair then consider a pergola made from smooth stone columns with planed, wood beams. Or for a rustic, country house consider rough-hewn oak beams with native stone pillars.
Also, as I mentioned above, a pergola must harmonize with the surroundings in scale. Nothing is worse than an element that makes your garden look and feel small and cramped.
Other things to consider for city rooftop pergolas are weight restrictions. Do your homework first, and consult an engineer.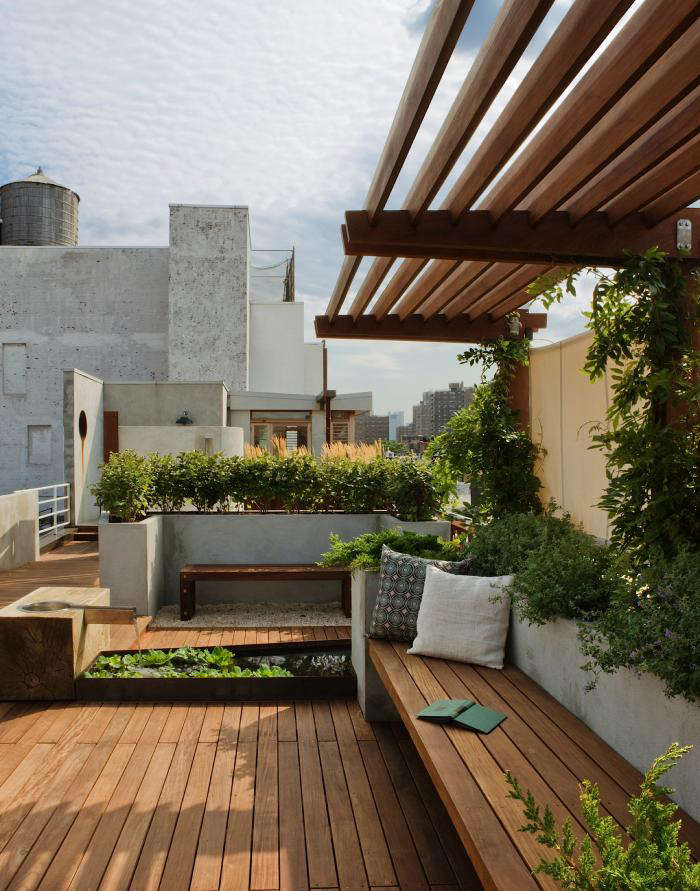 Related to that note, call your local municipality to see if you need permits, especially if your pergola is attached, if you are running gas or electrical lines, or if your pergola could block a neighbor's view.  Also, whenever a project involves large holes, make sure your area is clear of buried lines.
If you are planning to attach the pergola to your house, you should hire a professional because it can affect the structural integrity of your house if it is not properly installed.
How big should it be? How high? Once again, there are no rules. Pergolas can be large or small, and of any architectural style, also pergolas can be left natural to show the beauty of the wood or painted and stained a color.
How much do pergolas cost?
Cost and time are factors when committing to this garden structure. In general, custom pergolas (approximately 10 feet by 10 feet) will cost from $4,000 to $8,000 for materials and labor.
Exotic wood such as ipe or teak, added square feet, or amenities will add to the price, as will regional labor cost differences.
Is this a DIY project?
First ask yourself, "Am I an experienced and capable handy person with a variety of tools?" If your answer is a resounding "No," then seek professional help for a custom design.

If you answer "Yes," consider DIY videos on line. Or if you have basic construction knowledge and a limited budget you can also purchase kits. Most pergola kits come pre-notched, contain corner bracers, and the material is treated.
How can I take a pergola to the next level?
After your structure is up, outfit it with outdoor furniture, speakers and hanging lights. Also consider anchoring a swing to sturdy posts for a novel source of kid entertainment.
Vines and pergolas can be a perfect pair, so grow a vine on it to climb and mingle beautifully. Covering pergolas can provide fragrance, dabbled shade and privacy.
Best vines for the job? Boston ivy, trumpet vine, and clematis. Don't be tempted, however, by wisteria. Not only is it heavy when mature but it is short blooming, needs constant maintenance, and is wily and whippy. Here's some advice from the renowned garden designer Gertrude Jekyll: "Roses are about the worst, for they soon run up leggy, and flower at the top out of sight."
More reading: