Say "pergola" and I think: relaxation station. But the not easy listening radio kind of station. A pergola is a relatively simple structure that achieves so much in the garden. To me, a pergola is a "room" with an open-air framework to gaze up at and relax under, and it perfectly defines an outdoor living space.
When I started out as a landscape designer, I mixed up all the different garden structure names. Gazebo, trellis, arbor, pergola—weren't they all basically the same? Au contraire, mon frère. They are all different (not surprisingly) and I will share with you some of the differences.
What is a pergola?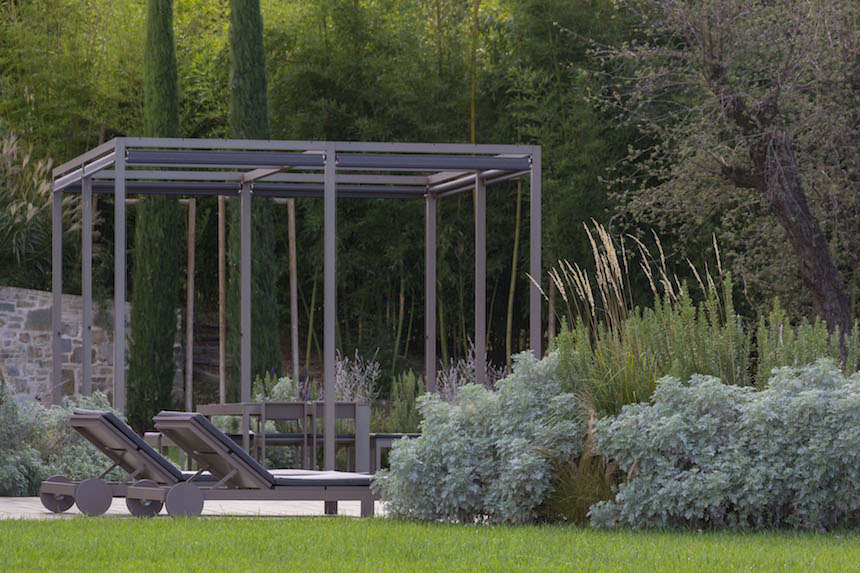 A pergola is basically a structural feature or accent with a substantial framework (sometimes covered in a vine) that gives an outdoor space some height and shade. A pergola, consisting of anchored posts that support cross beams, can be used as a walkway or more commonly as a seating area. Different from a gazebo, a pergola's roof is open, not peaked, and has no walls.
A pergola can also be confused with an arbor, which is usually a wooden bench seat with a lattice-style roof. A pergola is much larger and more open and normally does not include built-in seating.
Why does a garden need a pergola?
The open canopy of a pergola's overhead structure is a strong and effective transitional link between a house's solid roof and the pergola's open structure. In geeky woodworking terms: a pergola dovetails nicely with a house.
Other reasons to have a pergola include:
You want to create a living room feel for your outdoor dining table and chair set. Piggybacking on that idea, your outdoor kitchen or barbecue area could use a sense of homeyness.
You want some shade from the afternoon sun.
You want privacy around a hot tub or a place to warm up after swimming in the pool.
You have ample space for a structure.
Personally, I love the dappled light created by a pergola, the shadows and interesting patterns that are cast as sunlight or moonlight finds its way through the structure.
What are the different styles of pergolas?
Basically there are two kinds of pergola: a freestanding type and a cantilevered style that acts as an extension of a home.