The pergola is understated by nature, an empty frame to accent or support. It doesn't look like much on its own, but a garden without a pergola is like a room without a rug: something is missing but you can't quite put your finger on what.
Almost every garden I love has a pergola, but it wasn't until I started to look up at the wooden slats that frame the sky that I came to understand the transformative potential of the simple outdoor structure. Here are 10 ways to improve your garden with a pergola, straight from a pergola convert.
Hang String Lights
Above: Photograph by Drew Kelly courtesy of  Third Nature Studio.
Create an evening destination with outdoor string lights woven through the framework of a pergola. From a distance it looks like garden sculpture. Up close, it's a ceiling that doesn't block the view of the night sky.
Create Architectural Interest in a Flat Landscape
Above: Photograph courtesy of Grounded Gardens.
A square outdoor area or extensive acreage over a flat plane calls for some vertical interest, an architectural element to break up the landscape and inspire new planting patterns around it. Take a backyard (Above) designed by Grounded Gardens in Melbourne, Australia, where a thin iron pergola frames an outdoor dining area of pale slate. For more of this garden, see our recent post, Designer Visit: A Modern Courtyard to Covet in Melbourne.
Add Shade Coverage During Summer Months
Above: A modern steel and wood pergola in a garden by Ishka Designs on South Oxford Street in Brooklyn's Fort Greene neighborhood. Photograph by Niya Bascom Photography.
Summer weather calls for entertaining outdoors. But without a pergola, one can only expect to do so in the early morning or the evening. A pergola designed with cloth laths provides shade for mid-day sun, allowing for more time spent in the garden.
Train Fragrant Vines to Grow Overhead
Above: Photograph courtesy of Gravetye Manor. For more, see The Ultimate UK Getaway: 1 Hour from London, But a World Away at Gravetye Manor.
Grow Productive Fruit or Vegetables
Above:  Photograph courtesy of Wahsega Valley Farm.
Their little farm was a "diamond in the rough" when blogger April of Wahsega Valley Farm and her husband, Mike, moved to a cabin in the Georgia countryside in 2006. Not for long, though. In the vegetable garden, the couple built a beautiful DIY bean trellis–a bean tunnel, actually–using metal mesh and poles, available at most hardware stores.
For more, see Vegetable Garden Design: DIY Bean Trellis.
Shade a Roof Garden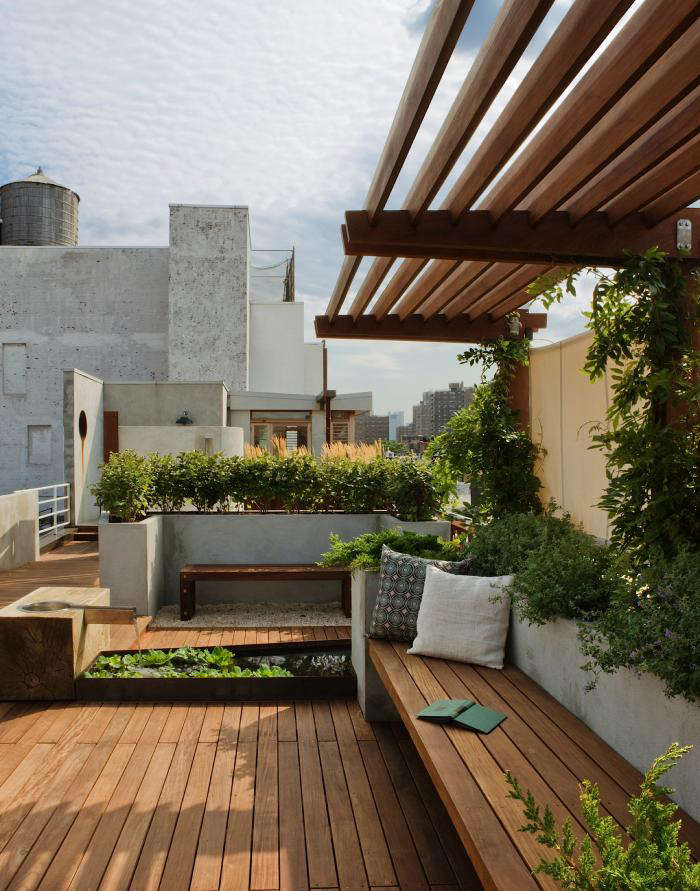 Above: Photograph by Bilyana Dimitrova courtesy of Pulltab Design.
On a rooftop, a pergola provides shade without blocking the view. "To create an elegantly simple roof garden in Manhattan's East Village, Melissa Baker and Jon Handley of Pulltab Design (members of the Remodelista Architect/Designer Directory) maximized the impact of panoramic views while maintaining a sense of privacy, which they achieved with strategically placed walls, canvas screens, and plantings," says Christine.
For more, see Landscape Design: 10 Simple Layouts for Roof Gardens.
String Up a Hammock
Above: A woven hammock between the columns of a bamboo-covered pergola at San Giorgio Mykonos, a design element that promotes naps and afternoon reading.
Blur the Boundary Between Indoors and Out
Above: A cantilevered pergola functions as an extension of the house on a rooftop in Chelsea, New York City, designed by Brook Landscape.
Create Filtered Lightscapes in the Garden
Above: Photograph by Melissa Bombardiere.
Watch the sun move across the sky throughout the day and enjoy the wells of light and shadow created by the slats of the pergola. Lightscapes are even more apparent–dappled–when vines are trained overhead. Above is the the home of Melissa and Damian Bombardier in Australia; see the Before and After in A Sydney Ranch House Transformed on Remodelista.
For more garden tips and pergola inspiration see our recent posts:
(Visited 905 times, 4 visits today)