In any landscape lighting plan, the entry light shines the brightest, literally. The front door is the focal point of a house–it is how a home introduces itself to the neighborhood–and it needs the highest level of light to attract attention. That's where entry lighting comes in. Here's how to best illuminate your entry day and night.
N.B.: This is the fifth in our series of landscape lighting primers; scroll to the end for links to our posts on uplighting, pathway, stairway, and outdoor wall lighting. Sources for landscape lighting are also below.
Above: A classic onion pendant light in the entry of a Sausalito cottage by Deer Creek Studio is a complementary architectural detail by day and a guiding light by night.
What is the job of an outdoor entry light?
The job of an entry light is to be a welcoming beacon to guide guests to the front door easily and safely, highlight a home's architecture, and allow you to clearly identify who is standing outside. Entry fixtures are designed to make others see, and to be seen.
Above: Gardenista's editor in chief, Michelle, has an entry lighting scheme that is high on curb appeal.
What type of fixtures are best for a front entry?
The most common types of fixtures for entries are sconces, flush ceiling mounts, and pendant lights. Which light is best? It depends on the structure of your entry, the architectural style of your home, and the design of the landscape. This is a fixture where form and function (meeting your needs for illumination) are both strong considerations.
Regardless of the style and type, it is important to make sure any fixture you consider for outdoor use is UL-rated for damp or wet locations. This is not the place to reuse that old dining room pendant light. Even ceiling fixtures on outdoor porches protected from direct rain can get wet from humidity and condensation; be sure that water cannot seep into the electrical parts or wiring of the fixture. Also, fixtures designed for outside use are made with materials and finishes that withstand exposure to the elements.
Flush Ceiling Mount
Above: Ceiling mount lights, such as Tekna's Nautic Line, are a good choice for covered porches with low ceilings. A slim profile keeps them tucked out of the way to limit exposure to weather conditions.
Ceiling fixtures (including pendants, below) provide downlighting and if they cast a wide arc, the light most closely mimics daylight. The downside of illuminating directly from above is that it can cast shadows that are unflattering and can make faces difficult to discern. Solve this problem by combining a ceiling or pendant light with a wall sconce that illuminates from the side, minimizing shadows.
Pendant
Above: High-ceilinged entries can accommodate outdoor pendants. A dramatic outdoor pendant beckons visitors to an art studio designed by Clayton & Little Architects. For more of the project, see Outbuilding of the Week: Travis Heights Art Studio. Photograph by Casey Dunn. 
Pendants should be avoided in windy locations. 
Single Sconce
Above: A modernist entry with a bright yellow door and a single outdoor globe lighting fixture. Photograph via Design Sponge. 
Are you faced with a narrow front facade with no overhang? A single sconce mounted adjacent to your front door is a good choice where space is tight.  Mount it on the same side as your door handle to get the best light for finding the keyhole. 
Double Sconces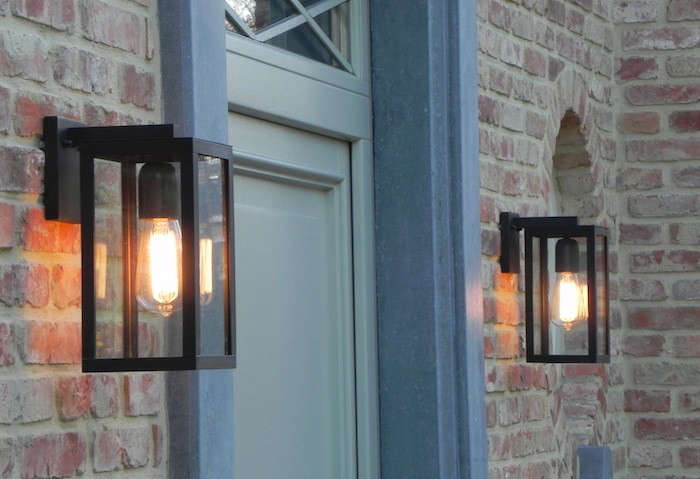 Above: Framing your front door with sconces on either side creates great lighting and great looks. Perfect for roofless front entries, sconces also can be used in tandem with overhead lights if more lighting is needed. Photograph via Nyche Lighting.
Above: Multiple sconces can be used in different configurations with an equally effective result. Photograph via Delta Light.
Any tips for outdoor entry light selection and placement?
Pay attention to the size and proportion of the fixture in relation to your door and entry area. As a rule of thumb, fixtures should not be smaller than 1/4 of the door height.
This Old House provides outdoor fixture mounting guidelines which suggest that wall mounted fixtures should be placed with their center 66 inches from the ground; flush ceiling lights should be a minimum of 80 inches from the ground, and pendants at 84 inches above the ground or higher.
When selecting a fixture, don't forget about its daytime appearance; make sure it doesn't clash with your architecture or landscape design.
While it is important to have bright entry light, don't blind your guests. Choose fixtures with thick diffuse glass that illuminates evenly and cuts glare.
Consider the approach to your entry when devising the lighting plan. Light should gradually brighten as you approach the front door. Use soft light along the entry path and a stronger shine on the stairs and front porch.
In an urban setting, keep front lighting to a minimum to avoid blinding the neighbors.
Above: If the entry porch doubles as an outdoor room, as at Remodelista London editor Christine's summer home, it may need varying levels of light. Relaxing on a porch requires soft low lighting; a doorway needs a higher level of light for navigation. Consider putting separate controls on lights in different areas to make it easy to dim or turn them off.
Above: Don't forget about lighting secondary entrances using the same principles. Photograph via Skona Hem.
How do I power and control entry lights?
Of all the exterior lighting, entry lights are the easiest to power because of their proximity to your home's electrical wiring. Fixtures that attach to your outdoor porch ceiling or exterior walls can be wired from indoors. The benefit of this approach is that they can be linked to interior switches and controls. If you already have outdoor sockets located near your entry, they can be used to power additional lighting for the approach to the entry. We recommend consulting with an electrician or outdoor lighting professional for guidance or installation.
The ability to turn on and off your entry light is essential. Don't overlook this detail. Be sure power is linked to an interior switch. Beyond the simple on/off variety, you may want to consider other controls, depending on your location and habits of coming and going. Motion sensors, light sensors, and timers are three types of automatic controls that provide convenience at a low cost. It is important to have a switch that overrides these controls in the event you want your entry to be dark (you've run out of Halloween candy, want to send a message that you are not expecting guests, or simply want to reduce urban nighttime light when you go to bed). Your entry light can act as an open or closed sign.
Above: Consider putting your entry light on an interior timer switch. The Honeywell 7-Day Programmable Timer ($24 at Amazon) can be programmed to turn off and on at desired times over a seven-day period.
Where can I buy entry lights?
Above: The handmade Pewter and Brass Onion Ceiling Lamp with handblown glass orb is an adaptation of the classic onion lantern used on fishing schooners. All models are available in copper, brass, or pewter; $189 to $409 from the Nauset Lantern Shop on Cape Cod.
For some of our favorite fixtures, see 10 Easy Pieces: Classic Ceiling Porch Lights. For more landscape light sources, see our earlier features:
Above: Photograph via Tekna Lighting.
Read our other outdoor lighting primers:
(Visited 392 times, 1 visits today)