Make your garden an evening event. Landscape lighting not only extends the hours you can use outdoor living space, it also improves safety (you can see where you are going), security (so say the experts), and your viewing pleasure. A good plan will include a variety of lighting types for different purposes. Here we focus on uplights, perfect for illuminating trees, garden walls, and other landscape elements that deserve attention.
Above: Soft uplights draw the eye to tree trunks on the deck of a rooftop garden in Soho, New York by Robin Key Landscape Architecture, a member of our architects and designers directory. Photograph by Francine Fleischer.
What is uplighting?
Uplighting simply refers to the directional focus of the light. Landscape uplights are typically mounted below or at ground level, shining the light upward.
Above: Uplights highlight drifts of perennial grasses and balance the lighting on the front porch in a project in Hollywood, by LA-based Walker Workshop, a member of our architects and designers directory.
Why use uplighting in my landscape?
As part of an overall landscape lighting plan, uplighting is particularly good at spotlighting focal points of your garden and home. Specifically, uplights will:
Highlight garden features, including your prized plants or architectural features.
Create nighttime drama in your landscape with shadows.
Add depth to outdoor walls, fences, or other flat surfaces.
Contribute ambient light for safety and security.
Establish or emphasize outdoor space boundaries.
Above: Uplit at night, young olive trees look statuesque against the modern fence in a backyard garden in San Francisco designed by Remodelista Architects-Designers Directory member Creo Landscape Architecture. Photograph by Kayo Shibano.
Are there different types of uplights?
Many varieties of lights can illuminate in an upward direction. The most common types used in gardens include:
Bullet/Spot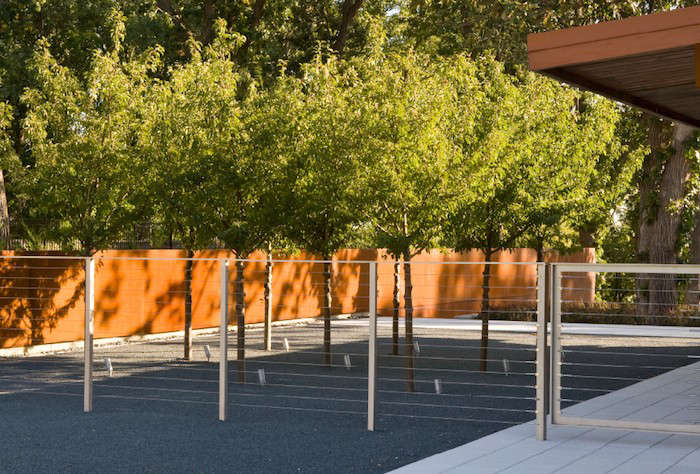 Above: A daytime view of bullet lights installed at the base of a manicured installment of trees in a project by Coen + Partners. Photograph by Paul Crosby.
Named for its resemblance to a bullet, this directional light usually has a narrow spot beam, perfect for shining light on prized plants or trees. They can be surface mounted or pole mounted and are most often adjustable.
Wash
Above: Uplights with a low diffuse wash add visual interest to the artful walls and provide practical pathway illumination in a Los Altos Hills, California project by Arterra Landscape Architects, a member of our architects and designers directory. Wash light is a good choice for subtle illumination of lower plants, shrubs, and wall surfaces. Photograph by Michele Lee Willson Photography.
Well
Above: Well lights are installed slightly below grade to offer uplight without becoming a visible fixture in the landscape. Used for lighting the underside of plants, benches, or the lower part of walls. Photograph via Blasen Landscape Architecture, a member of our architects and designers directory. (Don't miss Blasen's Amazing Seaside Garden.)
Flood: Another variety of spotlight that has a wider beam than bullet lights. Used primarily for illuminating house facades or extremely large trees.
Above: Kichler's weather-resistant High Intensity Discharge Flood Light is available in two finishes including Architectural Bronze as shown; $80.24 from All Modern.
How do I turn on my uplights?
Unless they are solar-powered, outdoor lights need to be connected to an electric power source. That can be achieved by plugging into an outdoor power socket, hard wiring to a full 120V electric source, or installing a low-voltage transformer. From a safety, cost, and ease-of-installation standpoint, low-voltage is the way to go. Low-voltage transformers change the electric current from 120V to 12V which is ideal for outdoor garden use because of the wet conditions. Electricity and water are typically a bad combination.
Using regular electrical power requires the wiring to be buried at least 18 inches deep or to be encased in a conduit, while low-voltage systems can plug into an outdoor socket and then the wires can be easily buried under soil or gravel. We recommend consulting with an electrician or outdoor lighting professional for guidance or installation.
Above: Uplights aren't just for large landscapes. New York City-based landscape architect RADD member Robin Key designed this Chelsea co-op rooftop garden, complementing panoramic city views with decorative uplighting. Photograph by Francine Fleischer.
Any tips for uplighting in my garden?
Position uplights so they don't shine in windows, blind your guests in your outdoor entertaining locations, or annoy your neighbors.
Consider low wattage bulbs for more subtle lighting (it is easy to overdo it).
If lighting a wall or other flat surface, position lights with enough space between to prevent a continuous bath of light. The idea is to add depth with intermittent light washes.
Position lights close to the base of the plants you want to highlight.
Direct the light straight up on a tree if you want to highlight the shape of the tree; angle the light if you want to create shadows.
Above: Strategically placed uplights set in the path and at the base of the trees illuminate a row of white-bark tree to create a lovely urban garden view in a Chicago project by Coen + Partners. Photograph courtesy of Coen + Partners.
Where can I buy uplights for my garden?
See our earlier features:
For more views of gardens after the sun has gone down, see Let Twilight Linger. Meanwhile, Remodelista offers up 10 Easy Pieces: Barnhouse-Style Outdoor Lighting.
(Visited 762 times, 5 visits today)