Viburnum: "The String of Pearls"
Viburnum is like the perfect string of pearls: a simple and classic detail that makes any outfit feel complete.
No matter the season, this flowering shrub produces showy pink or white blossoms, luscious foliage, or festive clusters of berries, giving your garden an elegant finishing touch, like throwing on just the right piece of jewelry as you're leaving the house.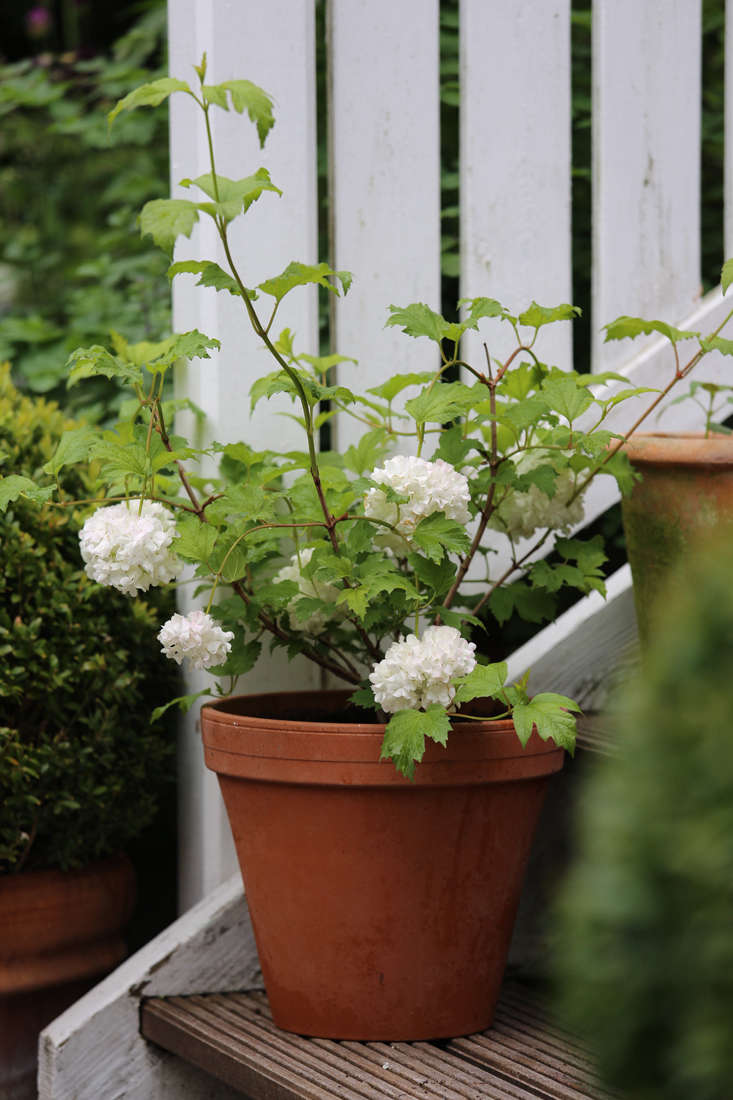 Above: Photograph by Mette Krull. Viburnum opulus 'Roseum' will eventually outgrow this container, in which case it will move into Mette's garden. For more, see Garden Visit: An Instagram Star in Denmark.
Viburnum is a mix-and-match sort of a shrub, equally dashing in sweater weather as sundress season. It is even versatile with different climates. In most hardiness zones there is at least one species of viburnum that is likely to thrive.
Above: Photograph by Marie Viljoen. Viburnum x bodnantense 'Dawn' stops passersby in their tracks. A late winter bloomer, it has flowers that look like lilacs. For more, see 8 Cold-Climate Flowering Shrubs and Small Trees for Early Spring.
Viburnum 'Charles Lamont' (hardy from zones 6 to 9) is another stunner. It blooms so early that its ballet-slipper pink petals, fuchsia-flecked, can be crowned with snowflakes. Viburnum 'Blue Muffin' (zones 3-8) boasts glossy leaves, frothy white flowers, and bright blue autumn fruit. Another favorite is 'Brandywine' with berry clusters in black and red—like those raspberry and blackberry candies we ate in fistfuls as kids—and with leaves that turn brilliantly scarlet in the fall (zones 5-9). 'Allegheny' (zones 5-8) is an evergreen variety, with flowers the color of old lace and foliage in a delicate shade of silvery blue; it makes a wonderful hedge.
Above: Photograph by Justine Hand. For more, see Walk on the Wild Side: A New England Native Garden.
Cheat Sheet
Fragrance and early blooms attract the first birds of spring. (Larvae also love to eat the leaves.)
Choose companion plants with contrasting foliage, such as evergreen ferns. (Or, for a winter garden, pair with other early bloomers like crocuses and pansies.)
Because viburnum doesn't self-pollinate regularly, plant several viburnum shrubs near each other.
Keep It Alive
Each spring, layer 2 inches of mulch under the plant to lock moisture in. This will also help control weeds.
Viburnums usually thrive in growing zones 4-8 (varies by species).
Plant in spring or fall in full sun or partial shade.
Above: Photograph by Marie Viljoen.
Plant viburnum in the fall. Space the seedlings from 10 to 15 feet apart, and water thoroughly until root systems are established.
Above: Photograph by Kendra Wilson.
Viburnums prefer moister conditions even after a few years. The shrubs can grow to impressive proportions, sometimes 10 feet high. Now that's one serious string of pearls.
N.B.: Are you thinking of adding a shrub to your garden? Our Garden Design 101 guides can help:
(Visited 761 times, 1 visits today)