Staghorn fern, Platycerium bifurcatum
There is no doubt that a mounted mature staghorn fern will get your attention. These plants truly act as living art pieces.
I've always had a thing for epiphytic specimens and how theses tropical wonders in their native environment grow on trees and other plants without needing soil. They're quite magical, and the more you learn about them, the more you'll find yourself enamored.
Please keep reading to learn more about the stunning staghorn fern: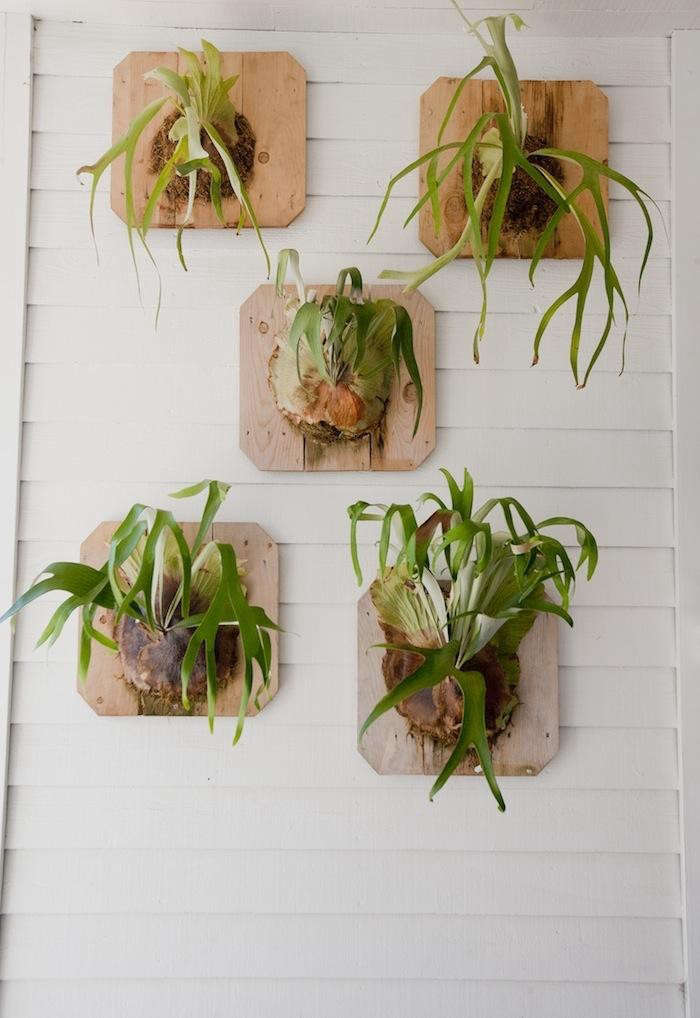 Once considered hard to find, Platycerium bifurcatum, a species native to Australia, is now common and easy to score. Some young staghorn ferns will be sold in nursery pots, but they shouldn't remain in these containers once you bring them home. Sure, they can survive in a mixture of orchid bark and cactus potting mix, but for long-term success they should be mounted to a wood plank or plaque. (For a great tutorial, see How to Hang a DIY Staghorn Fern.) Why is this? Remember, staghorn ferns are epiphytes (just like popular air plants), which means you need to replicate their natural soil-less environment.
It's also helpful to know that these ferns have two types of fronds. The first are the large ones that grow from the center of the plant and gives it its common name as the shape resembles a somewhat felted elk or deer antler. These leaves can slowly reach an impressive length of 3 feet and develop brown fuzzy spores (do not remove these). The second type of frond is the shield frond that is hard and plate-like that emerges green and then eventually turns dry and brown (don't remove this either). This flattish frond covers the bottom of the plant and protects the root ball from damage and drying out.
Cheat Sheet
Hang this fern as a striking focal plant and conversation piece on a wall.
Cedar is a smart choice for a mounting board as it is naturally rot-resistant.
It's non-toxic and low in allergens, so it's safe around pets and children.
A great addition to a humid bathroom that receives natural light.
Keep It Alive
Hang this fern in bright, indirect sunlight in a warm spot either indoors or outdoors. Just don't let temperatures drop below 50 degrees or soar above 100 degrees.
Staghorns prefer their roots to be covered in moistened sphagnum moss.
Water once a week in the summer and once every two weeks in the cooler months. You might have to adjust this according to how much humidity the space has. (The more the humidity, the less the watering you have to do.) And it needs two types of moisture: misting, where you mist the entire plant and focus on the undersides of the "antler" fronds and shield frond; and watering, where you soak your fern in a basin of room temperature water to fully saturate the roots for about 5 to 15 minutes. If you can't remove your fern, hold your hanging system under a sink and let water run through the root ball. Allow your fern to dry before rehanging.
This fern is susceptible to root rot as its roots are sparse, so when in doubt water less.
Fertilize during the growing spring and summer months when the plant is young. Choose a balanced, water-soluble fertilizer. As your fern ages, you can reduce fertilization to twice a year.
For more on epiphytes, see:
(Visited 987 times, 16 visits today)