Mexican Orange Blossom, Choisya ternata: "Behaved Bloomer"
Every garden, regardless of aesthetic and theme, needs hardworking, foundational shrubs that look good year round. Some gardens need more: a shrub that also is deer resistant, flowering, easy to maintain, and tolerant of awkward partly shady spots. Mexican orange blossom (Choisya ternata) is that plant.
Read on to learn more about Mexican orange blossom's versatile, well-behaved nature:
Originating from Mexico, Choisya is a moderate sized evergreen shrub that grows to roughly 6 feet and slightly wider (but can be kept much smaller by tight pruning). I employ this hardworking shrub for un-glamorous jobs like covering footings, obscuring utility boxes, and creating backdrops for smaller perennials. I also use Choisya for more center stage positions when I need to create an attractive border, and act as under-story companions to taller plants such as palms and Japanese maples. Because the leaves are pleasantly shiny and the flowers are white, try planting Mexican orange blossom in a white-themed or midnight garden where its attributes can be truly appreciated.
A fine variety called 'Sundance' has bright chartreuse evergreen leaves and provides year round color. Fragrant white blooms also appear in early summer. This variety brightens a partly shaded spot and looks especially bold next to burgundy-colored foliage (on plants such as Cordyline 'Design-a-line' or underplanted with Heuchera 'Plum Passion'.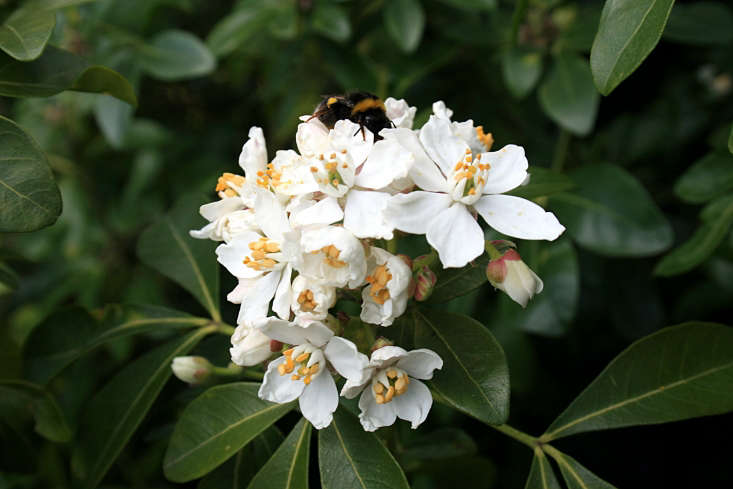 Cheat Sheet
Fragrant dainty white flowers bloom in early summer from glossy, aromatic green leaves. I cut a bunch of flowering stems and use them in demure flower arrangements around my house.
Flowers also attract butterflies and birds but luckily not deer.
A versatile shrub that assimilates into Asian, cottage, and contemporary garden styles.
Keep It Alive
Choisya ternata is most content in sun to part sun with regular water especially during the first growing season to ensure a deep root system.
Slightly acidic, well draining soil is best for Mexican orange blossom.
Prune shrubs after flowering to maintain a tidy appearance and to control wayward growth.
Choisya ternata is perennial is USDA growing zones 7 to 10.
See more growing tips in Mexican Orange Blossom: A Field Guide to Planting, Care & Design in our curated guides to Shrubs 101. For more landscaping ideas with shrubs, read:
(Visited 978 times, 1 visits today)