Hellebore, Helleborus: "Makes Winter Worthwhile"
The fascinating elegance of Hellebore is head and shoulders above any other winter flower. Just as the season is getting tedious, with holidays over, hellebores emerge. Standing tall in a season of garden dormancy, they quietly remind us of wonderful things ahead.
Photography by Britt Willoughby Dyer.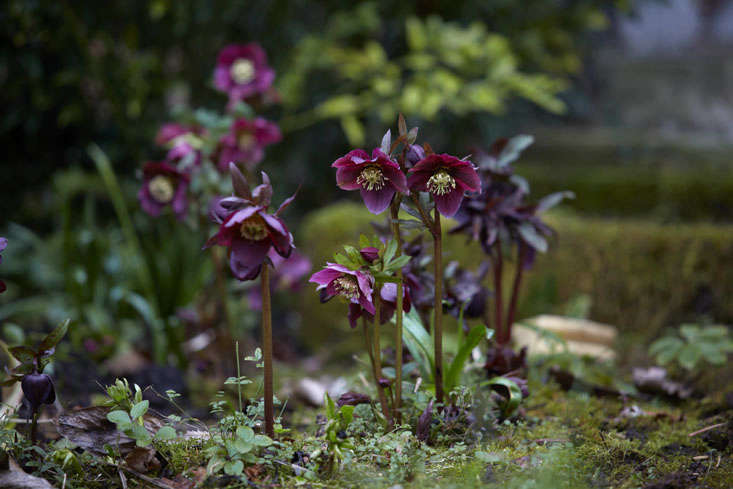 Above: Hellebores cause a similar level of excitement to snowdrops in late winter. Though both species are inclined to face downward, the face of a hellebore is arguably more rewarding when upturned (with apologies to galanthophiles). The color combinations of Helleborus orientalis, both subtle and dramatic, are almost unbelievable. These colors range from near-black to pale apple green and yellow, with freckles and stripes in between.
Above: Hellebore suits a relaxed garden but can also stand to attention under a line of pleached limes. In this farmhouse garden in the English Midlands, new hellebore strains were raised in the 1960s by Helen Ballard, opening the floodgates for exciting varieties. By hybridizing Hellebore orientalis with other further-flung varieties from around Europe, Ballard set the standard for color and form, with an emphasis on flowers that face outward instead of looking down.
A packet of 10 seeds of the highly regarded Helleborus x hybridus 'Helen Ballards Strain' is available seasonally (currently out of stock) for £3.15 at Seedaholic.
Above: The whole structure of Hellebore is interesting, from basal leaves around the flowers on leafless stalks, to stamens and seed pods. Old leaves which tower over the flowers, looking incongruously ragged, should be cut away to reveal the flowers. Smaller, fresher leaves can be left alone as long as they are well out of the way.
Above: Hellebore's season is thankfully long, extending from late winter to late spring. Flower petals are in fact sepals that do not drop off, instead fading over time. They protect the developing seed heads. The flowers shown here are at their ideal moment of ripeness for picking, just after pollination. Pick them in their first flush and they'll flop.
Above: Hellebores' spectrum of colors makes them good companions to other spring flowers. Snowdrops provide an uncomplicated combination and a display of just these two will show off unusual varieties of snowdrop to better effect than a large drift of whiteness.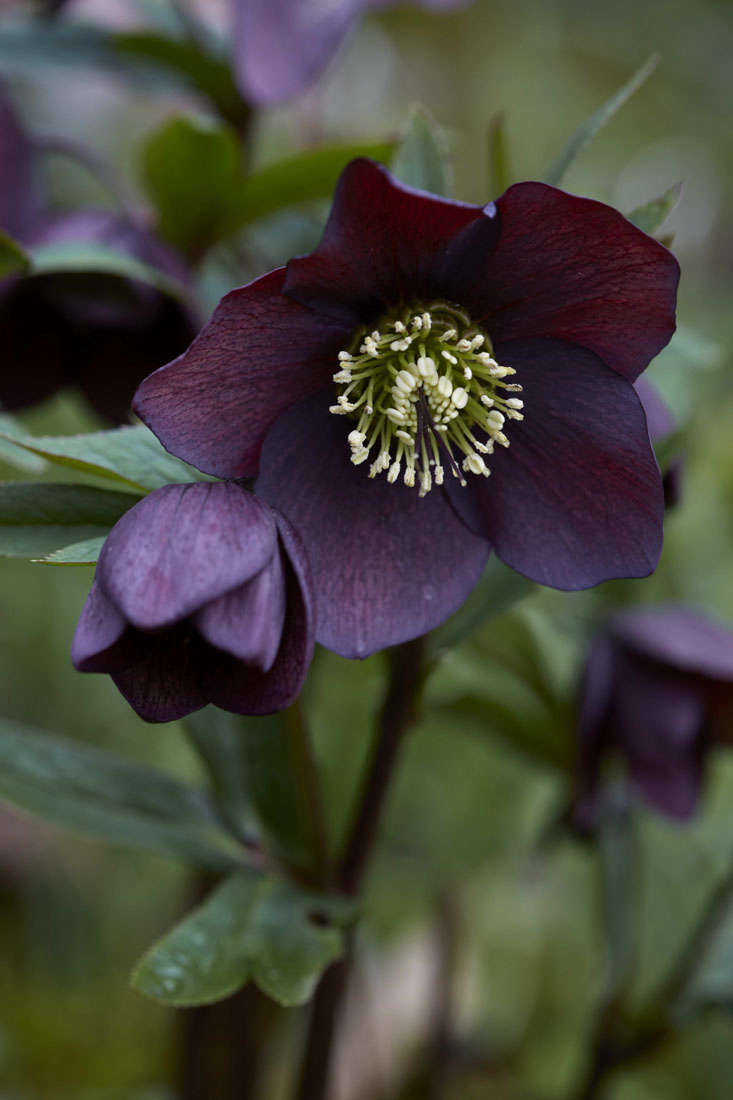 Above: Hellebores are so pretty at this stage that it seems a pity not to bring them indoors. One way of doing it is by displaying just the flower heads, floating in a bowl of water. Otherwise, wait for a bit longer and sear the stalks in boiling water before adding them to a vase of cool water. Renowned British plantswoman and cottage gardener Margery Fish suggested slitting the stalks, and reviving them, if necessary, in warm water up to their necks.
Cheat Sheet
• The colors of Helleborus orientalis are the most scintillating, so start with good original plants before allowing them to hybridize. As long as you like the colors, it doesn't matter about their names.
• Because the flower heads tend to look downwards, grow hellebores on a slope, preferably outside a window.
• Hellebores mix well with other early spring flowers, under deciduous trees or shrubs. Freshly mulched soil sets them off to best effect.
Above: Plants that are resistant to deer, rabbits, and snails need not be a compromise, as hellebores bear out. Hellebore hybrids with a dark outer ring ('picotee') and enlarged nectaries ('anemone') are sought after, as are double forms.
Keep It Alive
• Imitate a woodland floor by providing sheltered, moist, and well-drained conditions which are mulched with leaf-mold or bark chips.
• Trimming old foliage which has grown large and coarse over the summer not only removes potential disease, but reveals the flowers to bees and other early pollinators.
• Hellebores love to reproduce. Deadhead flowers as seed pods ripen or raise new seedlings from a particularly good plant. Remove any new color combinations that are not special.

Above: Milky-green Helleborus argutifolius, or Corsican Hellebore, is useful in a green garden, or green and white garden. Helleborus Niger, also known as the Christmas rose, is rarely in flower at Christmas and is not a rose. Arguably, it's one of the less interesting hellebores to grow, despite the promise of its name.
The late designer David Hicks only liked green gardens. See: Brit Style: The Garden With (Almost) No Flowers.
Above: Stinking hellebore (Helleborus foetidus) with smaller, cupped flowers has lovely contrasting leaves and doesn't stink at all, unless the leaves are crushed.
Above: The absolute ideal setting for hellebores, which are found in their greatest concentration on the mountains of central and southern Europe. These are very hardy plants and thrive in zones 5a-8b.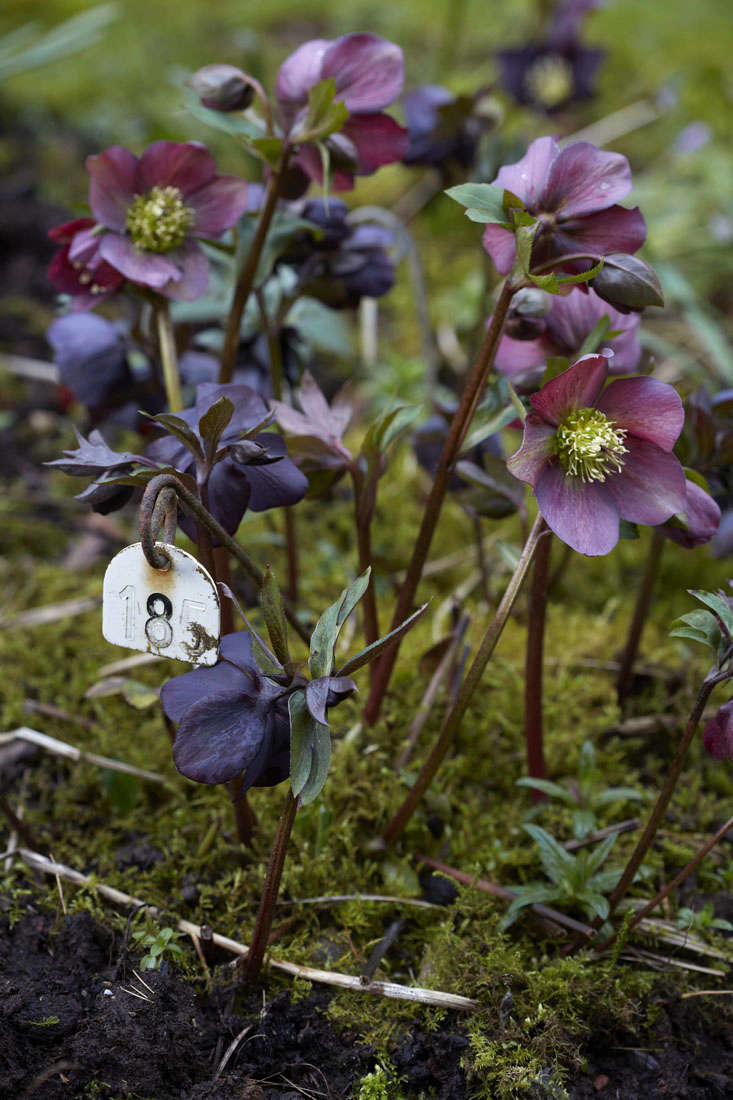 Above: Labeling is a good idea for keeping track of strongly colored parent plants which might produce good seedlings.
Above: Hellebores do look up but Helleborus orientalis can be maddeningly modest, saving their startling interiors for woodlice. Growing them raised up, on a slope or holding wall, will help you to appreciate them without having to get down on hands and knees.
For more slope gardening, see Can This Garden Be Saved: "I Have a Steep Slope." And if you're looking for a companion for helleborus, see our posts on Snowdrops.
N.B.: For more about hellebores and other perennials refer to Perennials 101: A Field Guide to Planting, Care & Design. To read more, see:
(Visited 872 times, 1 visits today)